Free Sweet 16 Picks for March Madness: Expert Underdog Betting Predictions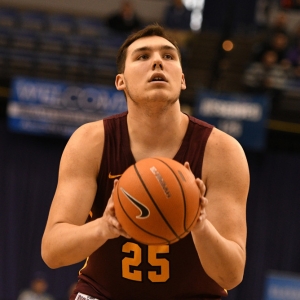 Most people have already seen their brackets shredded, so interest shifts more than ever to the betting side of things when it comes to the Sweet 16. The NCAA Tournament has always been about underdogs - and that has especially been the case in this bizarre year - so it only makes sense that we would focus our betting attention on the underdogs in action this coming Thursday and Friday.
I would argue that there is at least a little value to be had in five of the eight underdogs as the odds currently sit at BetOnline . Texas A&M has played great, but they have some issues with the way Michigan plays defense, their bigs can't shoot the lights out again like they did against North Carolina, and the +3 number for the Aggies is probably a little generous - especially because Michigan can't be expected to play as badly as they did in their two opening games. West Virginia is very good, but they also haven't been tested yet, and they are in for a heck of a test against a strong Villanova team. The 5.5 points isn't enough to take the Mountaineers. And I just don't see how to get excited about Kansas State given Kentucky's edge in talent and coaching. Six points feels pretty generous for Kentucky. The other five games are at least somewhat in play for the underdogs, though. Let's take a look at each:
Florida State (+5.5) vs. Gonzaga: I like this Gonzaga team a lot and expect them to win this game. But Florida State showed how mentally tough they can be when they wore down Xavier. More than that, they broke Xavier's will - the Musketeers got into foul trouble, and the Seminoles forced them to dwell on that and lose all confidence. Gonzaga has sound matchups and a huge coaching edge, but they haven't been blowing teams out here, and if Florida State can employ some of those same late mind games then they could at least keep this one close. I still think Gonzaga wins, but they might not win by enough to cover.
Loyola (+2) vs. Nevada: These are both groups of cardiac kids, so anything is possible. Against Cincinnati, in what was one of the more incredible comebacks of all time, Nevada's only lead was the final one. And they only opened a lead in overtime against Texas as well. This is a team that finds ways to win late. That's a dangerous approach at the best of times, but especially against a team that applies the same approach. Loyola beat Miami with a buzzer beater and then beat Tennessee by the narrowest of margins. In horse racing you feel better about betting a closer when it's the only one in the field. When there are more than one you can't be sure that your horse will be able to run its race or that it will be good enough even if it does. That's the case here, too. Both of these teams are higher quality than the seeds suggest, and they are both dialed in. Pretty much anything could happen, so Loyola taking points seems like at least something to look at. Plus, Loyola has Sister Jean on their side - that has to be good for a couple of points.
Clemson (+4) vs. Kansas: In one of the more shocking outcomes in a weekend full of them, Clemson absolutely neutered the Tigers of Auburn. It was a total shellacking. It's hard to know how it happened, either - it certainly wasn't there on paper before the game. I don't have a lot of faith that Clemson can replicate it, but they are obviously very confident, and their coaching staff has them dialed in. They are feeling it. And while Kansas has looked fine, they had some issues with Seton Hall, and haven't exactly been the dominant force this year that we are used to seeing from Kansas. The Jayhawks are the better team, but to see them struggle and win narrowly, or even lose, would be far from a shock. Clemson could be worth a look.
Syracuse (+11) vs. Duke: These two coaches know each other as well as any two in the field given how long they have been at it and how often they have played each other. They know each other's tricks. Duke is the much better team with much more talent. However, as the saying goes, the best way to beat something is to replicate it. Duke plays a zone that has been very effective, and Syracuse can throw a zone that is currently very effective against it. That could make things interesting. Syracuse has also seen this Duke team less than a month ago. The Blue Devils won by 16 then, but the exposure for the Orange could be helpful. I don't have a lot of faith in the Orange, but then I didn't think they belonged in the tournament and they are still standing. And they beat a quality Michigan State team, so they are not going to be easily intimidated.
Texas Tech (+1.5) vs. Purdue: Isaac Haas could be out again with an elbow injury, and that's a big blow for Purdue. And the Big Ten hasn't exactly had a dominant tournament - Michigan is lucky to be alive, and Michigan State and Ohio State are gone. So, the Boilermakers have to be seen as vulnerable on that basis alone. But it is more than that. Texas Tech is very talented. I was concerned coming in that their inexperience with the tournament would be an issue, but they haven't shown it. They cruised in their opener and showed toughness and talent in a tight one against Florida. They are absolutely capable of beating a full-strength Purdue, and they likely won't even get that. There is real value in the dog here.
Want free March Madness betting picks? Doc's Sports has you covered - get $60 worth of March Madness picks free from any of Doc's Sports expert handicappers. Get $60 worth of premium members' picks free . Doc's Sports offers free college basketball picks, parlays, tips every day of the tournament on our homepage.
Read more articles by Trevor Whenham
---
Most Recent March Madness Betting