Johnny Manziel in the CFL Betting Props Odds with Expert Predictions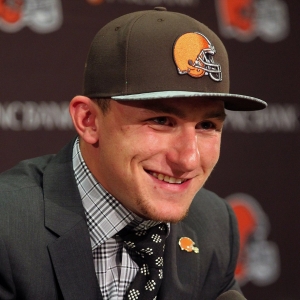 The 2018 Canadian Football Season kicks off on Thursday June 14, but right now everybody can't stop talking about the newest member of the Hamilton Tiger-Cats. Johnny Manziel has decided to try and prove his football talents in the CFL, and Manziel signed a two-year contract with the Tiger-Cats.
"Johnny Football" hasn't played professional football since 2015 with the Cleveland Browns, and his very short NFL career was over in the blink of an eye. Manziel, the 2012 Heisman Trophy winner, recently participated in the NFL spring league and threw at the Texas A&M pro day but still didn't get any offers from the NFL. So that is why Johnny Football will be spending his summer and fall in the CFL with the Hamilton Tiger-Cats.
With Johnny Football getting ready to play professional football again, you knew the sportsbooks would be all over his play or lack of play in Canada. Both offshore books BetOnline and Bovada have opened some interesting betting propositions on the upcoming season for Johnny Football, and I have broken down the lines and will offer some free picks below.
Odds Provided by Bovada

Regular Season CFL Interceptions for Johnny Manziel
Over 11.5 -120
Under 11.5 -120

Interesting prop right here as I originally thought this number was a bit too high. What if Manziel doesn't play? Really! Johnny Football will play because the fans and the media will force the Tiger-Cats to play him, and with that I see him throwing 'Over' 11.5 Interceptions. Free Pick - Take 'Over' 11.5 -120
Regular Season CFL Passing Touchdowns for Johnny Manziel
Over 23.5 +100
Under 23.5 -140

The last time I checked, Johnny Football is a running quarterback, and I see him running more touchdowns in than throwing touchdowns. I say quickly bet this 'Under' because I believe the CFL bettors and the sharp bettors will continue to bet this prop 'Under'. Free Pick - Take 'Under' 23.5 -140
Regular Season CFL Passing Yards for Johnny Manziel
Over 3,900 Yards +100
Under 3,900 Yards -140
The 'Under' has to be the play here because of either lack of playing time or running more than throwing. Manziel was never a big thrower in the NFL and at Texas A&M, and I don't see him piling passing yards in the CFL. Here is another prop that you might want to grab the -140 because I do believe the bettors will move this money-line. Free Pick - Take 'Under' 3,900 Yards -140
Will Johnny Manziel Win the 2018 CFL Most Outstanding Player Award
Yes +1000
No -2500
Really!? No chance Johnny Football wins the 2018 CFL Most Outstanding Player Award.
Odds Provided by BetOnline
Will Johnny Manziel Be on an Active CFL Roster by Week 21?
Yes -200
No +150
Due to Canadian Football League rules, Johnny Football will not be eligible to play in the NFL until November 2019 at the earliest. And lets face it, I don't see the NFL calling him this year, next year, or ever. Sorry Manziel, but I believe the CFL is your last pro football stop unless the XFL wants to give him more money. Free Pick - 'Yes' -200
Total CFL Starts for Johnny Manziel in 2018
Over 7.5 -110
Under 7.5 -110

The CFL plays an 18-game regular season ,and if you check the Hamilton Tiger-Cats website they now have five quarterbacks on the roster. Manziel will start some games, but again I like the 'Under' in this prop. This prop should be fun to watch, and I can't believe I'm actually excited to watch the CFL this year. Free Pick - Under 7.5 -110
Will Johnny Manziel Start Week 1 of the 2018 CFL Season for the Tiger-Cats?
Yes +200
No -300
Johnny Football will play in the first Hamilton game against Toronto, but I don't see him starting. If this was a road game for the Tiger-Cats then I can see him not playing at all, but at home Johnny Football will get some action in Week 1. Free Pick - No -300
Raphael Esparza is one of the best handicappers in all sports. The CFL Football Season kicks off Thursday June 14, and Esparza looks for 3 out 4 Winning CFL Seasons. This week Esparza will have plays MLB Baseball, NHL Playoff Hockey, NBA Playoff Basketball, Soccer, Indy 500, WNBA, and don't forget UFC Fight Night 130 is Sunday afternoon. New clients can take advantage of Doc's no-hassle $60 free picks offer and get Esparza's weekday picks. Click here for $60 worth of free picks .
Read more articles by Raphael Esparza