2018 March Madness Bracket Picks: Vulnerable High Seeds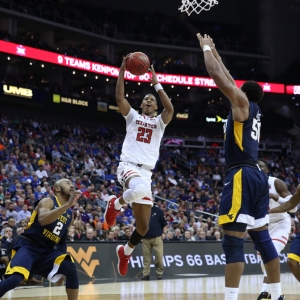 Any team that is seeded in the top four in their bracket should, logically, be expected to make the Sweet 16. And the top two should make the Elite Eight, with the No. 1 going to the Final Four. So, when a team with one of those seedings doesn't make it at least that far then it qualifies as an upset - and frustrates many bettors and bracket pool players . What we are on the lookout for here, then, are simply teams that have a decent chance of being a frustrating disappointment. Here are six that have that potential:
No. 1 Xavier: A couple of months ago I was very high on the Musketeers. It feels, though, like a lot of teams have kept improving while this is largely the same Xavier team. They do a lot of things well and are deserving enough of the top seed - which is fantastic for their program. But they are vulnerable at this point. And they have a tough path, with potential games against Gonzaga and then either North Carolina or Michigan awaiting them next weekend. It's a lot to overcome, and I feel far less confident that they are positioned to do it. If they had looked better against Villanova then it would be a different story.
No. 1 Kansas: Kansas is a No. 1, but for much of the year they haven't felt like one. This is by far the most mortal Kansas team we have seen in a long time, and even when they got back on track later on it felt like they were a long way from the team they have been in past years. They feel fragile in a way Bill Self teams usually don't. They line up to play a decent Auburn team (though I think they are overrated) and then either Duke or Michigan State. It's a tough path, and with this team playing like they are it would be far from a shock to see them lose one of the games. I don't hate them, but I really don't trust them.
No. 1 Virginia: This is the contrarian in me coming out as much as anything. It feels like everyone is picking Virginia to win this region - with many picking them for more than that. And while it could totally happen, and their defense is worthy of much respect, I don't think it's a lock by any means. They face a potentially brutal third game against an Arizona team that has the best player in the region - at least. It will be a top offense against a top defense, and Arizona is defensively sound, too. It will be a very tough game. Survive that and I would expect them to play a Cincinnati team that does many of the same things Virginia does. The Cavaliers are still very good, and the most likely winners in this group, but I am not nearly as interested in a coronation as many seem to be.
No. 3 Texas Tech: I like Chris Beard as a coach, and I like a lot of what this team has done. They very easily could have - and probably should have - won the Big 12. But this is not a school with much recent institutional history of success. They made the tournament two years ago as an eight seed in the last year of the underwhelming Tubby Smith era. That was their first appearance in the tournament since 2007 - the last year under Bob Knight. The last time they had a ranking this high was in 1996. They don't know a lot about winning. Their wins over West Virginia and Kansas this year show they have a lot going for them, but they face a tough second game regardless of which of the three possible opponents get through, and I could see them playing tight.
No. 2 Duke: Much of what I said about Kansas can be said here, too. This team is very talented, and when they are on they are very tough to beat. But they are prone to serious brain cramps, and when those set in it doesn't seem like Coach K knows exactly how to get away from them. They lost two of their last four, and the Virginia Tech loss was particularly ugly. I don't feel like this team has a killer instinct like other Duke teams has, and that could make them very vulnerable.
No. 3 Michigan State: This is a case of how what you see can have an impact on how you perceive things. A whole lot of people seem to be picking this team to win the region, and a couple of prominent people have picked them to win it all. I have watched this team play three games from whistle to buzzer all year - against Duke early on, at home against Michigan in the regular season, and again against Michigan in the Big Ten Tournament. The seven-point loss to the Blue Devils was the closest game. Both games against Michigan were over well before the clock said they were, and the Spartans just folded both times in the face of adversity. Now, Duke is very talented, and Michigan is as hot as any team in the country right now, but those are the type of teams you have to beat to go all the way, and I just don't believe in this team to beat them. They don't react well to getting punched in the mouth, and their schedule has been crammed full of cream puffs this year. I am really not buying what they are selling.
Want free March Madness betting picks? Doc's Sports has you covered - get $60 worth of March Madness picks free from any of Doc's Sports expert handicappers. Get $60 worth of premium members' picks free . Get free daily college basketball predictions on Doc's Sports NCAA hoops picks page .
Read more articles by Trevor Whenham
---
Most Recent March Madness Betting