2018 March Madness Brackets Help: Advice on No. 5 vs. No. 12 Matchup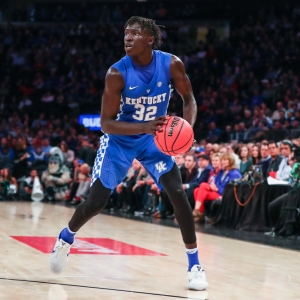 When it comes to hunting for upsets, there isn't a first-round matchup that gets more attention than the 5 v. 12 line in the first round. There is good reason for that, too - the seeds have met 132 times in the tournament, and the lower seed has come out on top 47 times. That's almost a 36 percent win rate. Impressive - especially considering the gap in talent these seeds should indicate.
Last year there was only one No. 12 that won their game, and that came with a bit of an asterisk - Middle Tennessee State was actually favored in their game against Minnesota. The No. 12s were a strong 3-1 ATS last year, though, which moves them to 11-4-1 ATS in the last four years. It has been very worth betting on these teams even if you don't want to go overboard picking them in your brackets . Here's a look at the four matchups on offer this year:
South Region, No. 5 Kentucky vs. No. 12 Davidson: This is a very tough matchup for Kentucky. The Wildcats were in a tough spot, losing their first four games of February. Since then, though, they have found the best basketball of their season. They have won seven of eight and claimed the SEC title. They have started to figure things out defensively, and their young talent is starting to live up to their ranking as the second-best recruiting class last year. But Davidson is a real challenge. Ignore the storylines that Davidson was a bid thief that doesn't belong. They are here because they have gotten hot at the right time. Peyton Aldridge is a very talented forward who has scored 35 or more three times this year. He won't be intimidated by this Davidson team in the slightest. And freshman guard Kellan Grady does not play anything like you would expect a freshman guard on a team like this to play. This is a solid, peaking team, and they are well coached. But so is Kentucky, and the Wildcats are also peaking and have a distinct edge in athleticism and general talent. Kentucky should win, but be honest - is there any SEC team that could lose a game this year that would qualify as a serious shock?
West Region, No. 5 Ohio State vs. No. 12 South Dakota State: If I had to pick one No. 12 to pull off the upset it would be tough to decide between South Dakota State and New Mexico State. I am reasonably bullish on an upset here for a couple of reasons. First, Ohio State is limping in here. They have lost three of their last five, including two losses to Penn State that are totally indefensible. And because of the incredibly stupid scheduling of the Big Ten Tournament they have had 13 days off to dwell on how poorly they are playing right now. The other biggest reason is Mike Daum. South Dakota State's star is one of those guys that is so good you wonder how he ever wound up at the school he did. He is the first player since some guy named Kevin Durant to average at least 24 points and 10 rebounds while shooting better than 40 percent from beyond the arc. The Jackrabbits aren't a one-man team, either. Ohio State has an obvious edge in athleticism and depth, but if South Dakota State comes in hungrier and Ohio State isn't much sharper than they have been the last few weeks then crazy things could happen here.
East Region, No. 5 West Virginia vs. No. 12 Murray State: Murray State is a really good team. They play strong defense. They can score. They are fast. Jonathan Stark, the MVP of the conference, is a beast. There is a lot to like. Their issue, though, is the matchup. West Virginia is a very good team and one of the more underseeded teams in the whole tournament. Against many other teams Murray State would be an attractive upset pick. Here, though, I just can't do it.
Midwest Region, No. 5 Clemson vs. No. 12 New Mexico State: This is an interesting matchup. Clemson is a deep team with several players who are useful - I especially like Elijah Thomas, who was a transfer from Texas A&M and plays ferocious interior defense. But the ACC isn't a conference I love right now, and I don't feel like Clemson is as good as they should be given their parts. New Mexico State has two guys who are much better than their league suggests - Zach Lofton can score at will, and Jemerrio Jones is a heck of rebounder. I picked Clemson to be upset in my bracket, but it was a low-risk upset - I definitely had them losing their second game anyway. If the Aggies got rolling at the right time then they could be a Sweet 16 team.
Want free March Madness betting picks? Doc's Sports has you covered - get $60 worth of March Madness picks free from any of Doc's Sports expert handicappers. Get $60 worth of premium members' picks free . Get free March Madness betting picks for every game here .
Read more articles by Trevor Whenham