2018 NCAA Tournament Advice and Help for a Winning March Madness Bracket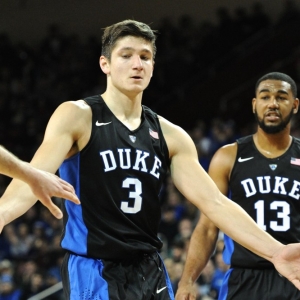 Are you going to fill out a March Madness bracket this year? Of course you are - it's what everyone does. Many of you will fill out several, and you have a year's worth of bragging rights on the line - and maybe a nice cash prize, too. Millions of people fill out brackets every year, but only a small fraction of those people fill out winning brackets. You want to be part of that small fraction, of course, and you can increase your chances of a win by following this list of March Madness bracket advice and tips.
Free $60 in Member March Madness Picks No Obligation Click Here
The path, the path, the path
You need to think of filling out a bracket as handicapping the entire tournament. Typically, we handicap only a single game, and we know what factors are involved in that - matchups, tempo, freshness, coaching, location, and so on. To fill out a bracket well you have to give some consideration of those factors in every game on the bracket. And to do that well you need to really think about the path a team will face to advance and make a deep run.
People spend too much time worrying about the first-round matchups and the seeds when they look at brackets. That matters, but so does what is ahead of them. What teams are they likely to face going forward? Will their style of play be an advantage or a disadvantage? Will travel be rough for them? Will their potential opponent have a geographical advantage in later games? Will teams be worn down by the tempo opponents play at? Are they going to be facing a lot of different styles of quirky offenses or defenses? The team that wins the NCAA Tournament is rarely the best team - only two squads since 1995 have been the top overall seed in the tournament. It's normally won by the teams that have talent and a good path to the finals to go with it.
The more time you think about what the future holds for teams, and what that means, the better your bracket will be.
Shut up heart, it's all about the brain
The NCAA Tournament is packed with drama and emotion - as much or more than any sporting event. And with so many teams, any sports fan is likely to have rooting interests and teams they hate. There are the teams you are passionate about, and there are many more that you don't like. That can be for good reasons, but it usually isn't. It's because of rivalries, biases, or feelings towards players or coaches.
For example, my heart would never let me bet on Duke, Ohio State, or Florida no matter how good the matchup is. But to be successful betting I have to ignore what my heart says and bet only what makes sense. Emotion is fun, but it isn't profitable.
If your head and your handicapping tells you that a pick makes sense then you have to make it - even if it knocks out your favorite team or creates a Final Four that makes you want to vomit. You can think of it this way - tell your heart that your head will buy it a present when you win your pool. That should shut it up for a while.
Look beyond your knowledge
College basketball is basically an impossible sport to follow properly. More than 300 teams play, and at the start of the year any one of them could make the tournament. Even if all you did was watch basketball all day every day, you couldn't watch every team enough to accurately and adequately know what they have to offer. Inevitably we watch and follow a league or a couple of leagues more than the rest.
It can be easy for us to be biased towards the leagues and teams we know and against teams we don't know much about. Or it can work the other way, too - we can overvalue hyped teams from other leagues that we haven't seen but undervalue teams from our own leagues that have flaws.
Only you know what your biases are, but I know you have them. The more you can honestly understand them, and make sure that they aren't driving your picks, the better off you will be. Objectivity is the friend of good handicapping.
Hype sucks
Experts come out of the woodwork at tournament time. People who haven't talked about college hoops all year suddenly know everything there is to know in March - and you won't hear from them about it again once April rolls around. These 'experts' will have strong opinions about who is going to win and what you should do. And most of it is just plain crap.
Hype runs wild in March, but you have to ignore it and focus instead on the research you have done, the things you have seen, and the opinions of the true experts you trust because they are legitimate and actually worth your attention.
Go easy on the upsets
Everyone loves the upsets when it comes to the tournament - especially in the first two rounds. But here's the thing - they aren't as common as you might think. Most years at least half the Elite Eight is No. 1 or No. 2 seeds. The more Elite Eight teams you have alive in your bracket the better off you are. And if an obscure team makes the Elite Eight then it doesn't really matter if you have it because most other people won't, either. So pick a couple of upsets if you want to, but in the end it's the boring brackets that more often win.
Want free March Madness betting picks? Doc's Sports has you covered - get $60 worth of March Madness picks free from any of Doc's Sports expert handicappers. Get $60 worth of premium members' picks free . Get daily free college basketball picks on Doc's Sports NCAA hoops predictions page .
Read more articles by Trevor Whenham