NCAA Tournament Sweet 16 Betting Advice: Differences from First Weekend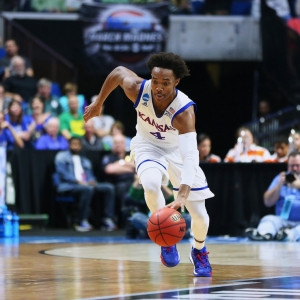 There is absolutely no way that you can complain about the opening weekend of the NCAA Tournament this year. Unless you are a Virginia fan, I guess. Or a fan of basketball in the city of Cincinnati. Or a believer in Michigan State. Or you bleed Tar Heel blue. Or Tennessee orange. Or are from Tucson. But, those biases aside, it was a great opening weekend of a great sporting event. And it promises to be great going forward.
It is crucial for bettors to remember, though, that while the second weekend of the tournament is often great, it is also very different than the opening weekend. It's almost like a different event. And the more bettors can be aware of those differences, the better they are positioned for success. Here are three big ways that the second weekend of the NCAA Tournament is different than the first weekend:
Money is smart(er): The first weekend of the NCAA Tournament is chaos in so many ways, and the betting window is no different. People who never watched college basketball normally are all of a sudden throwing cash at it in pursuit of big profits. It's compelling to watch - especially in years like this year that are so rich with storylines and with upsets that make people dream of riches. Needless to say, that enthusiastic money isn't necessarily the smartest money out there. In fact, it's often very dumb.
After the first four days of the tournament, though, there is a cooling off period of a few days, and the intensity of the tournament dims considerably. There are far fewer teams and fewer crazy storylines. A lot of those casual bettors who are drawn to the insanity of the opening weekend don't feel the same passion for the later rounds of the tournament. There are less games, and that makes things less attractive for bettors with short attention spans.
And then there is the problem of the after effect of all the upsets. In the first week the upsets are very compelling - UMBC became instant stars, everyone loves Sister Jean and Loyola, and so on. But in the second weekend those upsets become a problem for the casual bettors. With the days off, the excitement of those big upsets and the Cinderella teams have faded and reality sets in. This is a tournament without two No. 1 seeds, two No. 2 seeds, and two No. 3s. Highly-popular betting interest Arizona is at home. Most of the megastar youngsters who will be draft picks after one year in college are gone. There is total carnage on the left side of the bracket and a shortage of obvious drama in spots on the right. The craziness of the first weekend becomes a detriment for fickle casual bettors in the second weekend.
Mismatches are few(er): Because of all the upsets, this isn't as applicable this year as it has been some years, but it is still very much a factor. In the first couple of rounds we see a lot of mismatches - teams that don't measure up particularly well. Things don't often work out as expected, but for many of the matchups even a casual bettor lacking any handicapping sophistication can figure which team has the edge. But the gap between teams gets smaller as the tournament goes along.
These teams that are left have all been good enough to win two extremely high-pressure games. Those mismatches are compelling for a lot of bettors - especially casual ones - so the dynamic changes this weekend and beyond. It requires much more subtlety.
For example, Texas A&M destroyed a highly-regarded North Carolina team that was defending national champs, while Michigan cashed in every karmic chip they had to win in impossible fashion against Houston. Now those two teams meet, and it is tough for even experienced handicappers to deal with it. Will Michigan play as lethargically as they did for their two openers? Can Texas A&M's bigs shoot the lights out again? The Aggies will win the block battle decisively, but will that matter like it clearly did against North Carolina?
There is much less black and white in the Sweet 16 and beyond than there is in earlier rounds - or at least that is how it appears for casual bettors.
A chance to reset: Teams have been involved in the craziest weekend of their seasons. For many teams that came right after a crazy weekend of conference tournament action before and the stress of seeing if they made the tournament or where they were seeded. Travel is always stressful at this time of year, too, as teams don't find out until Sunday night where they are going and when they have to be there.
Now teams get a chance to breathe. They get to go home for three or four days, sleep in their own beds and get back into their routines. That can have different impacts on different teams.
We have seen lower seeds that looked incredible in the opening weekend crash back to earth as they couldn't maintain the adrenaline and momentum through the break, and they could no longer sneak up on anyone. We have seen higher seeds that are lucky to be alive come back looking entirely different - more focused, hungrier, and exerting more of their edge. And we've seen everything in between, too, of course.
It can be tough to know how this time off will impact teams, but we have to be very aware that it will have a definite impact.
Want free March Madness betting picks? Doc's Sports has you covered - get $60 worth of March Madness picks free from any of Doc's Sports expert handicappers. Get $60 worth of premium members' picks free . Doc's Sports offers free college basketball picks every day of the tournament on our homepage.
Read more articles by Trevor Whenham
---
Most Recent March Madness Betting