This Week in Sports Betting A-Z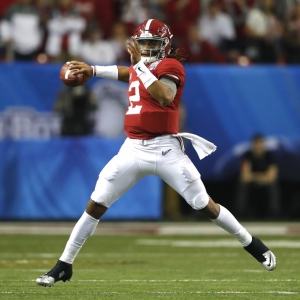 A. Alabama . Crimson Tide head coach Nick Saban got more than 400 write-in votes in Alabama's senate election last month. He may have gotten even more if the vote had come following the Sugar Bowl, in which the Tide blasted Clemson 24-6 to book a spot in next Monday's National Championship. Alabama is a -4 favorite over Georgia , per MyBookie.ag.

B. Browns . Cleveland secured the No. 1 overall pick with a loss in Week 16, but for good measure it capped off its season with a setback at Pittsburgh last Sunday to become the first 0-16 team since the 2008 Lions. The parade…yes, the parade…is set for Saturday. New England defensive coordinator Matt Patricia is a +115 favorite at Bovada Sportsbook to be the Lions' next head coach.

C. Connecticut . At the other end of the spectrum from the Browns are the Connecticut women. Head coach Geno Auriemma reached the 1,000-win mark for his career last month, becoming the fourth NCAA women's coach to do so. He is the fastest to do it, having the accomplished the feat in just 1,135 games.

D. Dick Enberg . The legendary sportscaster for NBC, CBS, ESPN, and most recently the Padres, died last month from a heart attack. He was 82 years old. R.I.P.

E. El Clasico . FC Barcelona is running away with La Liga after cruising past Real Madrid 3-0 on Dec. 23. Lionel Messi and company are now nine points clear of second-place Atletico Madrid on the table and Real is mired in fourth, 14 points behind.

F. Flat-out gave up . "We flat-out gave up" is what Lakers' forward Kyle Kuzma had to say after his team got blown out at home 133-96 by Oklahoma City on Wednesday. "We didn't compete on defense. They killed us.... To lose by (almost) 40, it is pretty embarrassing to be out there." Los Angeles has lost a dreadful eight straight games, plunging to 11-26.

G. Gurley, Todd . If you had Gurley in fantasy, hopefully your Super Bowl ended in Week 16 since he did not play in the Rams' relatively meaningless finale. But even if you had a two-week Super Bowl that ended in Week 17, you still may have won with Gurley alone. He racked up 276 yards from scrimmage and two touchdowns in a Dec. 24 win over Tennessee, giving him a ridiculous 456 yards from scrimmage and six touchdowns in a two-week span. 5Dimes Sportsbook has L.A. as a -6.5 home favorite over Atlanta on Saturday night.

H. Houston Rockets . Things have gone south in a hurry for Houston following its 14-game winning streak from Nov. 16 through Dec. 18. The Rockets are 2-4 in their last six, formally protested their Dec. 22 loss to the Clippers because of poor officiating, and now James Harden is out for at least two weeks with a hamstring injury. Oh, and they have to face Golden State on Thursday. Houston is a +5 home underdog , according to BetOnline Sportsbook.

I. Islanders . The Islanders will leave Brooklyn after the 2018-19 season and move into a new home to be built at Belmont Park, just east of New York City. New York is a +110 underdog at Philadelphia on Thursday, as indicated by GT Bets.

J. Jalen Hill . Hill, LiAngelo Ball, and Cody Riley all thought they would be freshmen on the UCLA basketball team right now. Wrong! Two (Hill and Riley) are suspended for the season due to the China shoplifting incident and Ball finds himself playing professional basketball in Lithuania.

K. Ken Hitchcock . Hitchcock became the third coach in NHL history to record 800 victories when his Dallas team knocked off Chicago 4-0 on Dec. 22.

L. Longoria, Evan . The Rays recently traded their franchise cornerstone to San Francisco last month in exchange for outfielder Denard Span, infield prospect Christian Arroyo, and two minor-league pitchers. Longoria has played at least 156 games in each of the last five seasons and has hit at least 20 home runs in each of those five. The Giants are +1600 at MyBookie.ag to win the National League Pennant.

M. Mavericks . Dallas has rebranded its Chinese name from "Little Cow" to "Lone Ranger Heroes." Apparently the Mavericks had been called "little cows" in China until now. Perhaps "little cows" is appropriate, though, because Dallas is 13-26 and just two games better than last place (Atlanta) in the entire NBA.

N. New England Patriots . Death, taxes, and the road to the Super Bowl going through Foxborough…. Those are the three certainties of life, and nothing is different as the calendar turns to 2018. The Patriots wrapped up the No. 1 seed in the AFC by hammering the Jets 26-6 last weekend. New England is a +210 favorite at BookMaker to win the Super Bowl.

O. Out . Oakland's Jack Del Rio was among the head coaches who did not survive the NFL's annual "Black Monday" following the last day of the regular season. Del Rio is out, and Jon Gruden will be in. Gruden, the Raiders, Las Vegas (after one more year)…. Talk about a match made in Heaven.

P. Pro Bowl . Not one, not two, not three, not four, not five… No, the Steelers put eight players on the AFC Pro Bowl roster. Of course, they would obviously trade all eight of those spots to other teams in exchange for the No. 1 playoff seed that just barely eluded them. And they will get to trade those spots if they advanced to the Super Bowl.


Q. Quarterback . The 49ers have found theirs. Jimmy Garoppolo went 5-0 as a starter in San Francisco after being traded from New England. Unfortunately for the Niners, they went from 1-10 to 6-10 and cost themselves approximately seven draft spots.


R. Rafael Nadal . Citing the same knee injury that troubled him at the end of 2017, Nadal withdrew from last week's event in Abu Dhabi and the current tournament in Brisbane. But the world No. 1 flew to the land Down Under on Thursday and plans on playing the Australian Open. BetOnline Sportsbook has Nadal at +400 to win the title.

S. Sky Blues . Manchester City's streak of 18 straight English Premier League wins came to an end this past weekend at Crystal Palace of all places (0-0 draw). City got back in gear, however, with a 3-1 home defeat of Burnley on Tuesday and is a bloated 15 points clear of second-place Manchester United on the EPL table.

T. Turner, Evan . Not even Clark Griswold's Christmas vacation could compete with that of Turner. On the Wednesday before Christmas, the Blazers' guard was in bed when he heard a loud noise and though his Christmas tree had toppled over. Nope, that was just the sound of semi-truck crashing into his swimming pool. Welp.

U. UGA . We'll see if it gets even better next Monday, but right now is quite a good time to be a fan of Georgia football. Head coach Kirby Smart landed seven in the nation's top 30-including No. 1 overall recruit Justin Fields-during the early signing period, and the Bulldogs picked up their biggest win since 1980 when they outlasted Oklahoma 54-48 in double-overtime to triumph in an absolutely incredible Rose Bowl.

V. Verret, Annie . Jordan Spieth let the 2016 Masters get away, but he is not doing the same with his longtime girlfriend. The three-time major champion got engaged to Verret during the holidays. Spieth is a +700 favorite at GT Bets to win the Masters.

W. Wofford . North Carolina fell to Florida State on Wednesday, but that was not the Tar Heels' worse loss of the season. No, the defending champions actually lost at home to Wofford 79-75 on Dec. 20.

X. Denotes clinched playoff berth . For the first time since the Mesozoic Era, the Buffalo Bills are in the playoffs. Okay, it's really for the first time since 1999; but even 1999 to 2017 was the longest postseason drought in all of professional sports in the United States. It looked like the slump would continue, but Buffalo held off Miami last Sunday before Cincinnati eliminated Baltimore with a last-minute 31-27 road victory over the Ravens. The Bills are +9 underdogs at Jacksonville on Sunday, per Bovada Sportsbook.

Y. Young, Trae . You know when Stephen Curry calls you "unbelievable," you're doing something right. It's safe to say Young is unbelievable and doing plenty of things right. Oklahoma's star freshman leads the nation with 29.4 points per game and has turned in five consecutive double-doubles. Young also dished out a laughable 22 assists in a 105-68 blowout of Northwestern State on Dec. 19.

Z. Zero . That's how many playoff games Marvin Lewis has won in his 15 years as head coach of the Bengals. But he has way more than zero lives. Even though it was announced following Week 15 that Lewis would leave at season's end, he just won't go away. Cincinnati reversed course and extended Lewis with a two-year contract earlier this week. Hey…at least he led the Bills to the playoffs, right?
Are you ready for some winners? Doc's Sports can help you out. We are giving any new clients $60 worth of free picks. These aren't throwaway picks. They are actual member's picks from our expert handicappers. Click here to sign up now on a simple, painless form .
Read more articles by Ricky Dimon