Sweet 16 Bracket Picks for the 2018 NCAA Tournament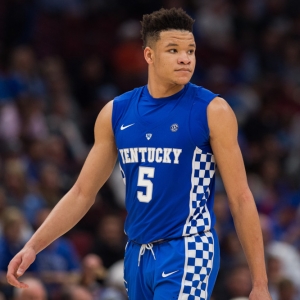 The opening weekend of the NCAA Tournament was interesting. Not great for the accuracy of a lot of brackets, but interesting. There was a whole lot of chaos, and the NCAA Tournament is the one place where chaos is both expected and is a very good thing. My bracket is probably in better shape than some - mostly because I really hated the heart of this Michigan State team and was skeptical about the universal love for Virginia (though I obviously didn't see them losing like they did) so I didn't have either team in my Elite Eight when many people had them going much further. And I didn't have North Carolina making a deep run, either. It wasn't all roses, though - I had Arizona losing the National Championship Game, and I'm pretty sure that's not going to happen.
It's a historically unique bracket remaining. The South is the first region in the entire history of the 64-team tournament that does not have one top four seed remaining. The highest-seeded team on the entire left side of the bracket is No. 3 Michigan. And while the right side of the bracket is much chalkier, it still has zero No. 4 seeds, and Syracuse, an 11 seed that was the last team in the field, is still alive. Add it all up and this is a much different tournament than it appeared to be just a few days ago. It only makes sense, then, that we would regroup and take another shot at sorting out the bracket. Here, then are my Sweet 16 bracket picks for the NCAA Tournament.
South
Total chaos, but also some of the most entertaining basketball of the weekend. Kentucky concerns me. They are insanely talented, and they have been playing like it so far. But they are young and have really struggled at times to play as a unified group. They have enough upside to win it all, but it could all come crashing down. They should beat Kansas State, though. And then we have two upstarts in Loyola, which seems to fear nothing, and Nevada, which doesn't like to lead before the final minute. Sister Jean is not going to be happy with me at all, but I have to give the edge to Nevada. They are more talented, have more experienced coaching, and should be ready for a more sustained effort after a few days at home to regroup. And while Nevada is fearless, Kentucky is more talented. The Wildcats will win the region.
West
The West is still, I feel confident, going to turn out as I had it - though the path for the two victors will be different than expected. Florida State showed they can be dangerous against an Xavier team that got into foul trouble and used it as an excuse to quit. Mark Few has this Gonzaga team dialed in, though, and they are a better matchup than Xavier was. Gonzaga will win handily. And while Texas A&M played incredible basketball on the opening weekend, they are still a 12-loss team with issues, and John Beilein is a master t exploiting issues when he has time to prepare. The Aggies aren't reliable shooters, and that is going to be a problem against Michigan's defense. The Wolverines will advance. And they will win the region, too. Michigan played two very underwhelming games in the opening weekend, but still won with their defense. They will play better this weekend, and the defense will still be their friend.
East
This one changes a little bit. Villanova has taken care of business and looked everything like what they should as a top seed. West Virginia has shone, but they are running into a better team and will come up short. Texas Tech has looked good, and they come up against a Purdue team hit by a key injury. Haas will likely not be back after his elbow injury, and even if he is he'll be limited. I had Purdue winning this game, but now I give Tech the edge - they are healthier and have responded well this tournament despite a lack of experience. It doesn't really matter, though - Villanova will beat either team to win the region.
Midwest
Like the West, the result is the same here, even if the paths are different. Kansas still doesn't excite me, but their path remains manageable. Clemson absolutely destroyed Auburn. I can't explain that performance, but I also don't expect them to replicate it. Kansas wins. And Duke gets a gift, because Syracuse is much easier to beat than Michigan State. The Syracuse zone is getting a lot of media love right now, and it has been great, but Coach K isn't going to be caught off guard by it, and Duke has looked strong. And Duke, and their own potent zone, will beat Kansas handily to win the group.
Final Four
I originally had Arizona beating Michigan to reach the final. Now I'm turning things around. I remain very high on this Michigan team - they aren't going to play as poorly as they did in both of their weekend games, and they still won. They will frustrate the wildly-talented-but-raw Wildcats and move to the finals. And Villanova will beat Duke narrowly in what should be the best game of the weekend - and perhaps of the tournament. And then, as I had before, Villanova will cut down the nets, this time out-grinding Michigan instead of Arizona.
Want free March Madness betting picks? Doc's Sports has you covered - get $60 worth of March Madness picks free from any of Doc's Sports expert handicappers. Get $60 worth of premium members' picks free . Doc's Sports offers free college basketball picks every day of the tournament on our homepage.
Read more articles by Trevor Whenham
---
Most Recent March Madness Betting