2018 Tampa Bay Derby Expert Picks and Predictions with Morning Line Odds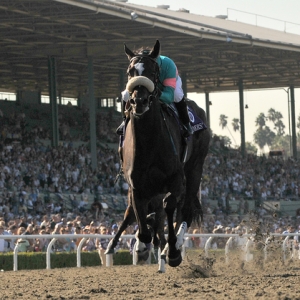 The Tampa Bay Derby has been run since 1981, but only since 2007 has it been relevant nationally. That was the year that Street Sense won the race and then the Kentucky Derby. In the decade since, the race has made some surprising impacts. Super Saver was third in Tampa Bay in 2010 before his Derby win, and Tapwrit won this race and the Belmont last year. That's a lot of success in a short time for a race that was recently an afterthought at a track that is far from the best in the country. Todd Pletcher has won the race four of the last five years, including with Tapwrit, so he's a good bet here - and he finally won his second Kentucky Derby last year, so maybe he has ended his struggles in that race - but probably not.
It's important to note that as I write this (on Wednesday afternoon) the morning line is basically useless. Free Drop Billy and Enticed are entered in this race, and they are the second and fifth choices, respectively. But both are intending to run in the Gotham at Aqueduct and were only cross-entered here as insurance after their Wednesday flight to New York from Florida was delayed until Thursday due to the weather. They'll run here if they can't get there, but that seems unlikely. I'm not even going to preview them in this race, but their presence means that the line is not at all what it will likely be by post time for any horse. Here's how the class of the likely field shapes up this year (horse, jockey, trainer, morning line odds):
Flameaway, Jose Lezcano, Mark Casse (3/1): This horse has five wins in seven starts, yet, bizarrely, he isn't nominated to the Triple Crown - something that would have cost just $600, which is spare change in the world of horse ownership. That would change with a win here, though it will be much more expensive now than it could have been. His last race, at the same track and distance, was impressive - he wired the field in the Sam F. Davis at more than 10/1. He won't get away with that here since World of Trouble will also want the lead. That pace duel works against him and makes him unattractive as the favorite.
Vino Rosso, John Velazquez, Todd Pletcher (4/1): Any Pletcher horse has to be taken seriously in this race, and this is the only one this year. That's a plus. On paper his third in the Sam F. Davis last time out as the strong second betting choice in his stakes debut was problematic. But when you watch the replay it comes off in a better light. He was off in la-la land around the final turn, but he regained focus and actually looked strong down the stretch. So, the news that he will be wearing blinkers for the first time here is very welcome. I like how he's training, and as a son of Curlin I love the breeding. I don't think I'll like the price much by post time, but if I had to pick one horse here it would be this one without too much hesitation. If you aren't sure if you should join me in that feeling or not, go back and look at the race last year's Tampa Bay Derby winner Tapwrit ran in the Sam F. Davis. It's very similar to what we saw from Vino Rosso, and he bounced back nicely - and went on to win a Triple Crown race to boot.
World of Trouble, Irad Ortiz Jr., Jason Servis (5/1): You don't see this often - this horse won his last race, over seven furlongs on this track, by 14 lengths. He grabbed the lead at the start and just ran away. He will face a more contested pace here in his graded stakes debut, though, and this distance feels like it is right at the outside of his pedigree's capabilities. He'll get an excellent ride, which will help, but not enough.
Untamed Domain, Jose Ortiz, Graham Motion (6/1): This is a son of Kentucky Derby winner Animal Kingdom, and he has the same trainer as his dad did. He's trying dirt for the first time, which is a concern, but he has clear class - he was second in the Breeders' Cup Juvenile Turf and won the grade 2 Summer Stakes at Woodbine. His dirt works have been more competent than dominant, so I want to wait and see before I get too excited about the horse. I'd throw him into the exotics just in case, though.
Tiz Mischief, Joel Rosario, Dale Romans (8/1): Romans has been busy lately - his Promises Fulfilled won the Fountain of Youth as a long shot last week, and his Free Drop Billy will be the likely favorite in the Gotham if he gets to New York. He was third in the Holy Bull in his season debut - a disappointing result given that only the winner, Audible, really showed up that day. It is the second in the Kentucky Jockey Club Stakes in his stakes debut in November that is intriguing, though, Promises Fulfilled, Bravazo and Reride all finished behind Tiz Mischief on that day, and all have come back to win prep races this spring - the first two at fat prices. Maybe this colt, who has been working really nicely and gets a big upgrade in the saddle, can add to the legacy of that key race. At a price anywhere near this I'll certainly be betting that he has a chance - he's a nice exotics piece.
Raphael Esparza is back on the saddle for another big Saturday in horse racing. This Saturday he will have picks for not one, not two, but three 'Road to the Kentucky Derby' prep races. Last Saturday at Gulfstream Park Esparza had a winning day in the ponies, and this Saturday he looks for more horse racing winners. Last year Esparza had a monster horse racing season, cashing for over $2,800, and he had winning days in the Kentucky Derby, Preakness, and Belmont Stakes. Esparza's $35 Saturday Horse Racing Picks will feature the Gotham Stakes at Aqueduct, Tampa Bay Derby at Tampa Bay Downs, and the San Felipe Stakes at San Anita. Throw in the fact that Esparza has had more than 20 years of horse racing betting experience, and over the course of the next four months he will put extra money in your wallets.
Read more articles by Trevor Whenham