2018 World Cup Group A Expert Betting Picks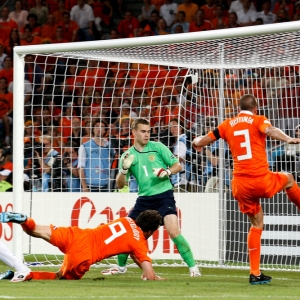 Vladimir Putin has been accused of meddling in elections, murdering spies, and all other sorts of heinous crimes. So what do you think he would do to ensure that his Russian soccer team advanced in the World Cup?
The 2018 World Cup will take place in Russia from June 14 to July 15. Russia will host this year's quadrennial event, and current 2018 World Cup betting odds and odds to win the World Cup are currently posted at all offshore and Las Vegas sportsbooks.
I'm kidding about Putin, of course. (Kind of.) But the story of Group A is the story of the Russians. Their goal is simple: advance out of the group stage of the tournament. Only one host nation has ever failed to make it to the knockout round, and the Ruskies have a golden opportunity to avoid that fate by playing in the weakest group in the field.
Here is my Group A preview:
URUGUAY
Odds To Win Group A: -105
Odds To Advance: -500
Odds To Win World Cup: +3200
Uruguay Group A Predictions: Uruguay sits in a fantastic position. This national team finished fourth in the 2010 World Cup and advanced to the Round of 16 in Brazil in 2016. This year's squad is much younger but no less talented, finishing second in South American qualifying. Forwards Luis Suarez and Edinson Cavani are both elite players, and Uruguay sports a solid defensive unit that prefers to play from the counterattack.
Uruguay also has the best schedule of any team in the group. They will open against Egypt, who may be without their best player (more on that in a minute). Then they will likely tool on Saudi Arabia. Uruguay should have enough points from those two matches to advance. That should make their toughest game, against the hosts on June 25, a bit less critical. The path is paved for Uruguay to win this group, and I think it would be an upset if they didn't.
RUSSIA
Odds To Win Group A: +155
Odds To Advance: -325
Odds To Win World Cup: +4500
Russia Group A Predictions: This is the lowest-rated team in the field, entering the finals as just the No. 66 side in the world. But no one is more motivated than this group, which will be playing in front of some of the most insane fans on the planet.
Much has been made of the fact that Russia's national team hasn't won a game since last October. If there is a silver lining, it is the fact that they have played a truly brutal schedule, taking on Argentina, Spain, Brazil and France. But they also lost a recent friendly to Austria and took a draw with Turkey.
Russia was gifted what is being called one of the worst groups in World Cup history. They may be able to qualify on adrenaline and grit alone. The Russians are massive favorites over Saudi Arabia in the opener. And if they can get three points there then they should manage to weasel their way into the knockout stage for the first time sine the fall of the Berlin Wall.
EGYPT
Odds To Win Group A: +500
Odds To Advance: +125
Odds To Win World Cup: +15000
Egypt Group A Predictions: The fate of the Egyptians rests on the shoulder of Mohamed Salah, one of the best players in the world and the man responsible for shattering the English Premier League's single-season goal record. I say "shoulder" rather than "shoulders" because Salah injured his left shoulder in the Champions League Final two weeks ago, and he is questionable to play.
If Salah can find some magic, Egypt has a puncher's chance of besting Russia and stealing the second slot in this group. Without him - and you have to wonder how much he has left in the tank after a grueling league schedule - then Egypt is vulnerable. They lack the quality of Uruguay, and they lack the sheer desperation of Russia. And Saudi Arabia, which has no illusions of advancement, would consider this World Cup a success if they could upset a regional rival.
Egypt is in the crosshairs. Unless Salah becomes Superman then I have a hard time seeing this team moving on.
SAUDI ARABIA
Odds To Win Group A: +3500
Odds To Advance: +725
Odds To Win World Cup: +150000
Saudi Arabia Group A Predictions: Yeah, these guys are here too. The Saudi's are the worst team in the field. They are the equivalent of a small conference school that pulls an upset to steal a No. 16 seed in the NCAA Tournament. And, well, we know how that ends.
The game against Egypt, the third for each, might as well be the championship game for this squad. Both clubs could already be eliminated. And if Egypt has nothing to play for then Saudi Arabia could manage to steal one.
Saudi Arabia is also guaranteed at least one big moment; they get to play in the tournament's opening game against host Russia.
Group A Predicted Order Of Finish:
1. Uruguay
2. Russia
3. Egypt
4. Saudi Arabia
ROBERT FERRINGO is one of the top all-sports handicappers in the country and will be releasing rated selections in the 2018 World Cup this June and July. Robert has posted back-to-back winning World Cups (2010 and 2014) and went on an insane +$4,700 run with his plays in Euro 2016. Sign up for his plays here .
Read more articles by Robert Ferringo