2018 World Cup Group F Expert Betting Picks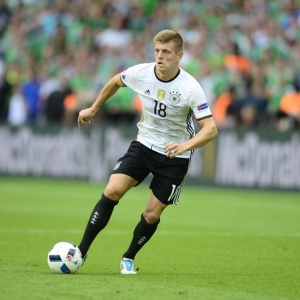 The defending World Cup champion German national team will attempt to become the first team in more than 40 years to defend its title when they head to Russia this summer. Germany, which has not finished lower than seventh at any World Cup since World War II, is also looking to appear in its fifth straight semifinals, a feat no other nation has ever accomplished.
There isn't much standing in Germany's way in Group F. Sweden and Mexico are both rock-solid squads with legitimate quarterfinal potential. But neither possesses the high-end talent that it would take to disrupt the Germans. An upset from either would be a truly stunning development.
The 2018 World Cup will take place in Russia from June 14 to July 15. Russia will host this year's quadrennial event, and current 2018 World Cup betting odds and odds to win the World Cup are currently posted at all offshore and Las Vegas sportsbooks.
Here is my 2018 World Cup Group F preview:
GERMANY
Odds To Win Group F: -300
Odds To Advance: -1500
Odds To Win World Cup: +450
Germany Group F Predictions: The Germans are the No. 1-ranked team in the world and rolled through their qualifying with a flawless 10-0 record while outscoring opponents by a dominating 43-4 margin. Die Mannschaft have absolutely dominated the World Cup this century, posting a 21-4 record, with just three draws, and outscoring opponents by a combined 62-18 margin.
Simply put, this team is a machine.
Were it any other squad, I would be predicting a letdown for the defending champions. The last two defending champions - Italy in 2010 and Spain in 2014 -and three of the last four (France in 2002) melted down and failed to exit the group stage. And only twice in the last eight finals has the defending champion made it back to the title game. Throw in the fact that their star goalkeeper may not suit up, and there are some valid concerns.
History is betting against Germany. I don't know how much of a hurry I will be in to join it.
MEXICO
Odds To Win Group F: +500
Odds To Advance: +105
Odds To Win World Cup: +10000
Mexico Group F Predictions: Since FIFA re-formatted the World Cup final in 1986, Mexico has made it out of the group stage every time in which they have made the final. In fact, Mexico is riding a streak of six straight advancements to the Round of 16 in the last six World Cups. However, Mexico is yet to break out and win a game in the knockout stage, and they will try to take that next step in Russia.
Mexico has a sturdy defense and plays a style similar to South American teams rather than mimicking a more European approach. Hirving Lozano is an exciting young striker and a focal point of the offense, along with seasoned attacker Javier Hernandez. If those two are on point then Mexico is good enough to play with any side in this field.
An opening match against Germany may tell the tale for El Tri. A win is unlikely. But a draw would be huge for their advancement prospects. And if Mexico loses that match then they need to avoid a letdown against South Korea in their second outing.
SWEDEN
Odds To Win Group F: +625
Odds To Advance: +110
Odds To Win World Cup: +15000
Sweden Group F Predictions: The Swedes are hoping to experience some addition by subtraction. Dramatic striker Zlatan Ibrahimovic, the nation's all-time leading goal scorer, no longer dons the blue and yellow. But Sweden is hoping that a more cohesive squad will make up for his loss with better chemistry and hustle.
Sweden didn't even qualify for the two previous World Cups. So they have already been better off without Ibrahimovic. And I've seen this before - plenty of times - in other sports where a team will lose a talented but troubled "star" player only to perform better without him. I think that will be the case for the Swedes.
But will that be enough? Without Zlatan, the pressure to create falls on capable Emil Forsberg. But if one of their aging strikers doesn't find their form then this offense will be punchless. This team has been shut out in three straight matches and has rung up only three goals in seven matches this season.
If Sweden can pull three points in their opener against South Korea then that could set the stage for win-or-go-home match with Mexico to close group play.
SOUTH KOREA
Odds To Win Group F: +1700
Odds To Advance: +300
Odds To Win World Cup: +75000
South Korea Group F Predictions: With nine straight World Cup appearances, South Korea owns the fifth-longest active streak in the world behind Brazil, Germany, Argentina and Spain. They have advanced to the knockout stage only twice in those nine trips, though, with one dream run to the semifinals in 2002 when the final was played on home soil.
South Korean likely wouldn't have survived any other qualifying group. They scored 11 goals and allowed 10, winning just four times (all at home). They fired their coach and have generally been unimpressive in friendlies over the past three months (1-4-1).
South Korea might have enough to steal a draw or spring an upset. But they are clearly the fourth-best team in this group and look like fodder.
2018 World Cup Group F Predicted Order Of Finish:
1. Germany
2. Sweden
3. Mexico
4. South Korea
ROBERT FERRINGO is one of the top all-sports handicappers in the country and will be releasing rated selections in the 2018 World Cup this June and July. Robert has posted back-to-back winning World Cups (2010 and 2014) and went on an insane +$4,700 run with his plays in Euro 2016. Sign up for his plays here .
Read more articles by Robert Ferringo