2018 World Cup Group H Expert Betting Picks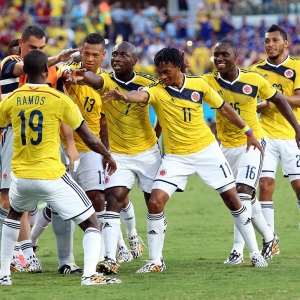 I have already stated that I expect the $#i% to hit the fan in Group D because of the balance and depth of the four teams in that group. Right behind that group, in terms of expected insanity, would have to be Group H, where any one of the four teams has a realistic opportunity to win the group and advance.
The 2018 World Cup will take place in Russia from June 14 to July 15. Russia will host this year's quadrennial event, and current 2018 World Cup betting odds and odds to win the World Cup are currently posted at all offshore and Las Vegas sportsbooks.
As the odds for this group suggests, this is the most balanced and competitive quartet in the field. Any of these four teams has a realistic shot at finishing at the top of the table, and Colombia and Poland are soft as the two favorites. In fact, I would be stunned if those were the two teams that advanced, and I think the door is open for Senegal or Japan to crash the party and make it to the knockout round.
Here is my 2018 World Cup Group H Preview:
COLOMBIA
Odds To Win Group H: +130
Odds To Advance: -800
Odds To Win World Cup: +4400
Colombia Group H Predictions: Germany won the 2014 World Cup in Brazil. But Colombia might have been the second most impressive team in that tournament. They barnstormed their way to three group wins and a plus-seven goal differential. They dominated Uruguay in the Round of 16 before bowing out to the hosts in the quarterfinals.
Colombia is hoping for a repeat performance this time around. And with James Rodriguez leading the way, anything is possible. Throw in captain Radamel Falcao and a rock-solid defense, and this team looks eerily similar to the 2014 quarterfinalists.
This team beats up on lesser opponents and loses to stronger ones. It's what they've been doing for the past six years. And if they continue to do so then they should manage to escape this group. But I will be stunned if they dominate the way that they did against a similar collection in 2014. And if I am looking at which of the No. 1 seeds are most likely not to advance - and it happens every Cup - this group would be at the top of my list.
POLAND
Odds To Win Group H: +170
Odds To Advance: -170
Odds To Win World Cup: +9000
Poland Group H Predictions: In what can only be seen as a stern rebuke to decade's worth of Pollack jokes, the Polish actually outsmarted FIFA and the rest of international soccer by finding a weakness in the rankings systems. As a result, Poland was drawn with the No. 2 seeds and found their way into a winnable group.
Robert Lewandowski and Piotr Zielinski are capable of exploding offensively and carrying this team into the knockout stage. Poland can't defend - at all - so they are going to have to outshoot and outscore teams if they want to survive this group. If Lewandowski is on song then he's good enough to carry this team.
SENEGAL
Odds To Win Group H: +430
Odds To Advance: +115
Odds To Win World Cup: +21000
Senegal Group H Predictions: Since the World Cup restructured its final in 1986, there has been at least one African nation that has advanced to the knockout round. In a wide-open group, I think that Senegal has as much of a chance as any African team to extend that streak.
Senegal has elite offensive talent, and they attack in waves. Sadio Mane gives them a world-class option up front and is a star in the Premier League. This team is deep in the midfield and solid in the central defense. Sure, the type of defensive lapses and inconsistency that trouble most African clubs plagues them. But the worldwide consensus is that the Lions of Teranga have enough talent to compete with any team in the world.
One advantage that this team has is that they don't play the group's top seed, Colombia, until the third match. If Colombia already has advancement sown up or if they have flopped and just want the tournament to end then they might not be as inspired as they would be otherwise.
JAPAN
Odds To Win Group H: +250
Odds To Advance: +255
Odds To Win World Cup: +50000
Japan Group H Predictions: Past versions of the Samurai Blue have been somewhat dangerous at the World Cup. This is Japan's sixth straight appearance, and they have made it out of the group stage, despite being a heavy underdog, in two of the last four Cups. But this team is a wreck. They were uninspiring in qualifying and fired their manager in March, changing leaders and tactics just two months leading up to the World Cup.
This team hasn't won since last October. Their two most recent friendlies - the first two games under new manager Akira Nishino - were both 2-0 losses filled with mistakes and uninspired play.
It wouldn't stun me if any of these four teams won Group H. But Japan is the least likely of the group to advance. This team has negative momentum, an aging roster, an unsettled system and all kinds of question marks. They look like chum.
2018 World Cup Group H Predicted Order Of Finish:
1. Senegal
2. Colombia
3. Poland
4. Japan
ROBERT FERRINGO is one of the top all-sports handicappers in the country and will be releasing rated selections in the 2018 World Cup this June and July. Robert has posted back-to-back winning World Cups (2010 and 2014) and went on an insane +$4,700 run with his plays in Euro 2016. Sign up for his plays here .
Read more articles by Robert Ferringo