Baseball Betting Advice: Easiest Early-Season Schedules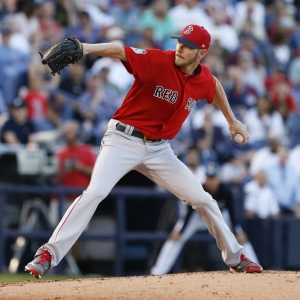 Not all schedules are created equal in the Major Leagues - at least not in the short term. Over the course of an entire season, there are so many games that schedules mostly even out. But in the short term - over a few weeks or a month - there can be a wide difference in the range between the toughest schedules and the easiest. Here's a look at three of the easiest schedules that teams face over the next couple of weeks or through to the end of the month. These teams are in different places, but they could all use a nice stretch of success - and they have the schedule to get it. We'll look at those schedules and at how oddsmakers might respond to where the team is at and what they face.
Boston Red Sox: At this point, Boston could use some help from their schedule. The season has started so far about as poorly as it possibly could have. They are a dismal 2-6 in their first eight games, and they have seen a very expensive pitching staff get off to a truly ugly start. They have opened up against Seattle and Oakland, two teams they should be able to beat. Yet they have won just one of four games in each series. They need to get back on track i a hurry.
Their early poor start is far from fatal for a team with this kind of talent, and it helps that the Yankees have really struggled as well. But they don't want to fall into a bigger hole than they have to - not with the kind of goals they have as the defending champions. Luckily for them, the schedule continues as particularly manageable this month - at least for large parts of it.
Starting today, they have three games at Arizona. Then they go home to play two against Toronto and then four against Baltimore. It's hard to imagine an easier stretch of nine games than that. They then have a couple of tougher series - at New York for two and Tampa Bay for three. But then they return home to four against Detroit. At the very least, Boston has 13 very winnable games from now until April 25. In normal circumstances, they would be very heavily favored in those games. However, with the way they have been playing, and the way their staff is struggling, we will have to wait and see how oddsmakers react - and if the team deserves any real respect.
Chicago Cubs: The Cubs have gotten off to a truly awful start to a promising season. They opened with a win at Texas. But then they lost the next two in Texas, and three in Atlanta, and they have given up a shocking 42 runs in those five games. They have three more games at Milwaukee that could be challenging but are very important. But then, aside from three games against the Dodgers, the rest of the month is exactly what the team needs to get back on track. If they can't turn a corner against this schedule, then things could really be rough for this team. They host Pittsburgh and the Angels. They go to Miami, then they host Arizona before the Dodgers, and then a trip to play Arizona again. They close out the month with two at Seattle - though the way the Mariners are playing right now that might not be as easy as it seems.
All in all, though, the Cubs have a great schedule. And they are a public team that faced high expectations. So, despite the early missteps, it will take a careful search to find value on this team with any consistency.
Seattle Mariners: The Mariners have been the biggest positive surprise of the young season, starting out at 7-1 after sweeping short series against the A's and Angels and taking three of four from the Red Sox.
The team went deep into what seemed like a dramatic rebuild in the offseason, but you would never guess it from what they have seen so far. The second half of April is tough, with series against Houston and Cleveland at home and then four at the Angels before two at San Diego. But before that put the team has a chance to build more confidence - and a bigger cushion atop their division. And they get some easy road games out of the way early - they are in Chicago for four starting today and then head to Kansas City.
If they play like they have played so far then they could have 14 or 15 wins by April 11. I wasn't entirely sure that they would get to that point by May 11. What Seattle has done so far doesn't entirely make sense, so it is possible that it will take a while for oddsmakers to buy into the team and to reflect that belief in the odds. There could be some value to be had over this upcoming soft stretch of games, in other words.
Read more articles by Trevor Whenham