2019 Breeders' Cup Betting Tips: Horses to Watch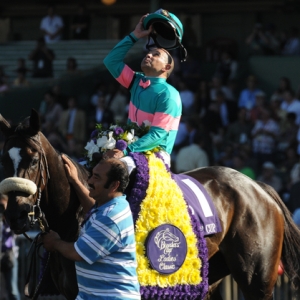 At the Breeders' Cup, it's easy to fall in love with the favorites and the other low-priced contenders. And it's not entirely a bad thing to do - those horses come through plenty over the weekend. But bettors need to have a mix of those horses, some long shots, and some mid-range contenders in their holster in order to give themselves the best chance of success. We've looked at the long shots in another article . The Breeders' Cup horses to watch that we are interested in here are the ones between the favorites and the long shots - the ones in the range of 8/1 to 15/1 on the track morning line. Here are four such horses that stand out on the weekend card:
Juvenile, Scabbard (8/1): The Juvenile set up as a four-horse race when entries were in. But then Maxfield, the likely third choice in the field, was scratched. Now it seems like it is being perceived as a two-horse race , and this horse has been forgotten a little bit. Dennis' Moment and Eight Rings - the latter named after Bill Belichick's Super Bowl accomplishments, so a name change could be in order before Derby prep season really gets rolling next spring - are the two favorites that are going to draw the bulk of the betting attention. Few of the longer shots seem even remotely interesting. But this horse, which was renamed after he had started racing because his original name, Noose, was just plain lousy, was a very solid second behind Dennis' Moment last time out. If you respect the likely favorite as much as most people do - and that is totally justified - then you pretty much have to respect this horse, too. And he gets Mike Smith on board for the first time here, which is a big bonus as well - no one is anywhere close to as good as him at winning Breeders' Cup races.
Filly and Mare Turf, Villa Marina (8/1): This is a very deep field, but Sistercharlie out of the dominant turf stable of Chad Brown is going to draw the lion's share of the action. Unless you are really in love with her - and many will be - this is a good race to look elsewhere for value. And I like this filly a lot. The three-year-old Euro is coming off a win at Longchamp in France at the beginning of October that was very visually appealing. European horses often favor softer turf because that's what they see more often. But this filly has seen the harder grass and responded favorably to it. It's not exactly damp in California right now, so she should find a surface she likes. Her connections are strong, and she is in good form. At anything close to this price she is serious value.
Mile, Hey Gaman (12/1): Mile racing on the grass is what they do best in Europe, so I am always going to look closely at the Euros in this race - even though what is sent over for this race is rarely the top milers they have. This horse doesn't stand out at first glance because his last two races were just lousy. The combination of general preferences and weather means that European horses tend to run on softer turf than we see here. American turf is generally firm. And given how dry California is right now, the turf here is really going to be firm. The last two races for this horse were on soft surfaces. But he ran over harder ground before that and had two wins and two seconds in four races. Before that, his two soft course races were lousy, too. This is definitely a horse for a specific course, and it's the course he'll get here. In a pretty wide-open race, this is an interesting horse that will provide value if he goes off close to this price.
Dirt Mile, Giant Expectations (12/1): Three-year-olds Omaha Beach and Improbable are both going to draw a lot of money in this race, but I struggle to trust either of them, so I'll be looking for value elsewhere. And this six-year-old could be where I look - at least for the exotics. This is his third time in this race, but we are still waiting for him to run a good race in the event. Off a layoff, he came back in August of this year to run a very game second at Del Mar. Since then, he has been working at Santa Anita and has looked very solid doing so. He has run 77 percent of his races on fast dirt tracks and has made more than 90 percent of his career earnings in those conditions. That is what he should see at Santa Anita, he likes the track, and he likes to be in the mix of things. At this price, he's a live play for value hunters in a race that will have some over-bet favorites.