2019 Dubai World Cup Picks with Odds and Expert Betting Predictions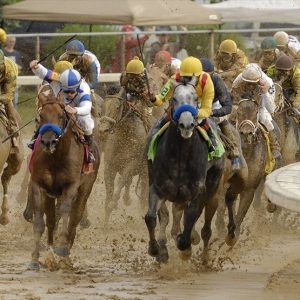 It's hard to keep track because it changes so often, but right now the Dubai World Cup is back to being the richest race in the world, with a $12 million purse. The race started in 1996 when Cigar, the greatest horse I ever saw with my own eyes, won the race. Two years later Kentucky winner Silver Charm won the race, and he really elevated it into a major target for the best older horses on this side of the pond. Derby winners Animal Kingdom and California Chrome have also won the race, along with legends like Curlin, Arrogate, Street Cry and Invasor. But what makes the race so interesting is that it isn't just another big American race. The best of the Dubai-based horses are entered, and top European and Japanese horses are sent here, too. The Breeders' Cup was designed to be a world championship, but for older horses on dirt this serves as more of one in many ways.
This year's edition on Saturday features 13 horses. The American contingent runs five horses deep. And though it's interesting enough, it's far from the strongest group to make the trip. Instead, the race sets up as a showdown against local rivals. Here's a look at the highlights of the race, with odds from Bovada .
North America (+300): This seven-year-old veteran has, ironically, never run in North America. He hasn't really run much anywhere - he made his debut in 2014 as a two-year-old but has run only 17 total races. His first six races were in England, and then he went to Dubai and has never left. Last year he was the second choice in this race but missed the start so badly that it was comical, and he never really recovered as he finished 10th. He has run only twice in the year since, winning prep races in January and February. His connections are very confident, and oddsmakers like him, obviously. At the price, though, I can't help but feel skeptical.
Thunder Snow (+450): This horse won the race last year and looks to be the first repeat winner in race history. The horse is much more familiar to North America bettors than the favorite, though. After winning the 2017 UAE Derby, he came to run in the Kentucky Derby, but he wouldn't run out of the gate and didn't finish. After running in Europe and Dubai, he again returned stateside last fall, finishing second in the Jockey Club Gold Cup before running third in the Breeders' Cup Classic. He got a break after that last race, only coming back earlier this month to finish second in a Dubai prep. Last year he benefited in a big way from a track bias, so given his rustiness and otherwise less-than-brilliant performance in big races, I'll look for a bigger price.
Seeking the Soul (+600): The odds suggest that this is the best of the American contingent. Last time we saw him he was second in the Pegasus World Cup in January - a year after finishing fifth in the same race. He was second in the Breeders' Cup Dirt Mile last year. And though I respect the horse, I question if this distance is entirely for him. Again, I'm looking for a bigger price.
Yoshida (+700): There are some horses that just mess with your brain, and this is one of them for me. In 2017 and through much of last year, he was a turf horse that had stunning potential, and when he put it together he was spectacular - he was a Grade 1 winner. But then he was moved to dirt. He started with a serious bang, winning the Grade 1 Woodward at Saratoga in spectacular fashion. But he was less impressive in the Breeders' Cup Classic and again underwhelmed back on the grass in the Pegasus World Cup Turf Invitational. When he's at his best, he's amazing - you don't win Grade 1 races on two surfaces by accident. But he's hard to trust right now. I'll have a piece of him - I can't help myself - but I won't be mortgaging my house to do so.
Audible (+1200): Last year's Florida Derby winner was third in the Kentucky Derby and has run only three times since. He last appeared in the Pegasus World Cup, finishing fifth. I wish he'd raced more, but I like how he is training, I like the connections, and he'll be a big part of my bets on this race.
Gunnevera (+1200): This colt was seventh in the Derby and fifth in the Preakness in 2017 and has been messing around in big races since. He has been fifth and second in the Breeders' Cup Classic, third and sixth in the Pegasus World Cup, and eighth in this race last year. He's obviously good enough to grab a piece if all goes well, but I don't see him as a winner.
Gronkowski (+2000): It's been a wild ride for this colt. A weird one. He started in England, and his first stakes win there was in a Derby points race. He came to Kentucky to run in the Derby but got sick and instead hit the Belmont, finishing second behind Justify's historic run. Chad Brown had taken over training by then and had him the rest of the year, making three unspectacular starts in New York. He came to Dubai and switched to a local trainer. His only local start was a fifth in the prep race that Thunder Snow won. Fun story, but I don't see it happening here for him.
Axelrod (+2500): This is another horse that was American-based last year and has traveled to the same Dubai stable as Gronkowski. He was slow to bloom as a three-year-old but had two stakes wins in the summer, and then was second in the Pennsylvania Derby. They took a shot in the Breeders' Cup Classic, but it went poorly - he finished ninth. Then he wasn't strong in the Malibu Stakes, either, before coming to Dubai where he has had one awful prep race. It's hard to get excited about this horse.
Pavel (+2500): If you've read my race previews over the years, you know I couldn't possibly have less respect for trainer Doug O'Neill. Fully the worst. And this horse certainly doesn't change that. He hasn't run a good race since last June, and his last three starts have been really ugly. Easy pass.
Read more articles by Trevor Whenham