Which Final Four Teams Have Best Crowd Support? Expert Analysis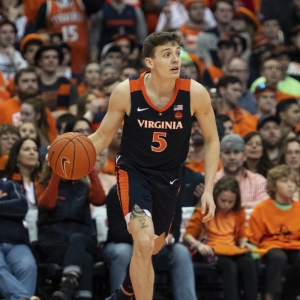 The Final Four comes to Minneapolis this year. This is the fourth time that the city has hosted the event dating back to 1951. But this is the first time that they have hosted since the U.S. Bank Stadium was built, so we are treading new ground. The closest link that any team has here to the Final Four past in Minneapolis is that Tom Izzo led his squad to the Final Four in 2001 the last time it was in this city. Michigan State was humiliated by Arizona in their debut, though, so that won't create much sentimentality for the program.
One of my favorite things to look at during the NCAA Tournament is the geography factor - how far teams have to travel and what effect that will have on them and their fan support. We've checked in on this heading into both of the weekends of the tournament so far, so it only makes sense that we should do it again here. Geography will likely not be the deciding factor for who will cut down the nets, but it will be a part of what happens. I'll provide a few insights, and you can figure out how much it means.
We'll get into each team individually in a second, but we can't overlook the strange similarities here. Michigan State is a different case, but the other three teams are traveling almost exactly the same distance - the three schools all travel the same distance to Minneapolis within 30 miles. It's interesting that all three schools are far from each other, yet basically equidistant to Minneapolis. Or maybe it's just interesting to me, but I'm the one who gets to write the articles, so you are stuck with it.
Michigan State Spartans
We'll start with the one that is not like the others. Michigan State is the closest team here, and their travel is almost half as far as the other three teams. East Lansing sits 636 miles from U.S. Bank Stadium. That's much closer than the other opponents but still too far away for an easy drive for fans. But the Spartans have the deepest tradition of success for their program from these four teams and are likely to be noticeably well supported.
Beyond being closer than the other teams, the Spartans have a very significant edge in familiarity with Minneapolis. Michigan State and Minnesota have been Big Ten rivals since the Spartans joined the conference in 1950, so Michigan State teams have been making this trip West for many decades. This edition of the team did not play at Minnesota this year, but they did play an exhibition scrimmage against Gonzaga in October at the Target Center in Minneapolis, so they have made this trip before this year.
It's worth noting that while the Spartans are in their conference territory here, they are not massive rivals with the Gophers. Local fans will not particularly struggle to cheer for the Spartans and are likely to embrace the familiar team ahead of the others. Crowd support should be very solid for the team.
Auburn Tigers
The SEC Champions are traveling 1,166 miles from Alabama to the U.S. Bank Stadium. Needless to say, Minneapolis is not a usual destination for the squad, and there isn't likely a strong pocket of local Minnesota fans who say "War Eagle" too often.
Auburn made an early trip to Hawaii for the Maui Invitational, but since then they hadn't left the southern states during a kind regular-season schedule. But they have certainly made up for that with a rough stretch of travel to earn the ticket here - they opened the tournament in Salt Lake City and then were in Kansas City last weekend.
Texas Tech Red Raiders
Lubbock, Texas, as it turns out, is 30 miles closer to Minneapolis than Auburn, Alabama - 1,136 miles. There is a fact you have never known and very likely will never need to know again. The Red Raiders also do not have any particular connection to Minneapolis and are not going to be familiar with it. The closest they get with any regularity is Iowa State, 215 miles south of Minneapolis. And Texas Tech isn't going to have a noticeable alumni base or any particular public appeal, so they will have to bring their fan support with them. And they are a football school more than a basketball one, so they aren't going to travel en masse.
The Red Raiders played their last two games in Anaheim, so long travel to unfamiliar surroundings are not something they are facing for the first time - and they made short work of two very good teams on their California adventure.
Virginia Cavaliers
Charlottesville, Virginia, is about three miles further from Minneapolis than Lubbock at 1,139 miles.
The Cavaliers have had an incredibly soft schedule this year when it comes to travel. This trip to Minneapolis is not only their longest trip of the year so far but also the first time that they have left the eastern time zone. They had very comfortable trips to Columbia, South Carolina and Louisville in the first two rounds of the tournament.
The Cavaliers are likely the second most public team here, but far behind the Spartans in Minneapolis. They also have the second-best basketball tradition at their school and will have a significant edge in fan support over Auburn in their opener on Saturday.
Read more articles by Trevor Whenham
---
Most Recent March Madness Betting