Expert NCAA Tournament Handicapping and Betting Advice: Rematches in Tourney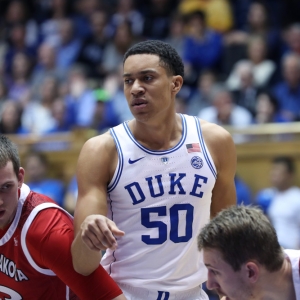 Every year we see a few situations in the NCAA Tournament in which teams that have already played in the regular season meet again in the tournament. The committee will avoid these situations in the opening round unless they can't possibly do so. But after that it can happen, and very likely will at some point this year - probably more than once. Our goal here is simple - see what has happened in the past in these situations so that history can help guide us here and then look at some of the more interesting potential rematches we could see.
The last decade
Over the last 10 editions of the tournament, we have seen 35 rematches - and average of 3.5 games per year. There has been at least one every year, with a low of one in 2010 and a high of five in 2015. There have been three in each of the last three years. They have happened in every round of the tournament except for the play-in games, including three times in the Championship Game.
The teams that won the first meeting have a strong 24-11 record in the second games. All three national titles were won by the team that also won the first meeting. Teams that meet again in the Final Four have also replicated the earlier results by a 5-1 margin. Teams are 3-1 in rematches in the first round as well, though, so we can't draw a simple conclusion that teams are more likely to double up wins in later rounds.
Potential rematches this year
There are potential rematches all over the board. The potential conference showdowns alone are plentiful. We'll just look at the top seeds to give you an idea of what could happen. These are some of the juiciest potential showdowns.
A lot of people expect Duke to make a very deep run in this tournament - like six wins deep in a lot of cases. If they do that, they could find themselves dealing with several potential rematches. They could face a Virginia Tech team that upset them earlier, in the Sweet 16, and Louisville or Maryland in the Elite Eight. In the Final Four Virginia looms as a potential third meeting. And in the Championship Game they could meet North Carolina or Gonzaga - two No. 1 seeds that have already beaten Duke. Florida State and Auburn are two other potential rematches that could conceivably happen in the final. Duke has played in five of these games under Coach K in the last decade, going 4-1 in the tournament editions of the meetings.
Virginia could face a Sweet 16 rematch against a Wisconsin team they have already beaten once in one of the more lethargically-paced games played all season - the two teams combined for just 99 points. That's it for potential games for them in the early rounds, but they make up for it in the Final Four where they could face rematches against Duke, VCU, Virginia Tech, Maryland or Louisville. And in the championship, they could meet North Carolina again, along with Florida State.
UNC faces familiar possibilities as a third ACC team as a top seed, so we won't bother mentioning all the conference possibilities again. There are still several possibilities, though, because the Tar Heels played a very tough nonconference schedule. In the Elite Eight they could play a Kentucky team that beat them or a dangerous upstart in Wofford that would have nothing to lose if they made it that far. In the Final Four, they could meet a Gonzaga team they beat, or a Michigan team that beat them up. In the final, though, it would only be a rematch if it's a conference game.
Finally, we have Gonzaga. Their options are fewer because their conference has only two bids, and they couldn't face No. 11 Saint Mary's until the Championship Game. That's not happening. Along with the Duke and North Carolina, potential rematches we've already discussed, the team could also play Tennessee for a second time in the final, or Washington in the Final Four. They could also face North Dakota State for a second time in the final, but that would require the Bison to win their play-in game, shock Duke, and then become the first No. 16 to win more than one game. If it was football, I might take a flier on North Dakota State, but not here.
We can apply the same logic to the No. 2 seeds and beyond. And we can dream of some fascinating showdowns - a fourth Michigan-Michigan State game of the year would surely be a classic heavily tainted by hatred, for example, or Kentucky and Tennessee could meet for a fourth time after three interesting games in which Kentucky has had a 2-1 edge. There are a lot more potential rematches that are interesting than ones that won't be worth much.
Read more articles by Trevor Whenham
---
Most Recent March Madness Betting