Launch Angle Stat: Advice for MLB Handicapping and Betting
by Wes Clayton - 5/8/2019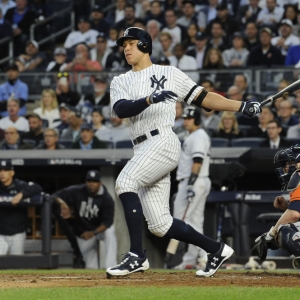 With all the new advanced baseball metrics, it can be hard to understand how each is relevant to wagering. After all, people have been wagering on baseball since it's inception, even before statistics were recorded. One of the hottest new statistics is Launch Angle.
Launch Angle represents the vertical angle at which the ball leaves a player's bat after being struck. Average Launch Angle (aLA) is calculated by dividing the sum of all Launch Angles by all Batted Ball Events. Fly balls are 25-50 degrees. Pop ups are greater than 50 degrees. Every ball hit has a launch angle. Pop ups behind the catcher are above 90 degrees, a line drive parallel to the ground would be zero degrees, and grounders/choppers are anywhere from -10 to -30 degrees.
From 21-36 degrees is the typical home run or extra base hit. We saw the home run rate increase significantly post 2016. This increase was all in the 21-36-degree window, and all other balls saw no significant statistical change. You can learn more about this in an article by Alan Nathan which can be read here .
Traditionally, hitters are trained in little league to hit line drives and never to "uppercut" the ball. However, ever since the Billy Beane's "Moneyball" philosophy came into popularity, teams have taken a tactical approach to the fly ball. Many successful MLB hitters will even tell you if they hit a ground ball (even if it's a hit), it was a mistake!
A very important thing to keep in mind about Launch Angle Against (LAA), is that the lower the number the better for the pitcher. So, an average of 12.5 degrees or lower puts you in the top 50 percent of the league, and 12.5 degrees or higher puts you in the bottom half of the league. The lower the degree, the better the pitcher is in that statistic.
How can we use this for handicapping?
The biggest factor to help us here is handicapping the starting pitcher using the LAA statistic. In general, pitchers who limit their LAA have lower ERAs because they avoid home runs and extra-base hits, which come with higher launch angles. On average, fly-ball hitters drive in more runs than ground-ball hitters.
A few examples
Marco Estrada of the Oakland Athletics has the highest average LAA in the league currently at 31.3 degrees as of 5/6/2019. Consequently, he is 0-2, with a 6.85 ERA and 1.31 WHIP. He's given up seven home runs in five starts, and 18 earned runs. Only 17 groundballs to 67 fly balls. This sets him up to be a pitcher to fade until he turns it around.
Mike Soroka of the Atlanta Braves, however, has one of the lowest LAA in MLB at -1.1. More than likely this is due to his sinker and slider being "worm killers" and producing a ton of groundballs. In four starts he is 3-1 with a 1.14 ERA and a 1.01 WHIP. This would be a pitcher to play "on" unless these numbers start to reverse.
What's the bottom line?
Starting pitchers with higher LAA averages are good fades. Starting pitchers with lower LAA averages are great to wager on.
This is also great for "Team Totals" as you need to rely only on the one starting pitcher you are researching.
You can also utilize LAA for first five inning plays. Especially if you get two pitchers with high LAA numbers, and their ERA seems low or if they have pitched well recently. The thought here is their current numbers are not indicative of the quality of pitcher they really are. They are due to regress in the big scope of things. Conversely, you can also use this for a pitcher who has a low LAA, who just got rocked in their last outing. Again, the last game is not indicative of who they really are, and they are probably due for a bounce back.
You can also capitalize by looking at a team's bullpen in general. If a lot of the bullpen has high LAA, you can use this around the fifth or sixth inning of a "live" or "in game" wager on the "over". Especially if wind is blowing out and especially in the summer. This works better placing the wager if the road team is winning at the time of the wager. The thought here is you will get the extra three outs in the bottom of the ninth inning if need be, and if it doesn't reach the bottom of the ninth, it means the home team scored some runs.
Doc's Sports is offering $60 in member's baseball picks - no obligation, no sales people - you don't even have to enter credit card information. You can use this $60 credit for any of our top MLB handicappers. Get $60 worth of premium members' picks free. Also, for a limited time only get three MLB handicappers for the price of one. Click here for details . Get free MLB picks daily on Doc's Sports homepage.