Duke Blue Devils Should Bounce Back After Close Call Against UCF
by Chris Vasile - 3/26/2019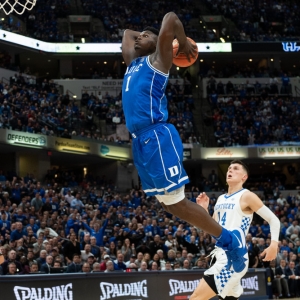 What a first few days of the NCAA Tournament, eh? This tournament has been extremely chalky from an outright winner perspective but extremely favorable to the underdogs in the first two days of the tournament. What's left of the tournament is going to be (I hope) phenomenal basketball that features the top teams in the country and a chance to see what Duke can do against a team like Gonzaga, whom they are on a direct collision course with in the Final Four.
There hasn't been too many buzzer-beating moments or high drama that we are used to associating with the NCAA Tournament, but we still have 15 games left to get the drama we deserve. I've taken the time to recap the regions and give you my take on what's changed from pre-tournament to Sweet 16 in terms of which teams are destined for greatness.
South

The South Region of the bracket provided us with very little by way of entertainment when you really break down the games. Aside from an upset courtesy of UC-Irvine over Kansas State in the first round, the rest of the games have been relatively straight-forward. Yes, Oregon as a No. 12 seed pulled off an upset in their opening game over No. 5 Wisconsin, but the spread was just two points, and many experts were riding the Oregon freight train that is gaining steam. The top-ranked Virginia Cavaliers survived a mini-scare in their opening game against No. 16 Gardner-Webb as they were down six points at the half. They stormed backed to win the second half 41-20 en route to a 15-point victory. No. 2 Tennessee survived a scare from No. 10 Iowa after blowing a 21-point half time lead only to win by six in overtime. And Purdue was all business in both games, routing both Old Dominion and Villanova. This region is wide open as any one of these teams can beat one other. Oregon would by my pick of the litter, but only because they are playing out of their minds right now.
West

What can be said about the West that hasn't already been said about the South? There was very few talking points aside from the fact that Texas Tech looks legit after dismantling a really good Buffalo squad in the second round. But make no mistakes about it. This is Gonzaga's region to lose, and I'll be damned if they are going to let Florida State or one of Texas Tech/Michigan ruin their season. Gonzaga is one of the most efficient teams in the country and left in the tournament, and they are on a collision course with Duke in the Final Four. Shout out to Murray State's Ja Morant who proved to the country that he is in fact a legitimate lottery pick in the upcoming NBA Draft. It's a shame his teammates couldn't pick up the slack and help him out.
East

The East Region has given us the most entertainment out of the four regions. We were given a few last-second wins and rim outs, a 'Zion Cam', a Tacko Fall picture with reporter Tracy Wolfson in which Wolfson is literally half the size of Fall, and a 12 over five upset. So here we are, with the four top seeds in the region competing in the Sweet 16, and we all believe that this is Duke's region to lose. UCF may have provided teams with a blueprint on how to give the Blue Devils trouble, but none of the remaining four teams in the region stack up like UCF. Duke and Michigan State are the likely winners in the Sweet 16, with the winner moving on to the Final Four (what should be the de-facto final) against Gonzaga. My money is on Duke.
Midwest

The Midwest Region has been so chalky this year that I sneezed while writing this paragraph. The only upset was No. 5 Auburn over No. 4 Kansas in the second round, and not even that game was close. North Carolina - despite a slow and sluggish opening game vs Iona, look the part of Final Four representatives, but three very good teams stand in their way in the form of Auburn, Kentucky and Houston. This region is pretty much up for grabs, as any of the remaining teams can beat the others, which is why this region won't win the National Title. They are simply going to beat up on each other far too much to overcome a Duke or Gonzaga waiting on the other side.
Final Four

My original bracket (and my only bracket) had Duke, Gonzaga, Houston and Tennessee as my Final Four. While I still may be alive, that's just about the chalkiest Final Four in the history of the tournament, so I'm sure many people out there have the same picks. With that said, I still like Duke, Gonzaga and Tennessee to make it out of their region, while I was hoping Houston could avoid the likes of UNC or Kentucky due to an upset in the earlier rounds. That doesn't seem likely as we approach the Sweet 16, but I'm not about to waver on my original selections now. Let's stick with them and see what happens.
---
Most Recent March Madness Betting