NCAA Tournament Coaches That Could Become Famous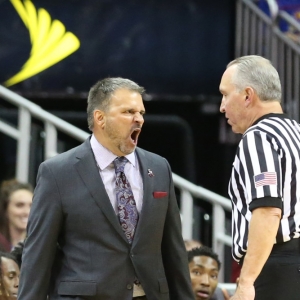 Every year in the NCAA Tournament we see coaches who few knew about become stars on the biggest of platforms. They can turn them into a much bigger job immediately - Andy Enfield parlayed a run with Florida Gulf Coast into a new job at USC. Or it can be a slower burn - Shaka Smart saw his profile grow with every appearance with VCU. Sometimes the guys are hot new coaches, but as often they are overnight successes that have actually been in plain sight for years - Loyola's Porter Moser was a hero many discovered for the first time on his way to the Final Four last year, but he had 13 years as a head coach and many more as an assistant under his belt by that point. We won't know who the breakthrough guys this year will be until it happens, but we can speculate. Here are five that could make a move:
John Brannen, Northern Kentucky: Brannen pulled off a neat trick. He was a longtime assistant at Alabama and was the interim coach briefly when Anthony Grant - another guy who broke out in the tournament with VCU and used it to land the Alabama job - was fired. It is typically a setback to be an assistant for a fired coach, but Brannen jumped right from there into the head job here. And this is a safe spot for him - the campus is less than 10 miles from where he grew up. Brannen took over a messy team and was 9-21 in the first season. But he made the tournament in year 2, and after a trip to the NIT last year he won both the regular season and the conference tournament this year. Coaching at home can be attractive, but he's only 45 so he isn't going to be a lifer. He's going to get opportunities.
Chris Jans, New Mexico State: Jans has had to regroup and start again and was fortunate to get another chance. After a long stretch of junior college head coaching experience, he became an assistant at Illinois State and then Wichita State for seven years. The Shockers improved his brand dramatically, and he landed his first Division I job at Bowling Green. He had the most wins in 13 years at the school in his first year, but right after the season ended, he was filmed drunkenly and lewdly approaching women in a bar and was fired, with a morals clause in his contract to blame. He returned to Wichita State to regroup and then landed this job before last season. He took over a very good team that had won 28 games the year before he came and had made the tournament in five of the last six years. He has maintained the momentum nicely, winning 28 last year and 30 so far this year.
Mike Young, Wofford: Young is a guy who has the look of a lifer at Wofford. He became an assistant at the school in 1989 when he was just 26, stayed there until 2002 in that role, and then jumped into the head coaching job which he has held since. He is Wofford basketball. But he is having a career year, and people are taking notice - Sporting News, perhaps a little ambitiously, has named him their coach of the year. He's 55 now, so if he wants to try things out somewhere else this is probably the best chance he'll get. This is the fifth time since 2011 he has made the tournament and the fourth he has won the regular season title as well. Wofford is a legitimate team and is well positioned to win their first game and then give Kentucky a test.
Ritchie McKay, Liberty: McKay has been around, with 17 years of head coaching experience at five schools. And he is at his second stint at Liberty - he has been here for four years and was previously there for two. In between he was the associate head coach at Virginia, owing to a long-term relationship with Tony Bennett. His coaching clearly reflects the Virginia influence - his squad is defensively disciplined, he doesn't like tempo, and his squad is efficient at finding their shots. Virginia's success is impressive - last year's tournament aside, obviously - so that connection could help McKay if he decides he wants to move on up the coaching ladder. He's only 53, so he still has time. His reputation is helped by the fact that Liberty was lousy before he arrived both times, and he has got them back on track both times.
Matt McMahon, Murray State: McMahon is the youngest on this list at 40, and he has all the pieces in place to get a ton of attention here. He's 40 years into his only head coaching job. He took over a team that was in good shape thanks to Steve Prohm, who is at Iowa State now. But they are in a better place now - this is their second straight conference win and tournament appearance. McMahon also gets credit for recruiting and developing Ja Morant, the sophomore freak who is likely to be the second pick in the coming NBA Draft. Things will change when Morant leaves, so the timing will be perfect for McMahon to leave with him. And this team has a very winnable opener against Marquette, which would only help his case.
Read more articles by Trevor Whenham
---
Most Recent March Madness Betting