2019 Rebel Stakes Expert Picks with Odds and Betting Predictions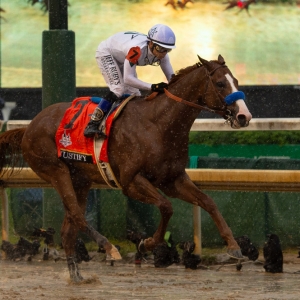 Chaos at Santa Anita has had a major ripple effect throughout racing, and it has created the most memorable Rebel Stakes I can remember. The cancellation of the San Felipe when Santa Anita was closed led to some very good horses suddenly needing a prep race, and the Rebel was the obvious spot. As a result, the Rebel has been split into two divisions - one with 10 horses, and another with nine. Instead of the $1 million purse and the 50 Kentucky Derby points to the winner, each division will have a $750,000 purse, and 37.5 points to the winner.
As soon as the draws were released on Wednesday, a lot of people wanted to be upset. Those people don't pay attention to details - which makes sense, because if they did it would be tougher to get upset. They didn't notice that the track said up front that trainers that entered two horses would have them separated between the two divisions, so they assumed that there was a conspiracy behind the fact that Bob Baffert, Steve Asmussen and others won't have to go against their own horses. Baffert has perhaps the top two Derby contenders in the country in these races, so he's surely not unhappy to get this break.
Here are the highlights of the two divisions:
First division - Race 8
The 6/5 favorite here is Baffert's Improbable. The undefeated colt was unbeaten in three races as a two-year-old, but he is only making his three-year-old debut here. His talent is immense, but the San Felipe delay means he doesn't have much margin for error on the way to the Derby. He has run very well, he's training like a beast, the breeding is sound, and Baffert knows a thing or two about getting ready for the Derby. The trainer has made this race his personal playground, having won it six times since 2010, including with Triple Crown winner American Pharoah in 2015. He's the horse to beat, but he isn't going to run away with the race.
His biggest challenger is Jerry Hollendorfer's Galilean, who opens at 2/1. He's taking a step up in competition here as he has faced only state-bred competition so far. But he got a break drawing into this division because he's a horse with early speed, and he could be alone on the front if he breaks fast. I like Improbable better, but if Galilean gets his race he'll be tough, and he has to factor heavily into exotics betting.
The third and final real contender here is Steve Asmussen's Long Range Toddy. He has earned 18 Derby points already, so he could secure a spot in the Derby field with a piece of the action here. He's more of a grinder than a budding superstar, so I'll include him but not to win. The biggest knock against him is that he likes to stalk the early pace before pouncing when it falls apart. However, with just one speed horse, the pace might not set up for him. I'm not entirely convinced he has the class to overcome that.
Second division - Race 10
Again, the favorite here in the 10-horse field is a Baffert trainee - Game Winner is the undefeated two-year-old champion. He had some rough spots to overcome over the winter, though, so we haven't seen him on the track since the Breeders' Cup Juvenile on Nov. 2. He trained very well last time out, though, and seems ready. He likes to sit off the pace, and there is more pace here than the other division, though, so he should be in good shape. He'll very likely go off lower than the 6/5 morning line price, and I am not crazy about Joel Rosario being in the saddle, but this is the top three-year-old in the country in my eyes right now, and I won't doubt him until he gives me reason to.
Gunmetal Gray is the second choice at 4/1. This Californian has benefited from Baffert's best being slow to hit the track, as he won the Sham and was second in the Robert B. Lewis. He should be in contention here in a race that isn't as deep as the other division, but I don't see how he is nearly of the caliber of the favorite. Both horses will be coming off the pace, and this is the second-best by a wide margin.
Flavien Prat is on Gunmetal Gray and was also on 6/1 Omaha Beach up to this point. I like Prat fine, but getting Smith is a big upgrade for this third-choice colt. The issue he faces, though, is that he runs a virtually identical race style to Game Winner, and I don't think this colt measures up. He started on grass and broke his maiden on an off track, so seeing how he can shine on fair dirt is hard to see in this company.
The final top contender is the 8/1 Mark Casse colt Our Braintrust. Last time out he was second in the Withers in Aqueduct - a race that has aged well so far this year. Again, his issue is that he also comes off the pace, so will be dueling with the favorite. Luck will be a factor for all the horses, but the shape of the race and the prices makes it tough to go with any other winner than the top choice.
Read more articles by Trevor Whenham