This Week in Sports Betting, A-Z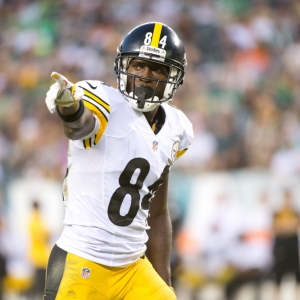 A. Andy Murray . In a tearful pre-Australian Open press conference, Murray announced his upcoming retirement from tennis last week. The 31-year-old Scot, who has been unable to make a full recovery from 2017 hip surgery, hopes to at least make it to Wimbledon for a goodbye tournament. He battled valiantly through a five-setter at the Aussie on Monday, losing to Roberto Bautista Agut 6-4, 6-4, 6-7(5), 6-7(4), 6-2.

B. Brown, Antonio . In this day and age, the only way to know if something is serious or not is if it involves either a follow or an unfollow on Twitter. With Brown, it's the latter. The star receiver unfollowed the Steelers on Twitter last week. That can only mean one thing: he's gone.

C. C.J. Anderson . Anderson has been kicked to the curb a few times in recent years, but other teams' pain is the Rams' gain. Turning back the clock just a bit, the 27-year-old torched Dallas to the tune of 123 yards and two touchdowns on 23 carries during a 30-22 divisional-round win last weekend. L.A. rushed for 273 yards as a team while punching a ticket to the NFC Championship. The Rams are +3.5 underdogs at New Orleans on Sunday, per Bovada Sportsbook.

D. Damien Williams . Anderson isn't the only unexpected running back in a starring role for the NFL playoffs. Thrust into the spotlight following Kareem Hunt's suspension, Williams has two 100-yard performances in Kansas City's last three games and seven total touchdowns in the last five. He rushed 25 times for 129 yards on one score during the Chiefs' 31-13 blowout of Indianapolis last weekend. Kansas City is +190 at MyBookie.ag to win the Super Bowl.

E. Engaged . Tim Tebow is about to lose that v-card. The 31-year-old popped the question last week to former Miss Universe Demi-Leigh Nel-Peters. God bless.

F. Forty-four . Blake Griffin made his return to L.A. for a date with the Clippers last Saturday. He finished with 44 points, eight rebounds, five assists, three blocks, and zero handshakes with Steve Ballmer in a 109-104 win for the Pistons. 5Dimes Sportsbook has Detroit as a -2 home favorite over Miami on Friday.

G. Gase, Adam . What the heck was up with Gase's eyes during his introductory press conference with the Jets? Oh, maybe he was just looking at a list of the last eight seasons produced by the team he just took over.

H. Harden, James . Here's the most ridiculous and quite simply the best stat you will see all month, and maybe all year: Harden has scored 57 and 58 points in back-to-back games; a grand total of zero of his baskets in those two games were assisted on. You can't make this stuff up, folks. By the way, there's no sign of Harden's scoring binge ending any time soon. After all, he recently poured in 38 points on a night when he went a laughable 1-for-17 from three-point range.

I. Inevitable . There are two certainties for next month's Oscars. It will go on without a host, and Alfonso Cuaron will go out with some hardware. Cuaron is -1500 at BookMaker to win Best Director for his work in "Roma."
J. J.J. Barea . Barea, who is listed at 6'0'' but is only 6'0'' if Muggsy Bogues is 6'9'', suffered a ruptured Achilles' last week is out for the season. The only good news for the Mavericks-and for NBA fans-is that this likely means even more playing time for Luka Doncic.

K. Karl-Anthony Towns . KAT corralled an amazing 27 rebounds in Minnesota's victory over New Orleans this past weekend. He also had 27 points and four blocks, but no one's going to be paying attention to those latter numbers when you bring down 27 freaking boards.

L. LaMarcus Aldridge . In perhaps the game of the season so far, Aldridge poured in a career-high 56 points as the Spurs outlasted Oklahoma City 154-147 in overtime last Thursday. Granted he hasn't been able to throw it in the ocean since, but who cares! That was awesome! San Antonio is a +1 underdog at Minnesota on Friday, according to BetOnline Sportsbook.

M. Matt Kuchar . At 40-years-old, Kuchar is suddenly the hottest golfer around right now. He has already won twice during the official 2019 PGA season, climbing to second in the FedEx Cup standings with last week's triumph at the Sony Open. Kuchar erased a brief Sunday deficit to shoot a 30 on the back nine and go 6-under on his last 10 holes to prevail by four strokes.

N. Nash, Rick . Nash, most recently a member of the Bruins, retired from the NHL last week due to concussions. He had been third among active players in career goals. Boston is +750 at GT Bets to win the Eastern Conference.

O. Ohio State . Welp, Tate Martell isn't even going to try to compete with Justin Fields for the Buckeyes' quarterback job. Right after Fields announced his transfer from Georgia to OSO, Martell peaced out in a New York minute; well, more like a Miami minute, as he is taking his talents to South Beach.

P. Point streak . Nobody in the NHL is hotter than Calgary forward Johnny Gaudreau. He is riding a nine-game point streak, going 8-for-8 finding the box scores so far in January. Gaudreau, who is up to second in the league with 71 points, has helped the Flames take at least a point in six straight (5-0-1) and in 10 of their last 11 outings (8-1-2). Calgary is a -255 home favorite over Detroit on Friday, as indicated by MyBookie.ag.


Q. Quack . That's the sound you hear from the Ducks, who are once again mighty! Heck, they're going to the playoffs! They might even win the Stanley Cup! Yes, expectations are soaring in Anaheim, where the city's NHL team actually won a hockey game on Thursday. The Ducks halted a laughable 12-game losing streak by upsetting Minnesota 3-0. Amazingly enough, they are still tied for eighth in the Western Conference.
R. Ronaldo, Cristiano . Las Vegas police continue to investigate a rape allegation against Ronaldo. A warrant has been sent to authorities in Italy requesting a sample of his DNA to see if it matches DNA found on the dress of accuser Kathryn Mayorga. Stay tuned…. Or don't stay tuned…. Either way.

S. Spieth, Jordan . Last week's Sony Open was another stinker for Spieth. The 25-year-old American, who admitted that he is simply working on his game right now and not comfortable over the ball, missed the cut. Spieth has two missed cuts to go along with a T55 finish in his three most recent events. Bovada Sportsbook has Spieth and Tiger Woods as +1000 co-favorites to win the Masters.

T. Tom Brady . The rich got richer last weekend, as Brady and company moved one step closer to another Super Bowl appearance while Philip Rivers and the Chargers once again fell well short. New England easily took care of business at home, beating Los Angeles 41-28. YouWager.eu has the Patriots as +3 underdogs at Kansas City on Sunday.

U. UCLA . UCLA mounted an amazing comeback from nine points down in the final minute of regulation to stun Oregon 87-84 last week. After getting fouled intentionally in the waning seconds while trailing by three, the Bruins successfully executed a make-the-first and miss-the-second situation to force OT. Impressively, the Ducks have recovered to win two in a row since.

V. Victoria Azarenka . Struggling upon her return from injuries and childbirth, Azarenka crashed out of the Australian Open with a first-round loss to world No. 110 Laura Siegemund. "I've been through a lot of things in my life," the former world No. 1 said during a tearful press conference. "Sometimes I wonder why I go through them. But I think they're going to make me stronger."

W. West Ham . Arsenal suffered an unceremonious 1-0 loss to West Ham during English Premier League action last weekend. That is not something the Gunners could afford, as they are now 16 points behind EPL-leading Liverpool and six points out of a top-four spot on the table. Liverpool is a -140 favorite at XBet.ag to win the Premier League.

X. Xs and Os . Those are things you should be good at it if you want to coach football-especially at Alabama. Steve Sarkisian is 44 years old, and the jury is still on whether or not he even knows what Xs and Os are. No matter; after getting the boot by the Falcons, Sarkisian agreed to become the Crimson Tider's new offensive coordinator.

Y. Yasmani Grandal . Formerly with the Dodgers, Grandal signed a one-year, $18.25 million deal with Milwaukee last week. Los Angeles wasted no time replacing him at catcher, acquiring Russell Martin in a trade with Toronto a few days later. L.A. is +800 at BetOnline Sportsbook to win the World Series.

Z. Zion Williamson . It's been a wild last week for Duke, and one that will require Zion to be even better than he already has been. The Blue Devils, who beat Florida State on a last-second three-pointer by Cam Reddish last Saturday, lost point guard Tre Jones to a shoulder injury and lost at home to Syracuse on Monday. Zion's 35 points, 10 rebounds, and four blocks were not enough in a 95-91 setback against the Orange. With Jones sidelined, Duke pays a visit to Virginia this weekend.
Read more articles by Ricky Dimon