2019 Sunland Derby Picks with Odds and Expert Betting Predictions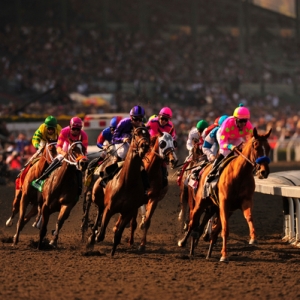 I am frankly surprised that the Sunland Derby hasn't become a more prominent Kentucky Derby prep race. Sunland Park, in New Mexico but effectively in the suburbs of El Paso, is a long way from the center of the horse racing world. But the race is a Grade III with an $800,000 purse, so it would be worth winning just for its own sake. And it is the last of the 50-point prep races, meaning that the winner gets 50 Kentucky Derby points and the runner-up gets 20. It typically takes about 30 points to get into the Derby starting gate, so the winner is guaranteed a spot, and the second-place finisher is a long way down the road to a spot.
It's seems like more trainers and owners would look to make the trip to southwest New Mexico for the weekend. But they really haven't - not with relevant horses. This has been a prep race since 2003, but the only notable winners are 2005 winner Thor's Echo, who didn't run in the Derby but went on to win the 2006 Breeders' Cup Sprint, and Firing Line, who was second to American Pharoah in the 2015 Derby. Perhaps most famously, Mine That Bird was fourth in this race before his stunning Derby upset in 2009.
Two guys who do know the way to Sunland are Bob Baffert and Steve Asmussen. Baffert has three wins since 2006, and Asmussen has two since 2012. Both are back for another shot. Also here is Todd Pletcher, who has been strangely ineffective on the Derby trail to date. Here's a look at how the highlights of the 10-horse field shape up. (Horse, trainer, jockey, morning line odds)
Mucho Gusto, Bob Baffert, Joe Talamo, 8/5: The ripple effects of the Santa Anita closure, and the San Felipe Stakes cancellation, continue. This colt, on the second tier of Baffert's very deep stable, was tabbed to head to the Rebel Stakes, which took place last weekend. But Baffert rerouted the two stars of his stable - Game Winner and Improbable - there when they couldn't run at home in California, so this colt got sent here. He was beaten badly by Improbable late last year, but there is no shame in that. And he won his debut this year nicely in the Robert B. Lewis, beating Gunmetal Gray. Nice colt, and the class here. I am not crazy about having Talamo in the irons - especially since he will be rusty given the ongoing Santa Anita closure - so I don't love this price. But he's a clear factor in the exotics.
Anothertwistafate, Blaine Wright, Juan Hernandez, 3/1: This northern California-based runner has won three races on the synthetic up there, including a massacre of Baffert colt Kingly. But the only time he ran on dirt, as he will here, it didn't go great. That was a sprint, though, and he didn't like getting dirt in his face at all. With a better ride, he could be more dangerous. I like the breeding - he's part of the final crop of Scat Daddy, the sire of Triple Crown hero Justify - but I don't trust him on this surface at this price.
Hustle Up, Todd Fincher, Shane Laviolette, 5/1: Not only is this a locally-based horse, but he is a New Mexico-bred - not something you see in higher level races very often. He has won three stakes races in a row, including the Mine That Bird Derby, the local prep for his race, last time out. He likes the surface and deserves some respect, but I just like the others better.
Wicked Indeed, Steve Asmussen, Luis Contreras, 6/1: This son of the great Tapit has some very solid connections, but he has been very slow to figure out this stakes racing game. He stepped up to stakes company in the Lecomte Stakes at Fair Grounds in January but was a troubled fourth. Then he dropped in class to run in the Mine That Bird but couldn't get past Hustle Up. The price isn't right enough to back this colt.
Cutting Humor, Todd Pletcher, John Velazquez, 8/1: This is an interesting case. Pletcher brought his best jockey to town for this colt, so he is clearly taking this spot seriously. The colt was the favorite in the Southwest Stakes a month ago but wound up a disastrous seventh. Now he is regrouping and giving it another shot here. Pletcher has been quiet. Too quiet. That has to change at some point. At this price he's worth a look here. I'll use him in my exotics and bet him to win if the price stays in this range.
Read more articles by Trevor Whenham