Sweet 16 Bracket Picks and Predictions All the Way Through Final Four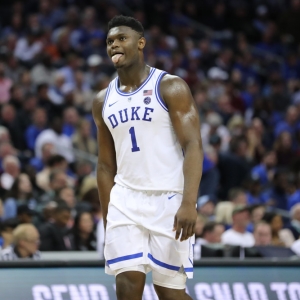 I made my NCAA Tournament bracket picks before the tournament began, and they mostly went okay. That's more an indication of how boring I was in my picks than anything - the tournament has played out about as true to form as is possible, so being right required just not making a lot of risky picks. Look at it this way - if you had picked the highest seed in all of the 48 games played so far, you would have correctly picked 14 of the 16 remaining teams.
While my March Madness bracket picks were fine, they weren't perfect. So, I am going to take this opportunity to start over and redo my selections going forward. Without further ado:
East Regional
Duke lost to Virginia Tech the first time the teams met this year, but that doesn't count. Zion Williamson was out for the game, and Duke's depth is certainly not a strength. Williamson is playing great now, though, and the Blue Devils have a few days to work out the issues that almost cost them their second-round game. Duke wins.
LSU narrowly beat Yale and Maryland and now they are facing a significantly better team in Michigan State. The Spartans absolutely dominated against Minnesota and should flex their muscles again here. Michigan State is the pick.
I am not loving how Duke is playing right now, and Michigan State is playing well. But I had Duke as my pick in this region and beyond coming in, and I am not going to change that. Michigan State is very talented, but Duke still brings the two best players to the party, and that makes the difference.
West Regional
Both Gonzaga and Florida State come into the tournament in very good form. Gonzaga has dominated both opponents, and their best players have been leading the way. And Florida State just crushed a Murray State team that had looked so strong in their opener. I respect the Seminoles, but Gonzaga is more talented and better coached, and they are the comfortable pick.
We have the two most efficient defenses in the country meeting up when Michigan and Texas Tech square off. The Wolverines' offense has yet to find top gear, but their adjustment at the half against Florida showed how much trust the team has in their coach and each other. They get the nod in a close one.
Gonzaga will be in for a fight against Michigan, but the top seed narrowly gets the nod to win the region and head to Minneapolis.
Midwest Regional
Auburn's run has been impressive the last couple of weeks, but they were lucky to escape New Mexico State, and beat a very flawed Kansas team, so they aren't exactly passing the toughest tests. North Carolina is more talented, is playing well, and will win comfortably.
Kentucky has more time to get healthy, and they could really use it. But they have done their job well and look strong to date. They have been more responsive to coaching this tournament than they have been at times, and that's a real positive. Houston is talented, but not as talented as the Wildcats. Kentucky gets the nod.
Trusting Kentucky is a concern because of their inconsistency. And North Carolina is a talented team. But something about this game tells my gut to pick Kentucky, and I don't want to argue with my gut.
South Regional
Oregon has two dominant wins, but they were against poor teams. Now they are facing a dramatically better team in Virginia. The Ducks won't be able to score like they have so far, and they just don't match up in talent. Virginia is the pick.
Tennessee's collapse against Iowa really scared me, and it came after an opening game that wasn't exactly dominant. Purdue has looked better than expected, and the Big Ten has had a good tournament for the most part. I'll take the Boilermakers.
I don't feel great about picking Virginia, but they are the better team, and they have to get the nod.
Final Four
Duke and Gonzaga should be the best game of the tournament - a matchup that deserves to be in the finals. But it's not. Gonzaga has big men that can challenge what Duke can offer, and they are playing with more heart and hunger at this point. I picked Duke to win it all before the tournament started, but that changes here. Gonzaga is the pick.
Kentucky and Virginia are both teams that I don't love, but here they are. I just trust Kentucky more - slightly more - than Virginia, so they are the pick.
Gonzaga has been so good for so long that they absolutely deserve a national title. And they are going to get one. Mark Few will be cutting down a net.
Read more articles by Trevor Whenham
---
Most Recent March Madness Betting