Handicapping the Two Cinderella Teams in the Sweet 16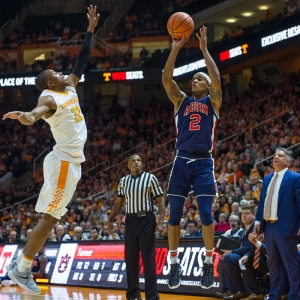 Every year in the days leading up to the Sweet 16, I write an article looking at the teams that have outplayed their seeds and what we might expect from them going forward. And almost every year the article covers far more teams than we see this year. In the Sweet 16, a team that outplays their seed is any team outside of the top four seeds. That means that this year there are just two such teams - No. 5 Auburn and No. 12 Oregon. And both of those squads just won their major conference tournaments a week ago, so they haven't exactly come from nowhere. That's a big contrast from last year when nine of the 16 teams had busted their seed.
The 2019 tournament is eerily similar to the 2009 edition. That year, as now, the only two crashers were a No. 5 and a No. 12. For what it's worth, neither team that year had much fun in the Sweet 16. No. 5 Purdue lost by a dozen to eventual Final Four team UConn. And No. 12 Arizona was utterly humiliated, losing by 39 to a Louisville team that was beaten up by a Michigan State team that lost the final in their next game.
Let's look at what we have seen from the two teams so far and what it might mean:
No. 5 Auburn
The Tigers play fast, and they have been able to set the tempo in their two games. But despite that, I find it tough to be particularly positive about where this team is at right now. New Mexico State played very high tempo in the opener as well, and Auburn probably should have lost that game - the Aggies missed two late free throws that would have been the difference in a one-point game. Auburn's pace wasn't a particular advantage, and now they face one of the highest-tempo teams in the country in North Carolina. That's a concern - one that certainly minimizes any advantage Auburn's pace of play gives them.
And while the Tigers beat up Kansas badly in the second game, that isn't exactly an inspiring result when you dig deeper, either. Kansas is a deeply-troubled team right now, and they did as much to beat themselves as anything. And the Tigers were driven by a massive performance by Bryce Brown. He's a star who steps up in big games, but he shot 7 of 11 from beyond the arc, and that kind of performance just can't be relied upon. North Carolina has a better defense in much better form than Kansas offered. I just don't trust that Auburn can keep doing what they have been doing.
Auburn is the longest shot of the group to win their region - +425 at Bovada - and from where I am sitting that sure feels justified.
No. 12 Oregon
Dana Altman has led his team to the fourth Sweet 16 since 2013 and has rallied nicely from a NIT appearance last year. He was in the Final Four in 2017, and the Elite Eight the year before. He is a very strong coach and an asset here. And he obviously has this team peaking at the right time, having won 10 in a row after opening up 6-8 in conference play. They weren't going to be a tournament team until they got hot. It's impressive. But I don't have faith in them going forward.
Here's the biggest problem - the Ducks have been blessed by their schedule to get this far. Their first eight wins have been against the Pac-12, and that is just a lousy conference right now. They beat the top three seeds in the conference tournament in Washington, Arizona State and Utah. But Utah didn't even make the NCAA Tournament, Arizona State was crushed by Buffalo in the first round, and Washington barely put up a fight against North Carolina. Winning the Pac-12 this year was not a massive accomplishment. And in the tournament fate has gone their way as well. They drew a weaker No. 5 seed in Wisconsin in their opener, and the Badgers weren't in great form. And UC Irvine benefited from their first-round matchup but just wasn't good enough to win two in a row. And beyond the easy schedule, they have also faced a lot of teams that have shot horribly from them from beyond the arc - opponents are shooting 23 percent from three in these 10 games. Oregon gets some of the credit for that with their defense, but not as much as you might think. And now they are facing a Virginia team that is the first legitimate team they have faced in a long time. And it isn't going to go well.
Read more articles by Trevor Whenham
---
Most Recent March Madness Betting