2019 UAE Derby Picks with Odds and Expert Betting Predictions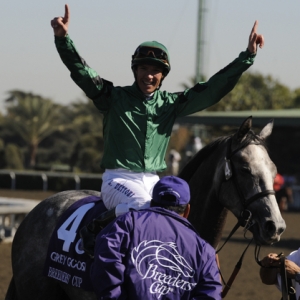 When Steve Asmussen sent his colt Reride to finish third in the UAE Derby last year, it wasn't much of a story. But, in hindsight, it feels like it could have been a turning point for the Kentucky Derby prep season. Asmussen treated the race like any other major prep race - an alternative to the Florida or Santa Anita Derby. And it makes sense - there is more than a month between it and the Derby to recover from the travel, and the $2.5 million purse is a big incentive. It's no surprise, then, that three American-based colts are heading to Dubai to try to find the path back to Louisville this year.
All three trainers are really making logical decisions based on more than just the purse. Peter Miller, who trains Gray Magician, was already bringing a stable of horses over headlined by two-time defending champion sprinter Roy H, so one more doesn't really matter. Doug O'Neill already had Pavel for the Classic, so bringing Stubbins was easy. And while Brendan Walsh has only Plus Que Parfait, by far the most promising of the Americans here, he spent many years training in Dubai for the same Sheikh who hosts the race, so he is very comfortable in this spot. None of these American horses are particularly good, and they face a real uphill battle. But they would in any major prep race, so they might as well run in one with massive purse - a small piece of a big purse is better than a small piece of a smaller one.
Here's how the highlights of the 14-horse field break down. (Odds to win the race are from Bovada)
Divine Image (+250): The likely UAE Derby favorite isn't likely aimed at the Derby even with a win - she's more likely to go to the Kentucky Oaks. She is a daughter of Scat Daddy, the late sire of Triple Crown winner Justify. And on March 9 she dominated a prep race for the UAE Derby on this same track. She was untouched down the stretch in that race, so she had plenty in reserve, though she is facing a much better field here. She had previously won the UAE Oaks to earn the points needed to enter the Oaks. She's visually impressive and has shown she knows how to win. And I love the breeding. But a young filly at this price in a spot like this terrifies me. But she has the most upside in the field, so at the least I'll have a piece of her.
Walking Thunder (+500): This Dubai-based colt was bred in Florida and has been aimed at the Derby since his career started if things progress as hoped. He started his career with three dominant wins before finishing second in the UAE 2000 Guineas at the beginning of February in his graded stakes debut. Another prep race was planned at the beginning of March, but he has instead trained up to this spot. We know he likes the track, but he will have to take a step forward here.
Jahbath (+600): This European colt owned by the powerful Shadwell stables is riding a four-race winning streak, with his most recent win coming at Kempton Park in England. He has been impressive, but his pedigree is tilted to the grass, and he is making his dirt debut here. His connections have entertained the possibility of heading to Kentucky with a good showing here, but his synthetic racing history makes me very doubtful.
Gray Magician (+1000): This colt had a very impressive win in November in the first race for trainer Peter Miller and his fourth overall. It got him on the radar, but then he flopped in the Sham Stakes in his stakes debut and was last seen in a listed stakes at Laurel Park - about as far from the big time as you can get. This feels like a desperate attempt to get into a race he probably doesn't belong in.
Van Beethoven (+1100): This colt is a member of the last crop of Scat Daddy, the sire of Triple Crown winner Justify who died far too young. That's a big bonus for him. And he is from the same connections as Mendelssohn, another Scat Daddy son who won this race last year before disappointing badly in the Derby. The connections deserve respect, but this colt has won only twice in nine races in Europe, with the last win coming way back in June. He's bred to shine on the dirt and at this distance, but he'll have to be much better than what we have seen so far.
Derma Louvre (+1200): Japan has a Derby points series of their own, but it has been a flop for the most part. This colt currently has the most points through the first three of the four-race series for horses that are Derby nominated, and his connections are aiming to head to Kentucky after this race. But before he does that, he's going to give this spot a chance. He's a son of Pyro, the 2008 Louisiana Derby winner who still owes me money for finishing a disappointing eighth in the Kentucky Derby. He would be the third Japanese-based Derby entrant and the first since Lani in 2016. He'll need to improve here significantly to convince me that he is even sort of relevant in Derby.
Stubbins (+1200): This colt has won all three of his starts in California this year, but none have come against graded company. This is a rough spot for him. Leave it to Doug O'Neill to make a bad choice for a horse - it's what he does best.
Plus Que Parfait (+1600): After a solid second-place showing in the Kentucky Jockey Club Stakes in November, this colt seemed like a serious Derby contender. But he was a dismal fifth in the LeComte as the second betting choice and then a disastrous 13th in the Risen Star when he was again the second choice. He left Louisiana to train in Florida before coming to Dubai, so his connections are clearly hoping that the changes in scenery get him back in the form we saw earlier. I like the colt - enough that he has cost me money twice. But I am very hesitant to trust him here.
Read more articles by Trevor Whenham