Betting the WNBA Tips and Advice from Expert Women's Basketball Handicappers
by Docsports.com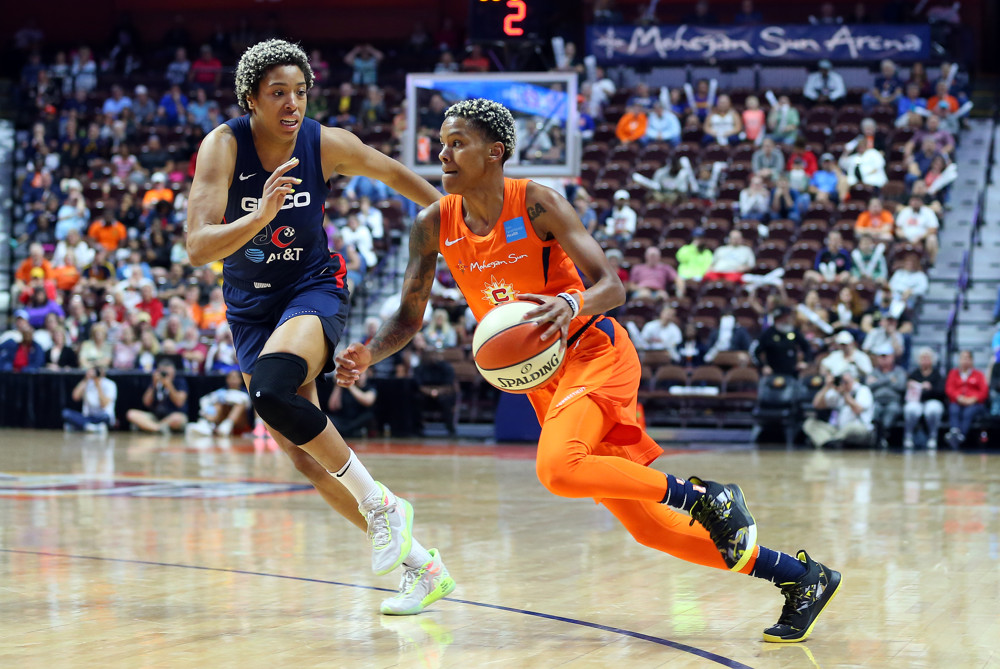 Every year at this time someone asks me the same question - should I bet on the WNBA? The answer is pretty much the same every time - absolutely. There is the practical reason - with the NBA and the NFL seasons done, baseball in the dog days of summer, and there's no World Cup or Olympics to distract us, it's not like we have a whole lot better to do. But beyond that, there are lots of reasons to bet this league. Here are three of the biggest ones (check the end of this article for tips from Doc's Sports stable of expert WNBA handicappers):
Get free WNBA picks for every game on Doc's free WNBA picks page.
Your work can pay dividends: You can't rely on your hard work to outsmart the oddsmakers when it comes to the NFL. I mean, some people can, but it takes a tremendous amount of effort, insight and talent to do that. For most people, the NFL oddsmakers are just plain smarter than you, and you have to deal with that to make some money. Unless you have four math degrees, a team of savants, and a supercomputer, you probably aren't getting a big edge mathematically. But in the WNBA that isn't always the case. The betting volume is low in the league, and when people aren't betting on it then oddsmakers don't care about it nearly as much. If you are willing to really do your homework, learn the league, and figure out what differentiates winners from losers, then you can actually create a true edge for yourself. And once you have an edge, you are on the road to profits.
This doesn't mean, of course, that all the lines are terrible, and that all you have to do is throw money anywhere and you will come out on top. It's never that easy, and the belief that it is easy is why sportsbooks make so much money. But if you do put the work in then - real, significant work - then your chances of success here are higher than most other leagues.
The talent doesn't run deep: The top-end talent in the WNBA is very impressive. The best players are very much the best. But after the stars, the talent really falls off a cliff in a hurry. When teams are so top-heavy, then the availability and likely effectiveness of those players has a very significant outcome on the expected outcome of games. By putting in the time to really understand depth charts - at a level beyond what casual fans might - and to be as up to date as possible on injury reports and health status, you can have a much more accurate picture than most of what a team is going to look like.
It has never been easier to get true pictures of the health of teams if you want it and are willing to work a little. Most people rely on official injury reports from teams, and maybe a little national media coverage to go with it. But thanks to Twitter, Instagram, forums and the like, there is so much more information out there than ever before. You can look to beat reporters, super fans, or the players themselves to give you clues to what is going on - clues that others are overlooking.
The public isn't there: In the NFL there is a ton of public money thrown at every game and a whole lot of sharp money as well. Every time a line is set, you have to think whether it is a fair line or if it was set to compensate for the likely lunacy of the public. And every time a line makes a significant move, you have to play detective and figure out if it is moving because the sharps are pouncing or because the team was really great back in the '90s and bettors still love throwing money at them blindly. But in the WNBA the uninformed betting public is nowhere to be seen. That means when a line is set, we don't have to worry about crazy bettors with crazy opinions having their fingers all over the number. And when a line makes a big move, we know that it is sharp money behind it.
When a line moves in the NFL, we have to decide whether we should follow it or go against it - going against the public is almost always a good idea, but going against a sharp move can be costly. But in the WNBA, we always know what is driving a shift. Sharp money can have a big impact on lines in this league. And because betting volume is so low, it doesn't take much sharp money to make a move. In the NFL, sharps could be betting a line for several different reasons, and all could combine to make a move. But in the WNBA, it takes only a few sharps to make a big move, so they are likely all thinking the same thing. And over time it has been shown in the league that following some of those moves can be a very good thing. For example, when an underdog is on the rise in dramatic fashion, then jumping on them on the moneyline has consistently been fruitful.
Tips from Doc's Sports WNBA expert handicappers:
"When betting on the WNBA, you must remember it's a have/have not league. There are a handful of teams that have elite-level talent and are a matchup nightmare for their opponents. The rest of the league (the have nots) need to rely on team chemistry and a solid game plan to make up for the lack of star power and talent. We like to focus in on finding those mismatches and adjust our wagers accordingly." – Doc's Sports (No.1 WNBA Handicapper in 2019 +$6,270 profit).
"The WNBA, believe it or not, is very similar to the NBA. And if you are into algorithms and base it off predictable stats and behavior, then you will love the WNBA. The women in the league are much more predictable and more reliable in their performances." – Arun Shiva (Four straight winning years and +13,600 total profit)
"The WNBA and the NBA work on many same principles. Some of the key factors that we use include the fact that when a top of the line team will face an ugly underdog, keep an eye on the 'over'. We have always believed that if a team is out of the playoffs or near the bottom of the standings that they have a tendency to get up for the best teams in the league. That usually leads to a lot of points on both sides." – Arun Shiva (Four straight winning years and +13,600 total profit)
"Betting the WNBA can be extremely rewarding to boost your bankroll for the major sports. Sportsbooks do not hone in on the WNBA like they do other major sports because it is not heavily wagered. So you can definitely find some very weak lines." --- Vernon Croy (Three of four winning years and +6,000 total profit)
"One of the things that jumps out in betting the WNBA is the number of blowouts. There are a lot of games that just aren't even close. So it is important to remember that when you're betting on an underdog in the WNBA you should think that they have a chance to win the game. The idea that there is value in taking the points because a team can 'keep it close' is going to cause you a lot of heartbreak in the WNBA." -- Robert Ferringo (Winning 2019 season and +2,110 closing run)
Other Notable Runs for Doc's WNBA Expert Handicappers:
DOC'S SPORTS – Winning 2019 season (+6,270 profit)
RAPHAEL ESPARZA – Seven of nine winning years
SCOTT SPREITZER – Back-to-Back winning years (+4,500 profit)
Get free WNBA picks on every single game, or if you want our very best bet premium picks by the experts, sign up for your free $60 account with a guarantee.