2020 Atlantic 10 Tournament Predictions and Betting Odds
by Robert Ferringo - 3/10/2020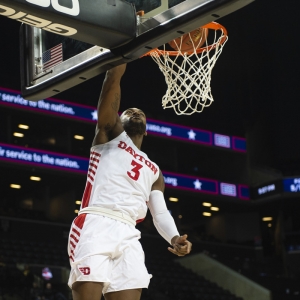 Last year was a low point for the Atlantic 10. They had their streak of 12 straight years or being ranked as one of the Top 10 college basketball conference in the country snapped. They also watched as both of their NCAA Tournament representatives, No. 8 seed VCU and No. 13 seed St. Louis, were blown out by double-digits in their first round tourney games.
This year has been a resurgence for the A-10. Regular season champion Dayton is 29-2 and currently ranked No. 3 in the nation, in line for a No. 1 seed. The league has eight teams ranked in the Top 75 after closing last season with just two such squads. And while the league likely won't be able to cobble together more than two bids to The Big Dance, I expect these programs to be factors in the NIT, CBI and CIT tournaments.
First things first, though. The Atlantic 10 Tournament looks primed to be a Dayton coronation. The Flyers are on a 20-game winning streak and went a perfect 18-0 in league play this year.
That doesn't mean they are unbeatable, though. We've seen more dominant teams in weaker conferences lose in their tournaments in the past. And there were more than a few games in which the Flyers were pushed to the test. I think there are enough teams in this league that are capable of taking down this Goliath.
This year's A-10 tournament will be held in the Barclays Center in Brooklyn and runs from March 12-15. Here is Doc's Sports 2020 Atlantic 10 Conference Tournament preview:
The Favorite: Dayton (-160)
There is nothing not to like about this team. Obi Toppin is a physical specimen and a hero. They have a stellar backcourt, using dual point guards Jalen Crutcher and Rodney Chatman. Dayton is outstanding defensively and they are the No. 1 shooting team in the nation, hitting 52.5 percent of their shots from the field. They are in the Top 30 in scoring and 3-point shooting. That said, they aren't infallible. Dayton has played a bunch of close games down the stretch. Seven of their last 12 games have been decided by 10 points or less. That seems nitpicky. But for a team with zero wins against Top 60 opponents, it shows that they have been taking on water a bit down the stretch. The Flyers also don't have much of a bench. Their rotation is basically just six guys. So an off shooting night or foul trouble doesn't leave them with a lot of corners to turn for answers.
The Contender: Richmond (+450)
I have been really high on this Richmond team all season long. They quietly, and with little fanfare, finished in second place in the league They also have a 10-point win over Wisconsin in the nonconference and they were able to weather the midseason loss of leading scorer Blake Francis. They didn't have Francis when they faced Dayton and lost by just eight points. And the junior transfer has been on a tear since his return. Jacob Gilyard is a quality point guard, and do-everything Grant Golden is one of the best players in the league. Richmond runs a modified Princeton offense, so their game is all about efficiency and execution. If they play at their tempo and get hot from the outside, then the Spiders are capable of running the table.
Doc's Sports college basketball handicapping team has set some lofty standards worldwide for college basketball handicapping. Get $60 worth of premium members' picks free. No credit card needed, and you will never deal with a salesman. Get daily college basketball picks on Doc's Sports NCAA hoops predictions page.
The Sleeper: St. Louis (+675)
The Billikens are the defending conference tournament champions. And their upset run last year as the No. 6 seed gives them the confidence to know they can do it again as the No. 4. St. Louis has been hot down the stretch, winning five straight games heading into the tournament. That includes a 10-point road win at Rhode Island and an 18-point wrecking of VCU. They also only lost to the Flyers by six points on the road on Feb. 8 and they lost by two in overtime against them on Jan. 17. That means St. Louis is not at all afraid the Flyers. And they will wind up and take a good shot at them.
The Spoiler: VCU (+1700)
The Rams entered the season as the favorite to win the Atlantic 10. And why not? They had it all: depth, experience, athleticism, a go-to stud and tournament pedigree. But the wheels have come off this team over the last six weeks. It started with injuries, as nearly half of their regular rotation went out. They still don't know who will be able to suit up for them this week. But it's all or nothing for the Rams, and I expect this team to go down fighting.
Potential Early Round Matchup To Watch:
No. 3 Rhode Island (-7) vs. No. 6 Duquesne (8:30 p.m., Friday, March 13)
URI head coach David Cox has done an admirable job with a Rams team that I didn't think was that good. In spite of a 3-4 slide down the stretch, Rhode Island has been very good this season and at one point was 10-1 in league play. Point guard Fatts Russell is one of the league's best, and seniors Cyril Langevine and Jeff Dowtin have played in, and won, a lot of big games in their careers. Duquesne is fearless, though. They shouldn't have to expel much energy to beat either GW or Fordham, and then they would love a second shot at a Rhode Island team that beat them by 22 points back in mid-January. I have a feeling this game will be a dogfight.
2020 Atlantic 10 Conference Tournament Predictions: I know this is going to seem bizarre, but I actually don't think Dayton is going to win the Atlantic 10 Tournament. This league tourney has always been good for upsets. Case in point: the No. 1 seed has won the A-10 tournament only twice in the last 18 years (2010 and 2013). Dayton doesn't exactly have an easy road, either, likely facing VCU and St. Louis just to make it to the finals.
I feel like the books agree with me on this point. That's why Dayton, despite its 18-0 regular season, is only a -160 favorite. If they were truly overwhelming among these teams they would be closer to -300. Throw in all the pressure on this team that's trying to earn a No. 1 seed, and I can see them coming up short. I think that if Richmond and Rhode Island can win their quarterfinal game, then the victor of a UR-URI semifinal will be the team to eventually cut down the net.
Robert Ferringo is a member of the Basketball Writer's Association of America and a professional sports handicapper for Doc's Sports. He is considered one of the best college basketball handicappers in the country and has posted 11 of 13 winning seasons. He is looking for a monster March run and will have an 8-Unit Conference Tournament Game of the Year this week. You can sign up for his college basketball picks and get more information here.
---
Most Recent College Basketball Handicapping