2019 Breeders' Cup Classic Predictions and Expert Betting Picks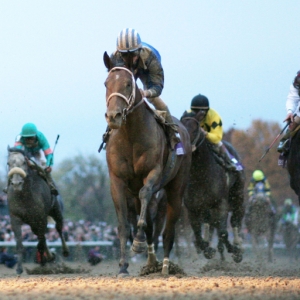 Let's just be honest right out of the gate - the Breeders' Cup Classic field this year sucks. This is supposed to be the pinnacle of the racing year. The race in which the best of the best clash, with the Horse of the Year title and more on the line. This year that award is very unlikely to come from the field. We have a favorite here almost by default, and a group of contenders with far more questions than anything else. It only makes sense that this is a historically underwhelming field, though, because the Triple Crown season this year didn't exactly overwhelm, and the handicap division has had a rocky road all year. Here's hoping that this is just a down year and we get right back on track soon enough.
While I can't say I am beside myself with anticipation for this race, it's not a total waste, either. It's still a rich and important race, and the field is well matched and interesting to handicap. The winner likely won't enter the same realms as some of the legends who have won the race, but a Classic win is still a Classic win. So, let's just make the best of what we have. Here's a look at how the highlights of the 11-horse field break down, with track morning line odds:
Related: 2019 Breeders' Cup Mile Predictions
McKinzie (3/1): As anyone who has read my stuff over the years knows, I am a huge Bob Baffert guy. So, I should like this horse a lot. But I find myself more frustrated than excited by this colt. When he is at his best, as he was in the Alysheba or the Whitney this year, it's easy to imagine him among the greats. But he just can't string the top efforts together. He was truly terrible in this race last year. And though he hasn't been as bad other times, losses in races like the Santa Anita Handicap, Met Mile, and Awesome Again have all been frustrating and short of excuses. He was second in all three races and really should have won at least two. There's the rider drama, too - Mike Smith had been aboard for every race, but Baffert fired him and has gone with Joel Rosario, which is just a massive step back. He's a talented horse, and at his best he won't be beat here. I just hate the thought of having to trust him. There is no choice but to bet him, but caution will be in order.
Code of Honor (4/1): This colt is in very good position in the Three Year Old Champion race after finishing third in the Derby, winning the Dwyer and Travers, and finishing a strong second in the Jockey Club Gold Cup against older horses and then being bumped up to first after Vino Rosso was disqualified. A top two finish here would probably wrap up the honors. He's in good form right now, but he likes to run well off the pace, and there isn't a lot of early pace that is obvious in this field. That's a problem. And being one of the best three-year-olds this year is a bit like being one of the best figure skaters in Mexico. But he's a classy horse that has to be in the mix.
Related: Breeders' Cup Turf Predictions
Vino Rosso (4/1): This four-year-old colt is a perfect example of why you have to be patient with horses sometimes. He was on the Triple Crown trail at three but had a generally underwhelming year that year. But they brought him back for another year, and he has been like a different horse. He has three wins in five starts this year if you include that Jockey Club Gold Cup disqualification, and one of those was here at Santa Anita in the Gold Cup at this same classic distance. Irad Ortiz Jr. is on for a second time after John Velazquez had ridden him up to this point for trainer Todd Pletcher. Seeing Velazquez opt off a Pletcher horse is a bit odd, but Velazquez is 0-for-18 in the Classic, so it's not a fatal move by any means - and Ortiz is riding better than Velazquez at this point, anyway. If I had to pick just one horse in this field, this would probably be the one.
Elate (6/1): We don't see mares take a shot at the Classic too often, though Zenyatta certainly showed us that they can belong. To be clear, though, Elate is no Zenyatta. And we have to decide for ourselves how much of her winding up in this spot is because she belongs and how much is because she wanted to avoid the dominant Midnight Bisou in the Distaff. She has just two wins in six starts this year, but she has never been off the board in that time, and she has won handily all three times she has run at the classic distance. I wouldn't be a huge believer in normal circumstances, but I can't rule her out in this field.
Related: 2019 Breeders' Cup Distaff Predictions
Higher Power (6/1) and Mongolian Groom (12/1): I've grouped these two together because they have a fair bit in common. Both came seemingly out of nowhere to win big races in California this summer. Higher Power dominated the Pacific Classic at Del Mar by almost six lengths in just his second try at a Grade 1, and he went off at just short of 10/1. In the Awesome Again, Mongolian Groom stunned the racing world by winning easily at 25/1, beating both McKinzie and Higher Power in his return to action after his Pacific Classic win. Both are California-based runners who can pop on big days. But neither has shown the ability to replicate a big performance, and I don't trust either at all.
Yoshida (8/1): This horse is primarily interesting because this is where Mike Smith wound up. But beyond having the winningest Breeders' Cup jockey ever on board, it's really tough to find much to like about the horse. He won the Woodward last year in his dirt debut then was fourth in the Classic. But he hasn't been that impressive since. He's a deep closer who almost certainly won't get the pace he needs in this one, and he's not good enough to overcome that. An easy pass.