2011 Breeders' Cup Predictions
by Trevor Whenham - 11/3/2011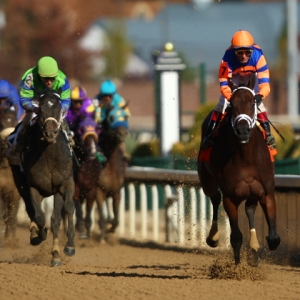 What is there not to love about the Breeders' Cup? For two full days we are treated to the best horses in the country, and many from outside of the country, running against each other to determine champions and heroes. Brilliant.
As we get closer to the big day there is lots of handicapping and hand wringing to be done. At this point, though, here are six Breeders' Cup predictions I am happy to stand behind:
Goldikova won't pull off a four-peat
What this mare has done is absolutely incredible.
Each of the last three years she has come to the Breeders' Cup and gone home with the hardware in the Mile. She hasn't beaten easy fields, either.
She is as consistently dominant as any horse ever to run in the Breeders' Cup — a true world-class runner. Now she's back for a fourth try.
She's a heavy 7/5 favorite in the morning line, and is likely to be bet down further by an adoring public. While I couldn't have more respect for her, and my heart will be pulling for her, my head says that this is the year she gets beat.
She has just two wins in five starts this year, and she appears to be a step or two slower. Six is getting old for a horse that runs as hard as she does.
She certainly doesn't justify the price at this point, and I expect her to finish a heart-filled second or third.
Uncle Mo is a no-go
Last year's Breeders' Cup Juvenile champion is the favorite in the Classic this year, and he'll be a very popular choice.
I'm not buying him at all.
He was en route to being the Kentucky Derby favorite this year before an illness sidelined him. I was very skeptical of his chances of getting the distance back then. Now I really doubt it.
His last two races have been at a mile and seven furlongs. He has never tried this distance, and he was unimpressive late in his longest race.
He likes to run on the lead, and he could find himself in a duel up front here.
The talent he has is impressive, and he's great to look at, but the hype exceeds the horse at this point. He's in a deep field, and I just don't see him getting it done.
Union Rags is the real deal
This horse is this year's Uncle Mo. Like Uncle Mo last year, Union Rags come into the Juvenile as the favorite off of a very impressive win in the Champagne.
He has three wins in three tries, while Uncle Mo had only raced twice before the Juvenile.
This horse just looks like a champion, and he's in a field that he can handle.
I really get nervous betting horses at the Breeders' Cup that go off at less than 2/1 like he is likely to, but he's definitely worth the risk.
Julien Leparoux will win at least one race
Leparoux is the king of Kentucky racing. Calvin Borel rules on Derby day, but the rest of the year Leparoux is the guy to beat.
He already has five Breeders' Cup wins, so he is certainly capable of performing on the big stage. He's been riding very well recently, and knows the track as well as anyone.
He has 10 mounts over the two days here. While none are standout superstars, most are live contenders, and several stand a real chance of being competitive in their race.
He'll find a way to get at least one home first.
Bob Baffert will win two
Baffert is as good as it gets, and the trainer is at the top of his game right now.
He has nine horses entered in the two days of races, so he has plenty of chances to shine.
Secret Circle is going to be very tough to beat in the Juvenile Sprint, and that's the first championship race, so he's well positioned to get off to a strong start.
He has several other very legitimate contenders as well. Irish Gypsy, Candrea, and Plum Pretty could all win their race on Friday. On Saturday Euroears could shine in the Sprint, Irrefutable and The Factor are both interesting in the Dirt Mile, Drill is an impressive contender in the Juvenile if Union Rags somehow falters, and Game on Dude could surprise in the Classic if he gets away with setting the pace.
Baffert has lots of options, and we know they'll be ready.
Todd Pletcher will get shut out
I'm not a big Pletcher guy, so I am happy when he struggles. I expect to be happy this weekend.
He has nine runners this weekend, but each has problems that concern me.
The two biggest contenders are both in the Classic — Uncle Mo and Stay Thirsty. Both have talent, but I don't see either coming through.
The rest of his group is either horses with little hope, or runners who would need everything to go exactly their way for things to work out. It's going to be a rough weekend in Pletcher-ville.
Doc's Sports has been handicapping all the major horse races since the early 1970s and they will offer their 2011 Breeders Cup picks on Friday, Nov. 4 and $25 gets you a full slate of action on Saturday with picks from eight races, including the Breeders' Cup Classic. Click Here to purchase.