2020 Cincinnati Reds Predictions and Odds to Win the World Series
by Robert Ferringo - 4/8/2020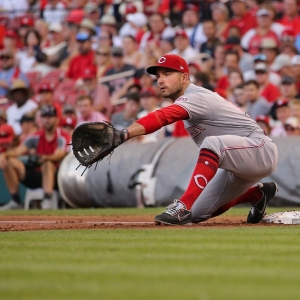 It is easy to forget that the 2010s began with a bit of a franchise Renaissance for the Cincinnati Reds, as they won 90 or more games and made the playoffs three times in four years. That was their most sustained four-year run of success since the powerhouse teams of the 1970s.
Then the wheels came off in the middle of the decade, with the Reds failing to win more than 80 games and finishing in last place four straight years from 2015-2018. Cincinnati hasn't had a winning season since 2013, and they have been a piñata for the rest of the division to kick over the last several seasons.
However, an offseason packed with major moves has Cincinnati as a trendy sleeper pick to win the National League Central and to go back to the playoffs. There is a level of excitement around this team that hasn't been their in years, and the Reds will enter the 2020 campaign with heightened expectations.
Cincinnati Reds 2020 Projected Lineup (updated expert MLB picks daily)
1. Shogo Akiyama - OF
2. Joey Votto - 1B
3. Eugenio Suarez - 3B
4. Mike Moustakas - 2B
5. Nick Castellanos - OF
6. Jesse Winker - OF
7. Freddy Galvis - SS
8. Tucker Barnhart - C
9. Pitcher
Cincinnati made two huge signings this offseason that will inject a lot of life into their limp lineup. Stealing Mike Moustakas from Milwaukee and grabbing Nick Castellanos were both deft maneuvers. They both instantly become two of the best hitters in this attack. Not only that, but they will provide protection for Eugenio Suarez and Joey Votto, which in theory should increase their production as well.
Votto is coming off his worst year as a professional, and he is starting to show his age. His .261 batting average is a career low, and he has seen his walks plummet and his strikeouts rise. The Reds don't need him to be an MVP candidate anymore. But they could use something closer to his career averages, chipping in 20 home runs and 100 walks while hitting .300.
Suarez is coming off a monster season. He hit 49 home runs and drove in more than 100 runs for the second straight years. His 189 strikeouts are alarming. But Suarez hit .271 so he's not an all-or-nothing hacker. The extended spring will also give him a chance to heal up some nagging shoulder issues.
Moustakas has averaged 34 home runs and 89 RBI over the last three years while hitting around .265. The switch from the American League to the N.L. didn't seem to bother him at all, and I don't expect it to impact Castellanos. The former Tiger has been good for 26 home runs and 86 RBI the past three years while hitting around .285.
A potential key to this lineup may be Shogo Akiyama. The Japanese import is expected to grab the leadoff spot and was looking good before play was suspended.
Cincinnati Reds 2020 Projected Rotation And Closer
1. Sonny Gray (R)
2. Luis Castillo (L)
3. Trevor Bauer (R)
4. Anthony DeSciafani (L)
5. Wade Miley (R)
Closer: Raisel Iglesias (R)
The Reds have the potential to have one of the best rotations in baseball. Sonny Gray had a major bounce back season in 2019 after an ugly stint with the Yankees. He tallied 205 strikeouts while posting a 2.87 ERA and earned his second All-Star nod. Gray also finished in the Top 10 of the Cy Young voting, and he'll be counted on to anchor this Reds staff.
Luis Castillo is entering his age 27 season and could be hitting his prime. Castillo has phenomenal stuff. And if he puts it all together, he could become one of the premier starters in the league. Castillo won 15 games and posted a 3.40 ERA last year while striking out 226 batters.
DeSciafani and Tyler Mahle are two intriguing young arms, Mahle went 3-12 last year and has a 5.06 ERA over his past two seasons. However, he's only 25 and does have 239 strikeouts in those two seasons.
Trevor Bauer is an ass-clown and a moron. He was hot garbage in his 10 starts for the Reds after last season's trade from Cleveland (6.39 ERA). But as recently as 2018, he was one of the best pitchers in the American League while posting a 2.21 ERA. He is a major X-factor in the viability of this rotation.
Wade Miley is coming back to the National League, where he has been at his best throughout his career. Miley's ERA is more than a full run lower in the N.L. (3.65) than in the American League (4.82). He has gone 19-8 with a 3.52 ERA the past two years with Milwaukee and Houston, respectively.
Finally, the trio of setup men Amir Garrett (lefty) and Michael Lorenzen (righty) and closer Raisel Iglesias gives the Reds a rock solid back end of the bullpen. However, Iglesias needs to get better. He went 3-12 last year with a 4.16 ERA. He did save 34 games but also blew six saves and has allowed 24 home runs over the past two seasons.
Cincinnati Reds Odds To Win The World Series
The Reds do offer some value at 3-to-1 to win a wide-open National League Central. Their odds of winning a pennant or championship are a lot longer, though. The Reds are 28-to-1 to win the World Series and they are 18-to-1 to win the National League.
Cincinnati Reds 2020 Predictions
I am basing all of my predictions on my belief in an 81-game season that starts on July 1. I have absolutely no inside information about MLB's plans for the 2020 season. However, for the sake of discussion, 81 games are what I have in mind while writing these previews.
The Reds are a bit of a contradiction. They are built to win with pitching and defense, but they play in one of the most hitter-friendly parks in baseball. How long can they really try to hold back the avalanche in that bandbox?
Cincinnati went surprisingly buck wild in free agency this offseason. They weren't just throwing money around, either. All of their signings made good strategic sense as well as solid financial sense. And the result should be the best Reds roster that we've seen in a decade.
Of course, there is no telling how this extended layoff is going to impact this team. With a lot of new pieces and a lot of new faces, chemistry could definitely be an issue. Especially if this season turns into the 80-game free-for-all that I expect it to be.
Regardless, I'm bullish on the Reds this year and I expect them to be a major player in the Central race.
Robert Ferringo is a professional sports bettor and handicapper for Doc's Sports and is considered one of the top MLB betting experts in the country. He has posted three consecutive winning MLB seasons and closed the 2019 season on a +$10,000 baseball run for his followers. Robert has beaten the books for six of seven profitable seasons on the diamond and is looking forward to another winning season for his clients. If you would like some help winning more bets in MLB this season the good news is that you can try out Ferringo's MLB picks for free when you set up your complimentary $60 account here.