2023 Cincinnati Reds Predictions and Odds to Win the World Series
by Cameron McQuade - 3/1/2023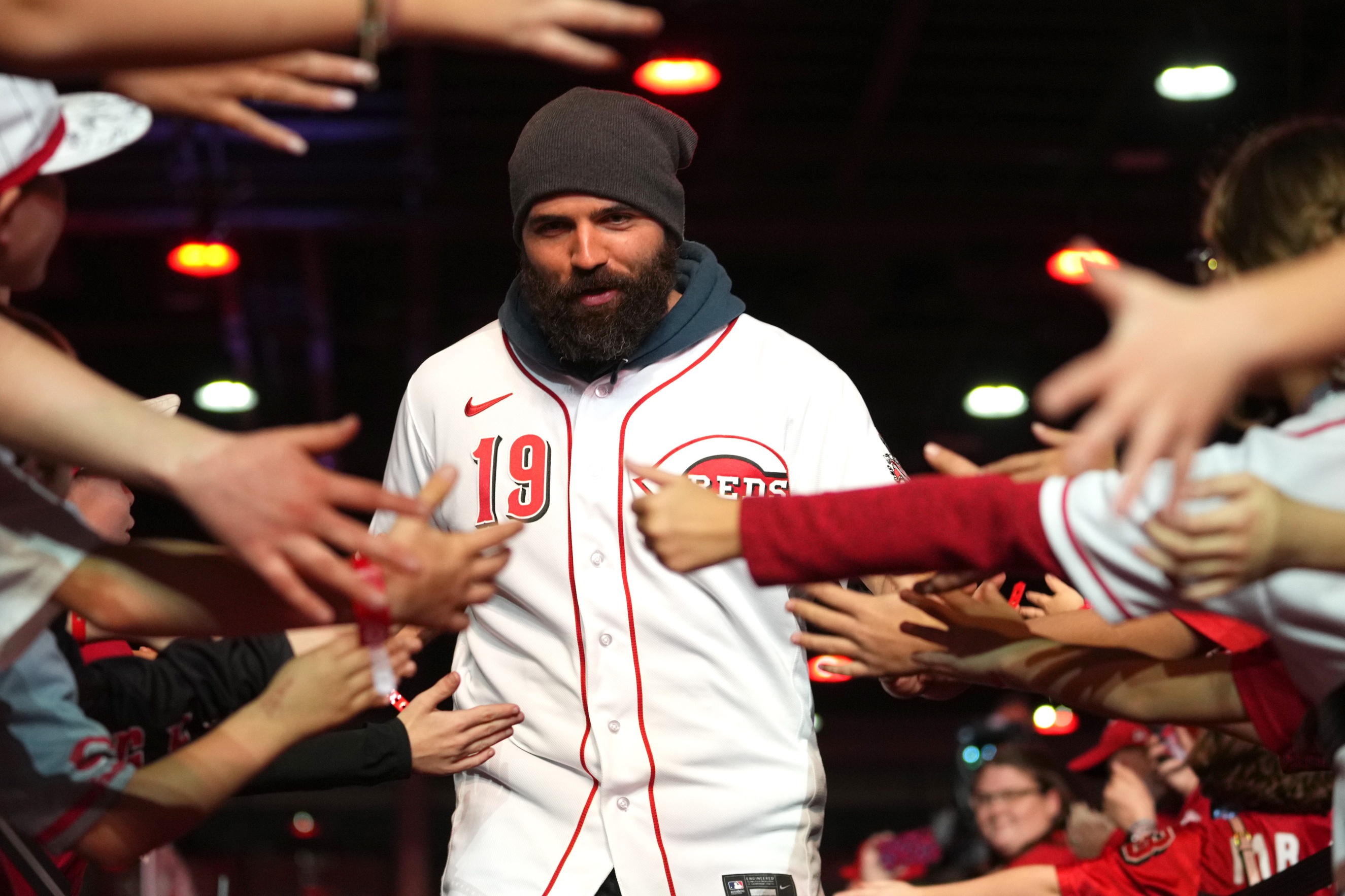 World Series Odds: +20,000
NL Winner Odds: +10,000
NL Central Division Odds: +6,000
Over/Under Win Total: +65.5
Doc's Sports offers MLB expert picks for every game on our baseball predictions page.
As the 2023 MLB season slowly approaches, the Cincinnati Reds are looking to surprise the rest of the league and prove themselves as a team to watch. They most likely won't be a team to watch, but they can't have that attitude coming into the year! Although the Reds have undergone significant changes to their roster over the past year, they still have plenty of young talent to work with, including the likes of Hunter Greene, Nick Lodolo, and former rookie of the year Jonathan India. With prospects Elly De Le Cruz and Noelvi Marte, this organization has the young talent to keep fans a tad patient. Coming off a 100-loss season, here's to hopefully a more promising 2023.
Project Starting Lineup:
C Tyler Stephenson .319/.372/.854
1B) Joey Votto .205/.319/.689
2B) Jonathan India .249/.327/.705 / Kevin Newman .274/.316/.687
3B) Elly De La Cruz (Rookie, if called up)
SS) Noelvi Marte (Rookie, if called up)
LF) Jonathan India .249/.327/.705 / Jake Fraley .259/.344/.812
CF) Nick Senzel .231/.296/.601
RF) Wil Myers .261/.315/.713
DH) Jake Fraley .259/.344/.812
The Reds definitely don't have as much power at the plate as they have had in previous years, they still have some players with the potential to hit big. Keep an eye out for Jake Fraley, who had a strong showing in just 68 games last season; he has the potential to double his home run total and provide some much-needed power for the Reds' offense. Additionally, newcomers Wil Myers and Will Benson could also help boost the team's power numbers if they can find their stride. Another player the Reds are going to rely on for the offensive side of the ball is leadoff hitter Jonathan India. India is coming off a roller-coaster 2021 and 2022. From winning the rookie of the year award to having an injury plagued '22, India looks to repeat his 2021 numbers, slashing .269/.376/.459 with 21 home runs and 69 RBIs in 150 games. India also led the National League being hit by a pitch 23 times. He led the Reds with 12 steals and 98 runs, a testament to his true 5-cat potential.
Losing their ace Luis Castillo last season was a blow to the Reds pitching staff. Yes, they received stud infielder Noelvi Marte and other prospects, but this move really set them behind on the defensive end. After recovering from a shoulder injury to start the 2022 season, Castillo posted a 2.86 ERA (160 ERA+) and a 3.21 strikeout-to-walk ratio in 14 starts. Tuff to lose your ace, but on the bright side, the Reds had some young pitchers emerge in the absence of Castillo and could continue to grow in 2023.
Projected Pitching Rotation:
1) Hunter Greene: 5-13, 4.44 ERA, 24 starts, 125.2 IP, 1.21 WHIP
2) Nick Lodolo: 4-7, 3.66 ERA, 19 starts, 103.1 IP, 1.25 WHIP
3) Graham Ashcraft: 5-6, 4.89 ERA, 19 starts, 105 IP, 1.42 WHIP
4) Luis Cessa: 4-4, 4.57 ERA, 10 starts, 80.2 IP, 1.29 WHIP
5) Connor Overton: 1-0, 2.73 ERA, 4 starts, 33 IP, 0.97 WHIP
What a young staff that throw absolute heaters. Graham Ashcraft could be the team's lone All-Star representative. Ashcraft, a right-hander from Alabama, was a surprise standout for the Reds last season, pitching well through his first 16 starts before slowing down towards the end of the year. If he can stay healthy, and regain his form, he could be a formidable force on the mound and earn himself an All-Star nod.
Hunter Greene… I don't think he needs any write up. With any pitcher that can throw 100+-mph over 30 pitches in a row may turn out to be a star. We all know Greene has the heat. However, can his accuracy and payoff pitches allow him to reach the next level? 2023 will be a great test to see where this young stud's career may project.
The ace of this squad will be Nick Lodolo. In 19 starts, the first-round pick from 2019 had a record of 4-7 with a 3.66 ERA. However, he ended the season strongly by recording a 2.75 ERA in his last nine starts, showcasing his effective use of a big sweeping curveball in combination with his fastball.
This pitching staff is unique, and they all have the on-paper talent to do well. However, can the Reds defense and skill translate to actual wins for these young pitchers? That's the big question.
Predictions:
With an over/under of 65.5 wins, I believe that the Reds will be under yet again. They are the weakest team in their division. And even with the great on paper pitching, none of the young guns have proven themselves for a full season. On the offensive end, it seems like 39-year-old Joey Votto may be the only player that can hit 30 bombs. Even Votto is starting to slow down, though, and may not even be ready for opening day in 2023. I'm fairly confident in a 60–62-win season for the Reds.
Overall, the Reds may not be the most talked-about team going into the 2023 season, but they have plenty of young talent and a hunger to prove themselves on the field. With some key players stepping up and making a name for themselves, the Reds could surprise their doubters and myself and make a run towards the playoffs, but it's not likely.
Get MLB picks on every single game, or if you want our very best bet premium picks by the experts, sign up for your free $60 account with a guarantee.