Horse Racing Betting Mistakes to Avoid
by Doug Upstone - 6/2/2020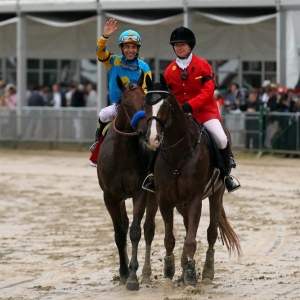 Let's not kid ourselves. Horse racing is a tough nut to crack. That is why this writer suggests the first thing you need to do is have fun and make sure you can suffer the setbacks because they are a big part of betting this sport.
With that stated, that's not to say you cannot win; you just need realistic expectations and a bankroll that can ride out the ups and downs.
While some, if not many, sharp horse bettors would disagree with me, I'm not averse to playing favorites, just when the elements come together to forecast such an outcome. I have no issue with those studying the horse racing odds that look at longer shots and make more exotic wagers going after the bigger score. I do my share. However, I'm a fan of winning, and so are most people. Everybody wants to win more than they lose; it's human nature and if you sit back and wait for the big score, maybe it comes and maybe it doesn't.
If given the choice of making bets on horses at longer odds rarely winning, compared to making wagers on shorter odds and winning more frequently, I'll side with the latter if the overall profits are the same.
Let's move on to ways you can keep more money in your wagering account and make smarter horse racing bets.
Relying on One Method Will Drain Your Cash
One common misconception about not just horse betting, but all wagering, is that there is "a system". Certain systems can possibly place the odds more in your favor. However, as an absolute, not a chance.
In looking at horse races, there is nothing wrong with looking strongly at speed ratings, jockeys and trainer records at particular tracks, recent workouts, or the history of horses as a front-runner or closer. Just realize, considering just one method will eventually wipe you out.
Instead, become more nuanced and put together several factors that are proven and make your best selection based on a variety of reasons, not just one.
Don't Align Yourself with a Single Position
When you go to a track, there is no shortage of "experts" willing to share their expertise with a willing listener. They will often talk about their supposed experiences about backing this or that and have a story that backs up what they are saying.
More often than not, it's a – fish story – about catching the big one, and they'll leave out all the rest of the story, which makes its less interesting to listen to.
A good example would be someone saying jockey Flavien Prat is money all the time at Santa Anita. Before that track was closed because of Covid-19, Prat was a hard to comprehend 33 percent on win tickets. If you were on the front end of that run, the money was coming your way. However, in the first 12 races, after San Anita opened back up, Prat's percentage fell to a still quality 25 percent overall. While still very good, if you backed Prat since that action resumed, chances are your expectations are not be met. Know all the top riders at a track and compare them with the horse and odds and just don't bet blindly.
Don't Deny the Facts
When any bettor goes into a slump, the best way to get out of it is to understand why.
Any horse can have a bad trip and have some other reason for not living up to expectations. However, if you find yourself losing day after day and your picks are not close to being in the money, it is time to rethink what you're doing.
Smart handicappers are always looking to understand why they winning or losing and make adjustments on the latter to change their luck. Because we are human, we can alter our way of thinking or mess with our deductive reasoning, which changes our perspective without realizing it.
In this case, study the results, look for issues that can be solved. Or, take two or three days off to clear your head. There will always be another race to bet.
---------------------------------------------------------
Doug Upstone of Doc's Sports has 21 documented No. 1 titles and finished in the Top Ten 80+ other times in a distinguished career. Doug as a professional handicapper/writer has written for various well-known sports betting websites and several of the football newsletters you have read before.
----------------------------------------------------------------
New Customers, use $60 Free Money to get my Hot Picks daily.
$$ Doug has Horse Racing picks six days a week and for only $15 each day (half price), which keeps more money in your pocket. Saddle in for Winners!
$$ The PGA Tour returns next week and Doug cannot wait, having won six of eight weeks (75%) this season!
$$ All of Doug's 4 and 5-Unit NBA Plays this season, up $5,180! Can't wait to restart!
$$ Doug's a 3-time NHL monitored handicapping champion (2014-2016) and 61.5% on his latest hockey plays.
$$ Doug has Free Picks daily you can profit from!
Check out Doug's Winning Plays! Click Here and start collecting cash!