How to Fill Out a Winning March Madness Bracket: Advice and Tips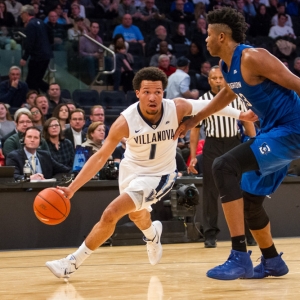 There is a conference tournament game on TV as I write this. It's not a very good one, but it is still a clear sign that we are only a little while away from three of the greatest weeks in sports - the NCAA Tournament. And it also means that it is almost time to fill out our March Madness brackets - hopefully a bracket that will win us lots of money and bragging rights. As soon as the brackets are posted there is a three-day scramble to fill out the winning combination of picks. Everyone does - people who watch the sport obsessively all the way down to people who could barely pick a basketball out of a lineup. Because so many people compete in pools, there are inevitably a lot of bad brackets no matter what pool you are in. To have success, then, your job is simple - fill out better pools than the majority of your competitors and over the long term you'll be just fine.
Free $60 in Member March Madness Picks No Obligation Click Here
But how do you fill out a better pool than most people? I'm glad you asked. Here are three tips that will give a strong edge. This plus some luck will set you up for the win - there's no need for you to send me a portion of the winnings:
1. Pick your top contenders before you see the bracket.
Most people do basically no homework before they fill out a bracket. They see the teams, rely on their gut instincts, their biases, the teams' nicknames or the seeds, and go with it. If you do your homework in advance then you will be ahead of a large number of people. When you aren't prepared in advance then you can fall victim to whatever biases you might have. Before the bracket is set, then, sit down and think about which teams are built to shine in the postseason. Which squads have that magical combination of talent, current form, coaching and grittiness that makes March success happen? And which top-level squads do you have serious issues with? If you do that work before the bracket is set, or at least before you see it, then you won't be blinded by the seedings or by the endless stream of 'expert' opinions that come out as soon as the bracket does.
You can look at the teams you have isolated, check out the path they have to follow to go deep, and see if it suits them. And you can look at the teams you raised questions about, check their path, and see if their vulnerabilities are likely to be exploited. By doing this you are taking control of the bracket instead of letting the bracket control you and your picks. Most people just let the bracket do the work for them, so if you don't then you will have a different and hopefully better bracket. Different is good - as long as it is a smart different.
2. Don't fall in love with the top seeds - but don't ignore them, either.
There is a delicate balance in making your picks when it comes to top seeds. You need to understand that historically we have seen a lot of success from top seeds in this tournament - a No. 1 has won 20 of 33 tournaments in the 64-team era. But top seeds are far from perfect - we have only once seen a tournament where all four No. 1 seeds made the Final Four. Last year there were two in the Final Four, and both made the finals. The year before only one was in the last four standing. But only twice in those 33 years have we seen a Final Four without a No. 1 seed. So, while it is okay to pick a bracket that has a top seed or two going down before they are expected to, it would be a mistake to go too crazy with the upsets. But no matter how tempted you are to pick a top seed to lose, don't do it in the first round. There have now been 132 games between a No. 1 and a No. 16, and the top seed has won all of them. An upset will happen at some point, but you look like a total idiot - and sabotage your bracket - every time you pick one of those upsets and they don't come through.
3. Upsets aren't for winners.
Speaking of upsets, it is those Cinderella stories that get so much attention in the first weekend of the tournament. Teams like Bucknell and Middle Tennessee have cemented their reputations forever due to one win, while George Mason and Florida Gulf Coast are among the programs that changed the whole trajectory of their programs by getting hot at just the right time. But while upsets are exciting as a fan, picking them is a bad practice for people who want to win pools. We remember many of the eight No. 15 teams that have won over the years. But eight wins for them means 124 wins for the No. 2 teams. The ratio of 124 out of 132 is almost 94 percent, and you don't have a lot of success in the long term picking consistently against a 94-percent trend.
You just have to look at it practically. If you pick a No. 15 team and you get it right then you get a small number of points for that win. You probably didn't pick them to win twice, though, so your upside is limited. But in the more likely situation where you are wrong you won't get any points, while the large majority of people in your pool will get the points for every win the No. 2 gets. You have a small likelihood of a small gain but a high likelihood of missing out on more points and falling behind most of your competitors. Going with the safe picks may be boring, but it is also smart. The same goes, to a slightly smaller degree with each step up, for No. 14, No. 13 and No. 12 picks.
The thing you need to really understand here is that the people who win pools are not the ones who pick a couple of upsets and take the lead on the first day or two of the tournament. The points available in the first round or two are insignificant. The winners are the ones who have as much of their Elite Eight and Final Four intact as possible. Those last four or eight teams aren't likely to be really low seeds, and if they aren't it won't really matter because few people will have picked them, and fewer still will have picked them while making smart picks elsewhere. Aim to maximize the number of safe picks you have alive late, and ultimately you'll do much better - even if you have to listen to people bragging about their upset pick in the opening round.
Get free picks from any of Doc's Sports expert handicappers - and with no obligation or credit card. You can use these free picks for any sport, and you will never deal with a salesman. Get $60 worth of premium members' picks free .
Read more articles by Trevor Whenham