2020 Los Angeles Dodgers Predictions and Odds to Win the World Series
by Robert Ferringo - 4/14/2020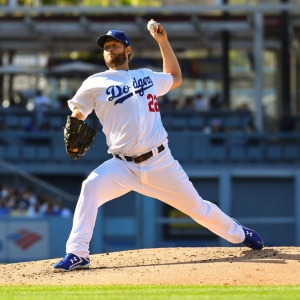 It is not a stretch to say that the Los Angeles Dodgers are the best franchise in Major League Baseball. They led the Majors in wins last year, they've won more than 100 games twice in three seasons, they have seven straight division titles and two pennants and they are the favorite to win the World Series this season.
Despite all that, it has still been 31 years since the Dodgers have won a championship.
That three-decade drought is motivation enough. They will also be playing with the fury of a team that discovered that it was robbed of two potential championships in 2017 and 2018. Those two seasons ended with World Series losses to two teams, Houston and Boston, respectively, that have since been proven to have cheated by electronically stealing signs.
Los Angeles should be building on a modern dynasty. Instead, they are still trying to find a way to get to the mountaintop and earn the franchise's first title since 1998. They have the horses to get the job done. Now they just need to find a way to see it through. No excuses.
Los Angeles Dodgers 2020 Projected Lineup (updated expert MLB picks daily)
1. Mookie Betts – OF
2. Gavin Lux – 2B
3. Max Muncy – 1B
4. Justin Turner – 3B
5. Cody Bellinger – OF
6. Joc Pederson – OF
7. Corey Seager – SS
8. Will Smith – C
9. Pitcher
The 2019 Los Angeles offense was a juggernaut. They led the National League in home runs, OPS and slugging percentage by a wide margin, and they were in the Top 4 in the Majors in all three categories. The Dodgers had 11 players ring up 10 or more home runs, three guys hit 35 or more, and were led by 47 home runs from league MVP Cody Bellinger.
And if that wasn't enough, the Dodgers added 2018 American League MVP Mookie Betts. All Betts has done over the last four seasons is average 29 home runs, 25 steals, 92 RBI and 122 runs while batting .305. He instantly pairs with Bellinger to give the Dodgers perhaps the best one-two punch in baseball.
Max Muncy and Joc Pederson combined for 71 home runs last year while ringing up a manageable 260 strikeouts, and both hit around .250. Muncy has hit 35 home runs in each of the past two seasons, and Pederson should be fully healthy by the time play resumes after dealing with a hip injury this spring.
Justin Turner is a rock in the middle of the order. And this lineup is so good that All-Star caliber guys like Corey Seager and A.J. Pollock are afterthoughts. And young, up-and-coming guys like Alex Verdugo (.294/12/44) and Will Smith (.253/15/42) are just a couple of the blue chip prospects that the Dodgers continue to crank out with assembly line regularity.
Los Angeles Dodgers 2020 Projected Rotation And Closer
1. Clayton Kershaw (L)
2. Walker Buehler (R)
3. David Price (L)
4. Alex Wood (L)
5. Julio Urias (L)
Closer: Kenley Jansen (R)
There is no shortage of options for the Dodgers on every fifth day. It starts with Clayton Kershaw, who is no longer on the short list of the best pitchers in baseball. His velocity continues to decline, his ERA has gone up each of the last four years, and back issues continue to linger. However, he's still an All-Star caliber arm. And when he's painting the corners, he can be dominating.
Julio Urias is another lefty with high-end stuff that just can't seem to stay healthy. They've carefully monitored the 23-year-olds innings each of the past four years. But with a shortened season ahead of us, the Dodgers may be able to unleash Urias and his top-notch stuff.
Walker Buehler is a stud and is right there with Kershaw in the debate over who is the best pitcher on this roster. The young fireballer is an ace-in-waiting. Alex Wood went 16-3 with a 2.72 ERA for the Dodgers in 2017 and is returning to L.A. after a sojourn in Cincinnati (where he was awful before getting hurt). He would be the odd man out in a playoff rotation but is a decent regular season option.
Beyond the five players listed here, they also have Ross Stripling and Dustin May waiting in the wings. Stripling has a 3.51 career ERA and a 4-to-1 strikeout-to-walk ratio, and May has potential ace stuff, including a 99 mph fastball, and just scratched the surface in his call up last year.
Kenley Jansen is starting to fade a bit. He's losing some zip on his fastball and has seen his number of saves decrease each of the last three seasons. Last year he blew eight saves (a career high) and went four months in between saves on consecutive nights. If there is a weakness on this team, he may be it.
Los Angeles Dodgers Odds To Win The World Series
The Dodgers are the favorite to win the World Series at the majority of sportsbooks. They are generally posted around 3-to-1 to 4-to-1 to win it all. Los Angeles is between 1.5-to-1 and 2-to-1 to win the National League pennant for the third time in four years.
Los Angeles Dodgers 2020 Predictions
I am basing all of my predictions on my belief in an 81-game season that starts in early July. I have absolutely no inside information about MLB's plans for the 2020 season. However, for the sake of discussion, 81 games are what I have in mind while writing these previews.
The Dodgers are in danger of falling into the same category as the 1990's and early 2000's Atlanta Braves: always good enough to go to the playoffs but not good enough to win championships. Los Angeles has dominated its division and has been a major factor in the National League over the past decade. But they just have not been able to get over that hump and get that title.
There is no excuses for this team this year. A condensed season may not help the Dodgers because their strength is their phenomenal institutional depth of pitching and position players. However, it could be a benefit if guys like Kershaw, Urias and Buehler can hit the postseason with fresh arms and an ability to uncork it.
From top to bottom, this is the best roster in baseball. Without a doubt. There isn't a ton of money to be made betting on the Dodgers because of their low-value daily and futures odds. But I have to concur with the sportsbooks and say that this team is the clear-cut favorite to win the World Series this year. Now they just have to go out and do it.
Robert Ferringo is a professional sports bettor and handicapper for Doc's Sports and is considered one of the top MLB betting experts in the country. He has posted three consecutive winning MLB seasons and closed the 2019 season on a +$10,000 baseball run for his followers. Robert has beaten the books for six of seven profitable seasons on the diamond and is looking forward to another winning season for his clients. If you would like some help winning more bets in MLB this season the good news is that you can try out Ferringo's MLB picks for free when you set up your complimentary $60 account here.
Get all of Today's MLB Picks
Get all of Today's Guaranteed Expert MLB Picks