Mastermind Survival Guide for Betting the Sweet 16
by Docsports.com - 3/22/2022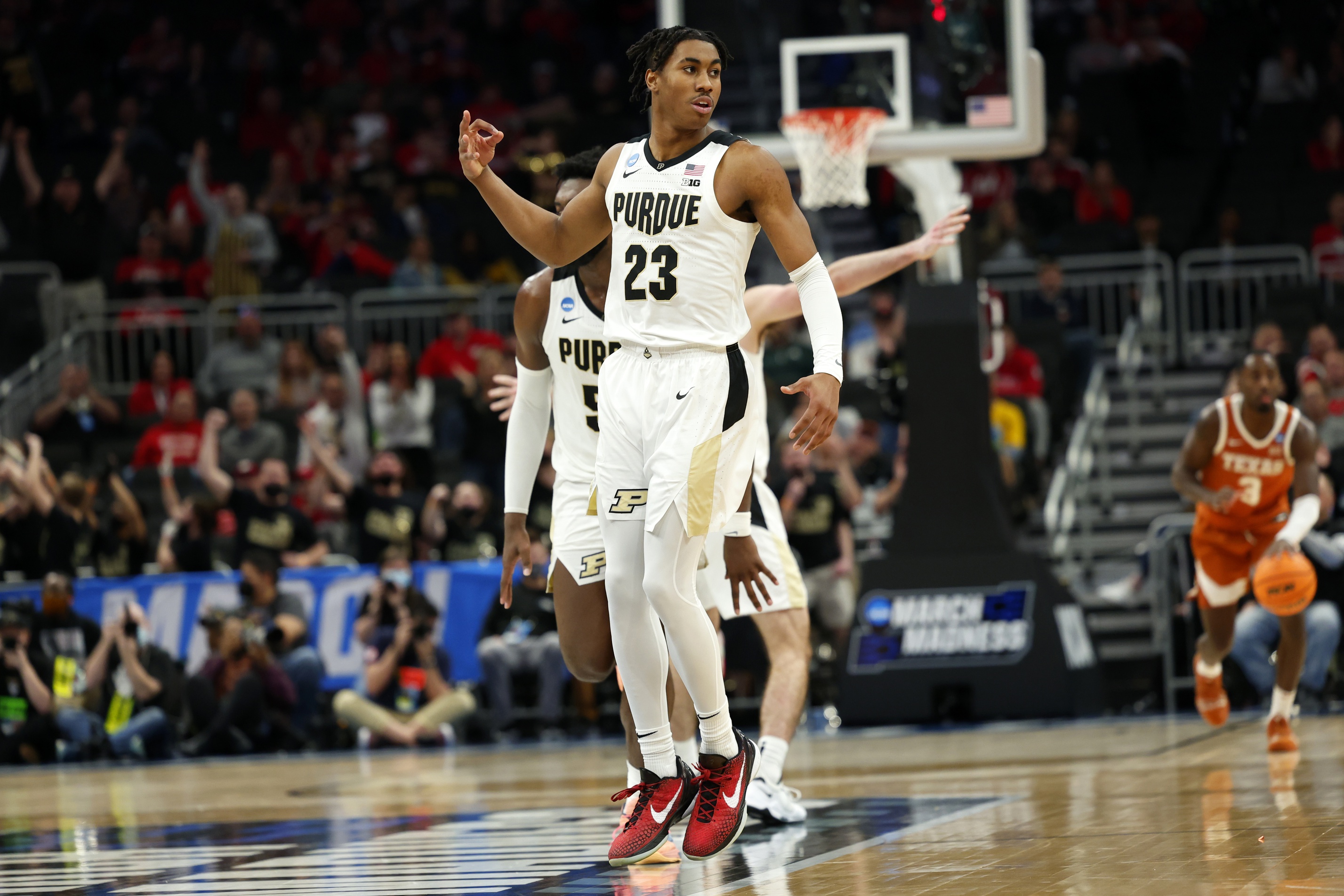 Doc's Sports stable of expert sports handicappers are some of the best in the business. Our guys have centuries of combined experience in sports betting, and they have seen it all in March Madness wagering over the years. These proven experts have learned a lot about betting the Big Dance, and they want to pass on some of that valuable knowledge, which has been earned with wins and losses at the sportsbook, with Doc's Sports readers. We have compiled a Sweet 16 Betting Survival Guide this year with NCAA Tournament wagering tips to help you get through this weekend betting on the Sweet 16 and the Elite Eight.
| | | |
| --- | --- | --- |
| Top College Hoops Handicappers | NCAA Tournament – Sweet 16 & Elite Eight Betting Strategy | Sweet 16 & Elite Eight Betting Strategy |
| Doc's Sports | Beware Cinderella | |
| Robert Ferringo | Tread Lightly | |
| Tony George | Handicapping Momentum | |
| Allen Eastman | Study Seed History | |
| Scott Spreitzer | Utilize In-Game Betting | |
| Doug Upstone | Neutral Court Variance | |
| Strike Point Sports | Trends are Your Friends | |
| Vernon Croy | Cream Rises to the Top | |
| August Young | Bet the Under | |
Betting Tips from Expert NCAA Tournament Handicappers
Doc's Sports – Beware the Cinderella Story:
Generally, the Sweet 16 is the round where the mid-majors that are double-digit seeds get bounced from the NCAA Tournament. Teams like Saint Peter's already overachieved and now get to spend a couple of days on campus hearing how good they are. It might be tempting to take them on Friday since they are getting double-digit points, but this is what the oddsmakers want you to do. Don't fall for the trap. The Peacocks lost 11 games on the season in a one-bid conference, and I do not see them being very competitive in this game. Saint Peter's will hit their seasonal metrics at some point, and it likely will come Friday.
Robert Ferringo – Tread Lightly:
The overwhelming majority of the public's focus and obsession on the NCAA Tournament is on the opening round. The all-day adrenaline binge of upsets, buzzer beaters and action are unlike anything else on the sports betting calendar. The opening weekend of The Big Dance is like Christmas, New Year's, St. Paddy's Day and Arbor Day all rolled into one. Then the Sweet 16 is like the hangover. By this point, a lot of the energy is gone. So, it is important for bettors not to try to chase or recreate the feeling of the opening week.
For me, the Sweet 16 and Elite Eight become similar to the NFL playoffs or the late rounds of the MLB or NBA postseasons; the later you get, the weaker the value on the board. Sure, there is a juicy spot or two, and gamblers should be poised to take advantage. However, one of the primary weapons bettors wield against the books is the volume of games available. There can be 130 lined games on a Saturday in January; this weekend there are two. So, my primary advice is not to force action in the last few rounds of the NCAA Tournament. You don't get Hero Points for winning these bets. I know the public is interested in who is going to the Final Four and who is going to win the national title. But as a gambler, I'm already sizing up my next big score in the NBA, NHL or MLB. So, while I'm not saying not to bet, I am saying to be careful.
Tony George – Handicapping Momentum:
As a student of the game for 30 years in this business, one thing I have noticed over the years that you need to put into your handicapping is "Momentum". It is both a blessing and a curse.
Cinderella-type teams, for lack of a better term, that carried momentum from their conference tournament and made a run in the tourney, or teams who unexpectedly beat single-digit seeds as a double-digit seed in back-to-back games to get to the Sweet 16, sometimes are a fade opportunity in the third game they play, or in this case the Sweet 16 game.
Saint Peter's and Michigan come to mind in this year's 2022 March Madness.
The momentum is disrupted when the break between the opening weekend and the new location for the Sweet 16 games is in place, and sometimes reality sets in and they lose that momentum. Now the pressure builds because of the media spotlight.
Now you are in the tall wheat with the big boys, and opponents of these Cinderella type teams have added time to study them deeply on film and dissect what in fact they have been doing for their sudden success.
Consider laying some points against these Cinderella type teams if the number is favorable.
Allen Eastman – Pay Attention to Seed History:
Dating back to 2014, No. 1 seeds have won 18 of their last 19 games in the Sweet 16. Of course, No. 1 seeds don't always get to the Sweet 16. However, when they do, they've been nearly perfect in five straight tournaments. The lone team to lose in that stretch was UNC (2019), which fell to a red-hot Auburn team.
Only 14 No. 1 seeds have made the Final Four since 2012, and No. 1 seeds are a combined 14-10 in the Elite Eight during that span.
No.12 seeds are 2-20 in the Sweet 16 overall, and 0-20 when they face a No. 1 seed.
The two wins came courtesy of 2002 Missouri (which knocked off No. 5 Miami and No. 4 Ohio State before getting a lucky draw against No. 8 UCLA in the Sweet 16) and 2021 Oregon State (who beat No. 5 Tennessee, No. 4 Oklahoma State, and then also faced a No, 8 seed – Loyola-Chicago – in the Sweet 16).
The Cinderella story for one team in the No. 7 to No. 11 range is likely to continue past the Sweet 16 and Elite Eight. Going back to 2011, at least one team in that range has reached the Final Four every year, save 2012 and 2019.
When the chalk holds, the Sweet 16 matchups pit No. 2s versus No. 3s in what should be competitive games. Yet the No. 2s have owned the head-to-head, going 29-17 all-time.
No. 6 seeds are winless in the Elite Eight in the last 28 tournaments
Scott Spreitzer – Utilize In-Game Betting and Pay Attention to Public Money:
Arizona has been as high as a 2.5-point favorite, but the tickets are all over Houston and the number has come down a point thanks to 72% of the bets on the short dog. Houston held UAB and Illinois to a combined 11-of-44 3-point shooting, but they don't shoot well from the FT line and they commit a lot of fouls. This game has solid potential for in-game wagering. If Houston is allowed to play their brand of intense defense and the whistles aren't being blown too often, advantage Cougars. However, if the whistles are frequent early-on, there may be in-game value on Arizona.
Michigan doesn't deserve a Big Dance ticket. That was the cry before The Dance got underway...and those folks have been proven incorrect. The Wolverines have since come from behind in both games and now find themselves as a 5-point dog to Villanova. According to KenPom, U-M had a 9.4% minimum win probability against Tennessee when they were down 60-54 with about 7 minutes to go. And they held a 13% minimum win probability against Colorado State when they were down 15 to the Rams. Villanova is a basket away from a 13-game winning streak, are led by arguably the top Big Dance coach in Jay Wright, and they're the No. 1 FT shooting team in the nation. Michigan must not fall behind in this one, because the Wildcats know how to close out opponents. They made 17 of 20 FTs against Ohio State in another March 'Nova close-out performance. The Wildcats have seen 56% of the bets.
Arkansas and Gonzaga both play up-tempo basketball, so Arkansas must shoot better than they did against NMSU when they made just 11-of-35 shots. But the Hogs held a 22-6 advantage at the FT line in a 53-48 win. Gonzaga must get Chet Holmgren involved on the offensive end early in this one. He's been MIA in the first half on the offensive end in both games. If Holmgren is on, Gonzaga likely wins going away. But if Arkansas can hold the big kid down like Georgia State did for 30+ minutes and Memphis did virtually the entire game, they can pull the major upset or at least hang the number. Gonzaga has received a little more than 50% of the bets thus far.
Texas Tech closed-out and escaped Notre Dame thanks to a 10-1 run down the stretch. They aren't the most accurate team in the land, and the output against Montana State was a definite outlier. Duke owns outstanding metrics except when it comes to forcing turnovers, which could be a blessing for the Red Raiders, who tend to turn it over too much at times. Over 70% of the tickets thus far are on the Duke Blue Devils in what should be a low scoring game, relatively speaking.
Make sure to check the status of UCLA's Jaime Jaquez, who's questionable with an ankle injury. His absence means this line is just right. However, if he is set to go on Friday, the Bruins power rate to a line 2 points higher than where they currently sit. This line has been as high as UCLA -4 and as low as -1.5. UNC is on an 8-1 SU run, with only three of those wins coming against teams power rated inside the top-58. The Bruins utilize a deliberate adjusted tempo, so running away from quality opponents is never easy. Meanwhile, UNC is all about up-tempo basketball. The team that controls the tempo wins this game. Over 55% of the tickets are on the Tar Heels.
St. Peter's is a popular dog right now, getting 65% of the tickets against Purdue. Here's one thought when handicapping this game: Purdue whipped the 145th power rated Yale Bulldogs in the opening round. As recent as March 1, Saint Peter's was power rated 146th. The Boilermakers were a 16.5-point favorite over Yale. Is the adjustment at the books correct? Or, would Purdue have been four points higher if this was their opening round matchup? Thus far, the public thinks the number is still too big.
Another popular dog as of midweek are the Providence Friars, who are getting more than 60% of the tickets against Kansas. Providence won and covered against a popular dog in the opening round, handling South Dakota State, who were a huge liability at the books. They then whipped an out-gunned Richmond team. The Friars need to throw a wrench into the Kansas up-tempo style. And it's worth noting that Providence is all about a deliberate pace. Kansas escaped against a Creighton team missing its two best players. The Jays had the ball, down one, with 1 minute to go but made a couple of key errors. Remy Martin saved the day for the Jayhawks and will need to come up big again.
The Miami Hurricanes are the most lopsided bet team in the Sweet 16. They've received more than 90% of the tickets in their matchup with Iowa State, and the Hurricanes have gone from a short dog to a 2.5-point favorite. Iowa State isn't good on the offensive end, but they play an intense brand of defense and faced the nation's 10th toughest schedule. They held their two Big Dance opponents to 103 combined points, the fewest allowed by any remaining team. Betting ON the Sweet-16 team that has allowed the fewest points in the tourney has been a winning bet for the majority of the last 34 years.
Doug Upstone – Neutral Court Variance:
One requirement for trying to beat the betting odds is that you have to know how each team played on neutral courts. You will have at least three choices: early season tourneys, the conference tournament and the games played in the NCAA Tournament. Make sure to know their SU and ATS records, along with point differentials, positive or negative, and do your research. Almost every team shoots better at home. What you want to check for is wider variances compared to playing at home. An example would be a team that averages 10 3-pointers at home and seven away from home. Check for correlation in a reduction of points to see if they are scoring nine to 11 fewer points. If they are facing an opponent who guards the 3-point shot well, and they drain eight 3's home or away, you have a possible edge.
Strike Point Sports – Trends are your Friends:
Some of my thoughts on betting the sweet 16 and beyond are:
The dreaded 4-13 and 5-12 matchups are brutal early on in the tournament. However, once they get to the Sweet 16… and, really, the Elite Eight, there is a lot of value. Since 1985, No. 4 seeds are 21-46 straight up in the Sweet 16. That shows that if you get a 4-seed as a favorite, history shows that the right play is to fade that spot. If you look at the No. 5 seeds, it doesn't get much better, as they are 9-40 straight up since 1985. If those teams are fortunate enough to get to the Elite Eight, though...things get considerably better. If you can find a small line on a No. 4 in the Elite Eight, the 21 teams that won, as previously mentioned, are 13-8 straight up in the Elite Eight. When it comes to the No. 5s, those nine teams that won (previously mentioned) are an outstanding 7-2 straight up in the Elite Eight.
Moneyline fades of 4s and 5s in the Sweet 16 and moneyline follows in the Elite Eight show value.
Surprises tend to run out...
In the Sweet 16, we start to see fewer surprises. You don't have the early tip times, and your travel schedule isn't as rushed. Coaches have more time to prepare for games, and they have a good feel for how their team is playing after a hectic opening weekend that is new to many players, especially freshmen that haven't gone through this sort of thing. When good teams have time to prep, and good players have time to really get into a groove, they start to dash the hopes of Cinderella. Also, this is a great spot to grab the "Major Teams" that have lower seeds. Everyone loves the darlings, but many times a 5th-seeded team from a Power 5 conference is the team to bet on as they typically have players that have been there before and coaches that know how to win in the tournament.
Vernon Croy – The Cream Rises in the Sweet 16:
When it comes to betting the Sweet 16, most teams made it this far simply because they are really good teams and some teams made it this far simply because they have played better than they actually are or perhaps their opponent or opponents played down to them or had an off-shooting night. All the teams that made it this far have now had a break to take in everything that has happened in the "Madness" and prepare for the Sweet 16, so now is the time when the cream rises to the top and the "Cinderella," or teams that really should not have made it this far, run out of luck. Teams have now had time to prepare for their Sweet 16 opponent, which is the difference between the first two rounds, and the great teams will move on to the Elite Eight the way it is supposed to be and should be. There will be no more luck when it comes to the Sweet 16, so it's very important to study team stats and mismatches on the court. Can Team A defend the perimeter against a good 3-point shooting Team B? Is a certain team only great in the paint or is a team really bad at the line? There should be absolutely no guesswork when it comes to these games from here on out as the stats do not lie and you can anticipate the teams that are left to play to their full ability. Unlike the first two rounds, where good teams could get caught looking ahead or flat footed unprepared, this is where the great teams move on and the average teams fail.
August Young – Target the Under and Strong Defensive Teams:
When it comes to the Sweet 16, and later in the tournament, I always recommend looking toward betting the under. Since 2005, the under in the Sweet 16 round specifically has produced 55.6% winners for a 7.3% ROI. With lines of 140 or higher, the under improves to 57.4%, for a 11% ROI.
I would also suggest looking to back teams that have better defensive efficiency and are likely to win the rebounding battle based on various player matchups. The data and metrics show us without a shadow of a doubt that the better defensive and/or rebounding team wins far more games in the tournament than at any other part of the season -- especially from the Sweet 16 onwards.
It's also worth noting to not fall in love with backing the bigger dogs on the moneyline expecting some true 'madness' -- especially at this point of the tournament. Sportsbooks like to sell you on the fact that 'anything can happen' in this tournament, which may be true from time to time. However, it's not something you want to bank on. The better team usually wins. Here's a trend worth noting: If you backed underdogs of 5 points or more on the moneyline from the Sweet 16 onwards, you would have only won 21.7% of bets for a -18.6% ROI... it doesn't get much worse than that.
Also, something which is harder to come by but worth assessing, is referee tendencies and if they have worked a big game like this before. Perhaps they are prone to being quick on the whistle? Or perhaps it's the opposite; maybe they are more likely to swallow the whistle. Either way, this helps handicap the game from a side or total perspective for various reasons.
Finally, one of the biggest mistakes I see time and time again is bettors falling in love with fairytale underdogs at this point. Usually when they make it this far it's due to some very good positive variance and are due a regression. At this point in the season, 14 seeds or lower are only 14-21 ATS. Good for only 40%.
Get free college basketball picks on every single game, or if you want our very best bet premium picks by the experts, sign up for your free $60 account with a guarantee.