2009 NBA Draft Prospects
by Robert Ferringo - 05/14/2009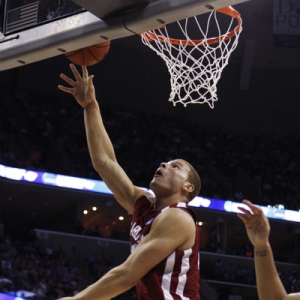 If we were to compare the NBA and NFL drafts to professional wrestling - and with all of the drama and absurdity involved, why not? - then the NBA Draft would be the ECW while the NFL Draft would be the WWF.
The NBA Draft is nowhere close in popularity to the pro football event that takes place every April. Everything from player analysis and mock drafts to the reaction after the actual selections occur seem second-rate and nonchalant compared to the This Is The Most Important Thing EVER attitude that surround the NFL's show. Throw in the annual litany of bizarre draft-day deals, a lot of goofy foreigners, and more Day-Glo colored suits than a pimp's convention and the NBA Draft is more circus than serious.
But that doesn't stop a humble handicapper like myself from wanting to break down the top prospects entering this year's version of the circus. Because of the recent rule changes that set a mandatory age that NBA Draft prospects must be before they enter The League, the crop of players that come out nowadays is deeper and more experienced than ever. And while some pundits are lamenting this year's crop as "weak" I think that it has just as much of a chance to provide impact players than any that have come before it.
I'm not trying to flat-out rank the best players entering this year's draft. I will do so on Doc's Sports Blog when I have a full list of entrants. But for now, here is a list of 10 of the hottest NBA Draft prospects on the board right now:
1. Blake Griffin, PF, Oklahoma
There is pretty much no doubt that Griffin, the reigning college Player of the Year is going to be the top overall selection. However, there is still a little doubt about Griffin's all-around game. He was simply an unstoppable beast in the Big 12. But he was never forced to show much ball skill or a face-up game. Regardless, he has NBA ability and an NBA body. He could step in and average 12 and 7 right off the bat.
2. Hasheem Thabeet, C, Connecticut
Thabeet's decision to leave school early shouldn't really be a surprise. And unlike some other players who come out early I don't think that Thabeet would have helped himself by staying in school. My issue is that even though he weighs in at 265 pounds I still don't think he's big enough not to get thrown around in The League. He's really more of a power forward, but he doesn't have a jumper or any reliable post moves. He is more of a project than he seems. But there is outstanding upside there. He is more Ben Wallace than Alonzo Mourning.
3. James Harden, SG, Arizona State
I was convinced that Harden was one of the three best players in college last year…until March rolled around. Harden looked overweight, unathletic, and slow through the Pac-10 tourney and NCAA Tournament. That said, his poor performance really doesn't seem to have hurt his draft stock that much. That is, if you put any stock in the NBA Mock Draft scene. I actually do have some concerns about this kid, though. He was unstoppable at times in college. But he might be too slow and not a good enough shooter to stick at the No. 2.
4. DuJuan Blair, PF, Pittsburgh
My first reaction to Blair's decision to leave school early was that he was a fool and that he could use another year of seasoning. But then I remembered that as good of a program as Pitt is, the school absolutely does not develop NBA players. Blair has all the tools to be an All-Star for the next decade. He has great ball skills and a fantastic feel for working around the basket. Also, size and attitude aren't problems. But can he face up and knock down the jumper? That is why I felt he needed another year. But I thought the same thing about Elton Brand and was wrong and I think Blair can be that type of contributor.
5. Jordan Hill, PF, Arizona
I know, I know: I'm surprised too. Jordan Hill's athleticism and upside have NBA scouts drooling and it looks like he is a shoo-in for the Top 10. He really made significant strides last season for the Wildcats and, unlike Blair, I think that Hill has displayed an array of scoring maneuvers that don't involve just overpowering people. But my question is going to be his desire to be a pro baller and his consistency. Also, Hill always seemed a bit injury prone to me. Will be a nice piece somewhere, but don't expect a star.
6. Tyreke Evans, PG, Memphis
Evans is another kid that was simply physically dominating at the college level. He could get to the basket at will and although he is being peddled as a point guard it's clear that he'll be an NBA shooting guard. The only problem there - he can't shoot. Evans is not even close to being a pure shooter. But that hasn't stopped someone like Rajon Rondo - Evans is like a stronger version - and I think the kid has a bright future.
7. Ty Lawson, PG, North Carolina
Heading into last season I felt that Lawson was one of the most overrated players in college. Not any more. Lawson is legit and there are a lot of point guard-starved teams in the middle of the first round that are salivating at the prospect of picking him up. He's not Chris Paul. But he's pretty damn good. Getting his shot off against some of the better (and bigger) perimeter defenders in the NBA will be an issue. But if he catches on with a team that likes to run he's going to be fun to watch.
8. Jonny Flynn, PG, Syracuse
Flynn really burst onto the scene late last season and his amazing play in March really prompted his premature exit from Syracuse. I can't disagree with his decision though, as I believe that he proved his point with his high level of play. He will be a very nice consolation prize to a team that misses out on one of the other point guards. But I do have some issues with Flynn, even though he's my boy. With a couple random exceptions, Flynn never played well against the top competition in the Big East. He was awfully inconsistent and I rarely felt like he was the most dominant player on the floor.
9. Stephen Curry, PG, Davidson
There is some debate over how quickly and how effectively Curry can make the adjustment of going from the Southern Conference to The League. Well, let me be the first to say: he's not going to have any trouble. Curry is the best college scorer that I have ever seen. And a feeble cast and some lingering injury issues may have stunted his growth this year but the kid has offensive skills beyond some 10-year veterans. The only problem that Curry will run into is on the defensive end. But I think he'll be willing to work at that.
10. James Johnson, PF, Wake Forest
Johnson is a guy that is extremely high on a lot of boards. However, I'm still a bit skeptical. There is no doubt that when he asserts himself he could take over games at the college level. But he also played for a team that didn't play any defense and constantly played down to the level of its competition. He has a polished mid-range game, which is a huge advantage, and once he gets a bit stronger he should be able to score more around the basket. Will be a solid pickup - but needs the right mentor because there is still work to be done.
Other Potential Lottery Picks: DeMar DeRozan, USC, Earl Clark, Louisville, Terrence Williams, Louisville, Gerald Henderson, Duke, Wayne Ellington, UNC, Tyler Hansbrough, UNC
More info on Ferringo's NBA picks? Check out his Insider's Page here.