Sweet 16 Bracket Predictions with National Championship Odds
by Joey House - 3/23/2023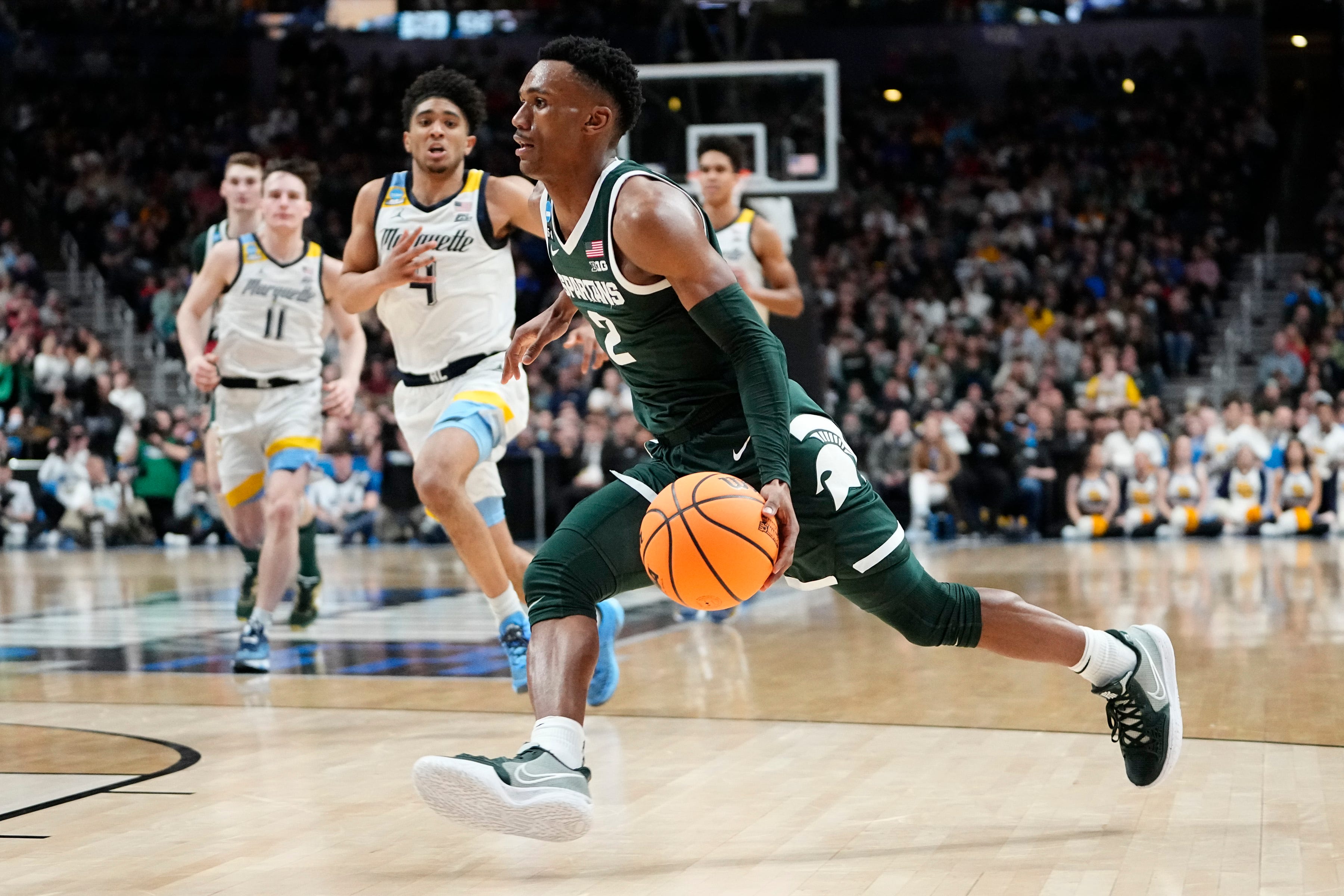 The Sweet 16 starts today, and the road to the Final Four will feature many exciting matchups over the weekend. The Sweet 16 has everything – from Cinderella stories to Top 3 seeds attempting to fulfill their destinies. While the Sweet 16 and Elite Eight don't bring the excitement of the opening rounds, these tend to be some of the best games. We will offer some Sweet 16 bracket predictions.
Doc's Sports offers college basketball expert picks for every game on our NCAA basketball predictions page.
redictions to get you ready for this big weekend ahead.
East Region
National Championship Odds: Michigan State (7) +3000 Kansas State (3) +3500
Current spread: Michigan State -2/137.5
The mighty Big Ten sent 8 teams to the Big Dance, and only Tom Izzo's Michigan State squad remains. They won and covered both as a favorite and as an underdog. They go up against a Kansas State team with similar experiences. They covered as a favorite and won as an underdog. This could be the best backcourt competition of the round, as KSU's Markquis Nowell is so fast that he looks like he's using a cheat code in a video game. MSU features a seasoned duo in A.J. Hoggard and Tyson Walker. This is the 15th time a Tom Izzo-coached team made the Sweet 16, and his record is 10-4 so far. Never bet against the Toms: Brady or Izzo. Michigan State wins, 79-71.
National Championship Odds: Tennessee (4) +1000 Florida Atlantic (9) +5000
Current spread: Tennessee -5.5/130.5
Florida Atlantic played an incredibly exciting first game against Memphis when FAU created the 3rd lead change in the final minute with a layup at the 2.5-second mark. Their next game saw them end the Cinderella tale of Farleigh Dickinson, 78-70. Tennessee had its own brush with defeat, holding off a furious Louisiana comeback to win 58-55 before winning as an underdog against Duke. FAU's 3-point shooting, the main weapon in their offensive arsenal, has been off a bit, only hitting 28.8% of the attempts in the tourney so far. However, this is a very young team, which only had one team member with NCAA experience. It's quite possible that the nerves affected their game the first weekend. Furthermore, since losing their lock-down guard Zakai Zeigler, Texas's 3-point defense has averaged giving up 34.3% of 3-point attempts, an increase of almost 10% from their 25.1% with Zeigler. Many think this might be close, but I think FAU finds its stroke and upsets Tennessee 71-68.
West Region
National Championship Odds: (8) Arkansas +3500 (4) UConn+900
Current spread: UConn -3.5/139.5
Arkansas is one of the 8 teams from the SEC hoping to prove they know how to dominate more than just football. It wasn't easy for the Razorbacks to get here, winning as a 2.5-point favorite against Illinois before mounting their best comeback of the season, coming from 12 behind in the 2nd half to beat No. 1 seed Kansas. UConn's Sweet 16 trip was much smoother, beating (and covering) 2 different Gaels (Iona and St. Mary's). UConn is incredibly balanced, ranking 3rd in Adjusted Offensive Efficiency (AOE) and 14th in Adjusted Defensive Efficiency (ADE). They score, on average, 78.7 PPG and surrender 64.9 PPG. Arkansas is actually similar, averaging 74.3 PPG and allowing 67.4. The Razorbacks are drastically behind in 3-point shooting. They take an average of 15.9 threes a game and only make 5.0 of them (352nd and 350th, respectively) UConn, by comparison, shoots 25.1 (40th nationwide) and makes 9.1 (30th in the country) long-range bombs a game. Arkansas showed a great deal of grit and moxie in their comeback win against Kansas. Besides that win, however, this is a team trending in the wrong direction. They are 5-5 in their last 10 games, with both of their points scored and points allowed going the wrong way. UConn seems to be gathering momentum for a deep March run, going 8-2 in their most recent 10-game stretch. Whoever wins this game has a legitimate shot of winning it all. I'm calling for UConn to advance 69-60.
National Championship Odds: (3) Gonzaga +1200 (2) UCLA +800
Current spread: UCLA -1.5/145.5
Hollywood couldn't have scripted this rematch from the 2021 Final Four any better. As expected for higher seeds, these two teams had easy first-round matchups but considerably stiffer challenges in their second contests, winning their respective games but not covering. This contest features the No. 1 ranked offense in adjusted efficiency (Gonzaga) versus the No. 2 ranked defense in adjusted efficiency (UCLA). The difference, then, could come down to how effective Gonzaga's defense is in limiting UCLA's 21st-ranked offense. This should be a chess match with a three-point line. I wouldn't be surprised to see this game head to overtime, that's how close these two are in ability. With Gonzaga's ability to hit the three-pointer (11th in the nation at 38.7%), they are never out of any contest. With that being stated, four members of this Bruins squad remember the bitter taste of defeat served by the 2021 Bulldogs. They won't drink from that well again. UCLA 74 Gonzaga 72.
South Region
National Championship Odds: (1) Alabama +340 (5) San Diego State University +4000
Current spread: Alabama -7.5/137
In a tournament that has already seen more than its fair share of upsets, Alabama's path to the Sweet 16 has been a smooth one. They missed covering their opening-round spread of 24 points against Texas A&M-Corpus Christi by 3, before crushing Maryland in the second round 73-51, covering the eight-point spread by a 14-point margin. San Diego State, who was picked by many to be an upset victim of the College of Charleston, had other ideas, as they eked out a 5.5-point cover with their 63-57 win. In their second-round matchup, they were faced with an upstart No. 13 Furman squad who had just defeated Virginia in the opening round. SDSU was not impressed, as they dispatched the Paladins in decisive fashion, 75-52, and easily covering a 4.5-point spread. This is one of those March Madness matchups that drives coaches crazy but fans love. The Crimson Tide run a very fast offense, averaging 15.3 seconds per possession, making them the 6th fastest team in possession length in the nation, per Kenpom.com. SDSU averages 17.5, which is just a shade faster than the 17.6 Division One average. The Aztecs' defense endlessly contests virtually every possession, which forces opposing offenses to chew up a lot of shot clock in an attempt to get a good look. However, SDSU has been doing this against weaker competition. They only had a 5-5 record against Quad 1 teams, compared to Bama's 14-5 mark. When they stepped up in class, they were soundly defeated by Arizona (87-70) and lost to Arkansas (78-74). The only time that SDSU even came close to scoring as much as the Crimson Tide did in their opening round (96 points against Texas A&M-CC) was the 95 points amassed against Occidental, a Division III school. The only shot that the Aztecs have in winning this game is to slow down the game and try to get the Crimson Tide frustrated. Unfortunately for SDSU, Alabama's offense, which is ranked 18th in the nation in adjusted efficiency per Kenpom, is just too versatile. Alabama moves on quite comfortably, 76-64.
National Championship Odds: (6) Creighton +1000 (15) Princeton +18000
Current spread: Creighton -10/140
Before 2021, Florida Gulf Coast was the only No. 15 seed to advance to the Sweet Sixteen. When Princeton defeated No. 2 Arizona, 59-55, it has now happened in three consecutive tournaments. Interestingly enough, after the chaos of the first-round games, the Tigers were the only double-digit seed to advance, beating Missouri 78-63. This isn't your father's Princeton team of the late '80s and early 90's that looked like the movie "Hoosiers" in real-life. While they still feature a motion-heavy offense, and shoot the ball efficiently, they now possess a very athletic big man in 6-foot-8 forward Tosan Evbuomwan from England. Not only can he score (14.8 ppg), but he's incredibly adept at finding the open man when the double team invariably comes, as evidenced by his 4.7 assists per game, good enough for 58th in the country overall but 3rd in non-guard positions. Creighton is, however, exactly as dear old Dad remembers: 3-point shooting son-of-a-guns. They average 8.8 3's a game, 44th in the country. They make 35.8% of the threes that they attempt, and they take 24.6 a game, 56th nationally. Every one of their starters averages double-digits in scoring. Therein lies the rub. After their starters, they are paper-thin in-depth, ranking 351st in bench usage per Kenpom. If these two teams were playing in the Elite Eight, I would lean very heavily to Princeton on the money line. I think the Blue Jay's lack of depth will be a very big issue for the second game in three days. However, as they have had almost a full week to rest, I like Creighton to advance with a heavy emphasis on the over in what could be the most interesting game of the Sweet 16 round. Creighton wins, 81-70
Midwest Region
National Championship Odds: (1) Houston +360 (5) Miami (Fla) +4500
Current spread: Houston -7/138
The current favorite to win the whole tournament, Houston had a relatively easy road to the Sweet 16, albeit with a non-cover win against Northern Kentucky in their first game. Miami overcame a 1st-half deficit against Drake to win and turned around 2 days later and destroyed a solid No. 4 Indiana. Houston had some slight injury issues that hopefully get ironed out before Friday's game. The Cougars are another defensive juggernaut, top 2 in the following defensive categories: Field goals allowed, FG %, 2-point shots allowed, 3-pt %, and finally PPG allowed. That, folks, is impressive. While the Hurricanes don't boast those lofty rankings, they are a very solid offensive team, ranked 11th in the country in AOE and 25th in PPG. Houston is going to try and exert its will and slow the pace down, while Miami is going to look for transitional opportunities and try and speed up the game. I see this being a closely fought game, where Houston wins but fails to cover the 7-point spread. Houston 68-Miami 64
National Championship Odds: (2) Texas +1000 (3) Xavier + 4000
Current spread: Texas -4.5/149
Usually one region every year is devoid of upsets, and this year it was the West, with a No. 1, No. 2, No. 3, and No. 5 getting into the Sweet 16. This game features two top-15 offenses and as such has the highest total of the round. Texas covered easily against Colgate before winning, but pushing, against a tenacious Penn State squad. Xavier had to overcome an 11-point deficit with 10 minutes remaining to defeat Kennesaw State in their first contest. That must have woken them up, because they covered with ease in dispatching Pitt. Xavier is 5th in the nation in 3-point percentage (38.9%). However, Texas just held a Penn State squad that was 9th in 3-point percentage to 28.6% on 8-28 shooting from long range. Texas is athletic and long on defense. This should be a high-scoring affair, but I think the Longhorn's defense disrupts the Musketeers offense more than the other way around. Texas wins, 80-74.
Get college basketball picks on every single game, or if you want our very best bet premium picks by the experts, sign up for your free $60 account with a guarantee.