2019 AL East Picks: Division Again One of Best in Baseball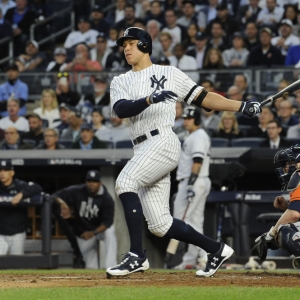 Like it or not, the Yankees vs. Red Sox is the biggest and best draw in baseball. And fans of Major League Baseball should gear up for a highly-publicized, highly-competitive six-month war between these long-time enemies as they vie for the American League East crown. This division is obviously a two-horse race, as Baltimore is coming off a historically awful season and Toronto is throwing itself head first into a rebuilding period. Tampa Bay is an X-Factor. And how Boston and New York perform against the Rays may determine who ultimately wins the East.
Here is Doc's Sports 2019 AL East preview (with odds courtesy of 5Dimes):
New York Yankees
2018 Record: 100-62 (-950)
2019 Wins Over/Under: 96.5
Odds To Win 2019 AL East: -125
Odds To Win 2019 AL Pennant: +300
2019 New York Yankees Odds To Win World Series: +600
Outlook: This past winter was certainly a lot quieter for the Yankees than last year, when they grabbed Giancarlo Stanton from Miami and planted their flag as a World Series contender for the next several years. New York won 100 games last year but still finished in second place in the division. They were also dispatched pretty easily in the ALDS to end an oddly disappointing season.
The Yankees still have one of the most intimidating lineups in the game. Aaron Judge, Giancarlo Stanton and Luke Voit are the meat of an order that will again threaten to break the record for home runs in a season. Troy Tulowitzki and Brett Gardner are aging stars set at the bottom of the order. There are plenty of young bats to lend support.
Runs won't be a problem. Pitching may be. Luis Severino is hurt. If he can't go, then James Paxton is the only guy on the staff capable of performing like an ace. Even Paxton has weaknesses, as he goes from relative anonymity and a pitcher-friendly park in Seattle to a much bigger stage in New York. J.A. Happ and C.C. Sabathia are nothing beyond mediocre lefties, and Sabathia is already dinged up heading into his final season.
The strength of pitching staff is still the league's best bullpen. They are absolutely stacked in the back, and that will help New York shorten games. They will need to, because their rotation may not have more than one starter log more than 160 innings this year.
There is next to no value betting on the Yankees again this year. They won 100 games last year, but $100 bettors actually lost money backing them. I don't think it will be much better this season. And if the starting rotation collapses, it could be a little worse.
Boston Red Sox
2018 Record: 108-54 (+3100)
2019 Wins Over/Under: 94.5
Odds To Win 2019 AL East: +150
Odds To Win 2019 AL Pennant: +300
2019 Boston Red Sox Odds To Win World Series: +600
Outlook : Last season the Red Sox won 108 regular-season games and took out the Yankees, Astros and Dodgers en route to winning another World Series. That was their fourth championship in 15 years, and the Red Sox enter the season as one of the favorites to claim the crown again this year.
This is essentially the same team that won the title last October. The core of Mookie Betts, J.D. Martinez and Xander Bogaerts are the foundation of the squad. They have depth and versatility in the infield and the outfield and there are plenty of appealing options coming up through the minor league system. Dustin Pedroia may be enjoying his swan song. And you can be sure he will go out fighting.
The Red Sox rotation is still solid, though not spectacular. Chris Sale is starting to show some wear. But he is as good as any lefty in the sport. David Price and Rick Porcello vacillate between superb and supremely hittable. And Ed Rodriguez and Nathan Eovaldi both have very good, if very inconsistent, stuff. The bullpen is seasoned.
Much like the Yankees, it is going to be next to impossible to find any value betting on the Red Sox. They are the defending champions and one of the most popular teams in the game. The last time Boston won a World Series (2013), they followed up with a 71-win clunker. I don't expect that level of drop-off. Though they are coming off their first 100-win season in over 70 years. A dip back to the 92-95-win range wouldn't be out of the question.
Toronto Blue Jays
2018 Record: 73-89 (-970)
2019 Wins Over/Under: 75.0
Odds To Win 2019 AL East: +3000
Odds To Win 2019 AL Pennant: +7500
2019 Toronto Blue Jays Odds To Win World Series: +15000
Outlook : Toronto is making no bones about the fact that this is a rebuilding season. The Blue Jays look good enough pull off the retooling without completely bottoming out. Though the entire season is going to be defined by how their young recruits perform on the field rather than how those efforts impact the win-loss record.
Frankly, the Blue Jays season is going to be defined by the development of Vlad Guerrero Jr. He is the No. 1-ranked minor league prospect in the game and has the makings of a franchise-changing star. The Jays should bring him up in late April or early May. Randal Grichuk, Dalton Pompey and Devon Travis are other young names to keep an eye on.
Toronto's starting rotation is stuck somewhere between potentially catastrophic and serviceable. If Marcus Stroman and Aaron Sanchez bounce back from injuries, they are two legit starters. The problem is that if either shows a pulse, the Blue Jays are likely to trade them off to support the rebuild. Beyond that is nothing but retreads like Matt Shoemaker, Clayton Richard and Clay Buchholz.
Between 2012-2015, the Blue Jays saw their win total increase for three straight years. Since then they have seen their win total drop for three straight years. I don't know that they have found the bottom yet.
Tampa Bay Rays
2018 Record: 90-72 (+2350)
2019 Wins Over/Under: 84.5
Odds To Win 2019 AL East: +800
Odds To Win 2019 AL Pennant: +1500
2019 Tampa Bay Rays Odds To Win World Series: +3500
Outlook : Tampa Bay's bizarre pitching gambit worked wonders last season. The Rays committed to a full season with the revolutionary idea of an "opener", with one reliever starting a game and then playing that game out with bullpen-by-committee approach. And it worked. The Rays won 90 games and were one of the biggest surprises in baseball.
It certainly helped that one of their two regular starters - they only had two arms make more than 18 starts for the team - was Cy Young winner Blake Snell. Snell posted a 1.89 ERA while winning 21 games. The Rays brought in Charlie Morton and are hoping that youngster Tyler Glasnow can turn the corner. Finding a third reliable starter would help take the pressure off that bullpen.
Much like their pitching staff, Rays coach Kevin Cash decides his lineup based on matchups. Tommy Pham and Joe Wendle are decent bats. Kevin Kiermaier is a difference-maker in the field and on the bases. The Rays finished just No. 16 in runs scored last year, and I don't see them improving all that much.
Last year's team won 90 games but still missed the playoffs. They continue to churn through their roster without making any marquee or big-ticket additions. Is this team going to be any better? I don't think so. I may pay for this, but I am going to chalk last season up to a fluke. Outside of their 2008-2013 run, this franchise has never had back-to-back winning seasons.
Baltimore Orioles
2018 Record: 47-115 (-5380)
2019 Wins Over/Under: 59.5
Odds To Win 2019 AL East: +25000
Odds To Win 2019 AL Pennant: +75000
2019 Baltimore Orioles Odds To Win World Series: +95000
Outlook: Last season was a complete and total disaster for the Orioles. They went 47-114, posting the fifth-fewest wins in a season in Major League history. That debacle led to a complete team overhaul, with an entirely new front office working to lay a foundation that will get the Orioles back to being competitive sooner rather than later.
I'm not going to waste a bunch of time on the Orioles. They are pathetic. Truly pathetic. The lineup is comically inept, led by total failure Chris Davis, who is somehow back with the team and penciled in to hit cleanup.
The rotation is worse. Alex Cobb is just a guy. Dylan Bundy is never going to become the rotation-changing arm the Orioles were hoping for. And Andrew Cashner should be a long reliever. Those are their three best pitchers.
These guys are still a horror show. I think that they will be closer to 60-win bad rather than 45-win bad, though, and it should still be a while before we see any signs of improvement.
2019 American League East Picks and Predictions: Predicted Order of Finish
1. New York Yankees
2. Boston Red Sox
3. Tampa Bay Rays
4. Toronto Blue Jays
5. Baltimore Orioles
Robert Ferringo is a professional sports handicapper for Doc's Sports. He is considered one of the top MLB cappers in the country and has turned a profit in four of five baseball seasons (and six of his last eight). Robert exploded for an incredible +$6,100 profit run last year during the first three weeks of the season and he plans on doing it again this year. Robert has posted four of five winning years on the diamond and is looking for another big season. Click here for more information on his MLB picks .
Read more articles by Robert Ferringo
Get all of Today's MLB Picks
Get all of Today's Guaranteed Expert MLB Picks