2019 AL West Picks: Beware Betting the Houston Astros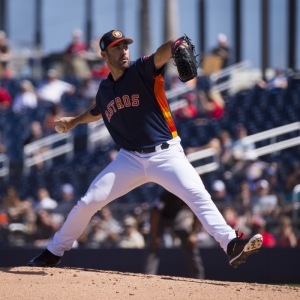 Even though everyone knows that Houston is going to win the American League West this year, there is at least a semblance of competitiveness in this division. The Astros are still a powerhouse and the short list of teams vying for a World Series title. Oakland, Los Angeles and Texas are at least capable of throwing some punches, though, and they will make the Astros work to earn a third straight divisional preview. Considering the total imbalance in both the American League East and Central Divisions, I suppose that counts for something.
Here is a look at Doc's Sports 2019 AL West picks and some betting predictions (with odds courtesy of Sportsbook.ag):
Houston Astros
2018 Record: 103-59 (-180)
2019 Wins Over/Under: 96.5
Odds To Win 2019 AL West: -800
Odds To Win 2019 AL Pennant: +300
Odds To Win 2019 World Series: +700
Outlook: The Astros are still smarting after last year's disappointing loss in the ALCS, denying them a shot at back-to-back World Series titles. Houston is still stocked with talent and again one of the favorites to add another title to their trophy case.
Houston had one of the most dominating starting pitching staffs in the Majors last year. Now three of the five starters from that group - Dallas Keuchel, Charlie Morton and Lance McCullers - are gone. Justin Verlander and Gerrit Cole can still hold it down. And the back end of the bullpen is still tough and experienced. Houston is betting that a farm system stacked with top pitching prospects that will provide an arm or two that can help fill the void left by the departed veterans.
The lineup is still going to mash. They did drop from 896 runs in 2017 to 797 last year. They still finished No. 6 in the league last season despite the drop off. The Astros could use a full, productive season from Carlos Correa. And they are also hoping for a full, healthy year from Michael Brantley. If those two things happen, then the rest of the usual suspects - George Springer, Alex Bregman, Jose Altuve and Josh Reddick - should get this team back over 800 runs.
I am slightly worried about betting on the Astros during the regular season. I've seen this before with teams. The bar is set higher now. Everyone in this franchise knows that they will be judged by World Series titles. That takes some of the importance out of the regular season and decreases their motivation to go out and get a third consecutive 100-win season. Last year the Astros didn't turn a profit for $100 backers despite winning 103 games. What will happen if they only win, say, 95 or 96? There won't be money to be made with this group.
Los Angeles Angels
2018 Record: 80-82 (-870)
2019 Wins Over/Under: 82.5
Odds To Win 2019 AL West: +650
Odds To Win 2019 AL Pennant: +2500
Odds To Win 2019 World Series: +4500
Outlook: Mike Trout is now set to become one of the richest men on the planet. That's great. Good for him. Now we will see if his career will ever amount to anything more than his individual accomplishments, on the field and off. And as we look at the Angels heading into this season, I don't see any reason for optimism that this team is anywhere close to competing for the A.L. crown.
Trout will again anchor an offense that finished No. 20 in team batting last year. Albert Pujols is once again a large, sad anchor around this offense. The best-case scenario is that Shohei Ohtani will be back to 100 percent and ready to take over the DH role in May. Ohtani was excellent in about half a season's worth of at-bats. If he can tap into that, then Trout may have some help trying to jolt this offense.
There isn't a ton to say about the Angels pitching staff. It is awful. They used 16 starters last year. This year they are still banking on guys like Matt Harvey and Trevor Cahill to hold up for 20-30 starts. I'm not nearly that optimistic. Lefties Tyler Skaggs and Andrew Heaney are just guys.
Outside of Trout and Ohtani, there is nothing special or at all that interesting about this team. They're not nearly as good as Houston and Oakland, and they may not even finish ahead of the Rangers. Considering they just dropped nearly a half billion dollars into Trout, I would have to think that a fourth-place finish would qualify as a massive disappointment.
Oakland Athletics
2018 Record: 97-65 (+3660)
2019 Wins Over/Under: 84.0
Odds To Win 2019 AL West: +800
Odds To Win 2019 AL Pennant: +1500
Odds To Win 2019 World Series: +4000
Outlook: All offseason I've been reading about how "no one could've predicted" Oakland's surge last season. That's not true. I predicted it. Maybe I didn't expect them to threaten 97 wins. But my largest futures bet last season was on the A's to win more than 75 games. I saw the potential in this group, and they more than lived up to it.
Now the question is whether or not the A's have staying power. They won't be sneaking up on anyone this year. I don't think it will matter. The core of guys like Matt Chapman, Matt Olson, Khris Davis, Stephen Piscotty and Marcus Semien are in various stages of their primes. The lineup is powerful - they were No. 4 in the Majors in runs scored and No. 3 in home runs - and versatile.
It was somewhat disappointing that Oakland did nothing this offseason to address their mediocre pitching staff. It looks like they are banking on one of their young prospects (Frankie Montas and Jesus Luzardo) to break through. Other than that, the A's will count on a bunch of No. 3- and No. 4-caliber starters to cobble together enough innings to keep pressure off the bullpen. There have been injury issues all over the staff, though, and how the starters perform will be the key to the season.
I still like this A's team. Are they as good as Houston? No. They aren't all that far off, though. There are some issues in the front office and some behind-the-scenes payroll things that could hold them back. The future is bright for this group, though, and with one or two breaks they can compete with the best teams in the American League all season long.
Seattle Mariners
2018 Record: 89-73 (+1000)
2019 Wins Over/Under: 71.5
Odds To Win 2019 AL West: +8500
Odds To Win 2019 AL Pennant: +8000
Odds To Win 2019 World Series: +20000
Outlook: Oh look: another American League team throwing itself headfirst into a full-blown rebuild. Seattle won 89 games last year. However, every metric pointed to the fact that they were massive overachievers. Rather than turn a blind eye to the inherent mediocrity of their team, the Mariners front office decided to spend the offseason dismantling the squad.
Robinson Cano, Edwin Diaz, James Paxton, Jean Segura and Nelson Cruz are all gone. Dee Gordon, Mitch Haniger, Jay Bruce and Edwin Encarnacion are now the veteran leaders, especially while Kyle Seager recovers from injury. I will be keeping an eye on Mallex Smith. He's only 25, and I think that Tampa Bay gave up on him too early.
Paxton is now in New York. Felix Hernandez is the shell of himself and barely holding on to his spot in the rotation. Other duds like Mike Leake and Wade LeBlanc will try to chew up innings, but I don't think it is going to be pretty. The bullpen is average at best. Frankly, there are a lot of arms in this rotation that I am in a hurry to bet against.
Seattle shed a lot of talent and a lot of payroll. Despite that, this at least looks like the shell of a Major League team. If Bruce and Encarnacion can stay healthy and contribute - not at their former All-Star levels, but as solid MLB starters - then Seattle should be able to threaten 70 wins. Barring something bizarre, I think that's the ceiling for this group.
Texas Rangers
2018 Record: 67-95 (-1080)
2019 Wins Over/Under: 71.5
Odds To Win 2019 AL West: +5000
Odds To Win 2019 AL Pennant: +7500
Odds To Win 2019 World Series: +20000
Outlook: New manager Chris Woodward is hoping to step in and give this sagging franchise a jolt. Back-to-back World Series appearances in 2010-11 seem like a lifetime ago. And after two straight seasons outside the postseason, the Rangers seem desperate to get back into the playoff mix.
The Rangers saw a massive decline in offensive production last season, and things kind of fell apart from there. They haven't done much to upgrade the lineup, so I don't see how the results will be much improved from last year's No. 23-ranked hitting unit. These guys are banking on a surge from youngsters like Nomar Mazara, Joey Gallo and Rougned Odor. For as much baseball as these guys have played, it is easy to forget that none of them is older than 25.
Texas' rotation stinks. That is kind of par for the course in the current MLB setup, though. Below-average lefties Mike Minor and Drew Smyly are the anchors. Castoffs Lance Lynn and Shelby Miller are the high-risk, high-reward arms. These veterans are really just chewing innings until some of the Rangers' heralded young pitching prospects show enough to justify consistent starts.
The American League is absurdly top heavy. There are four real contenders. There are also about six teams that aren't even attempting to compete and are in the throes of rebuilding. Then there are a few teams like Texas that are caught in between. Texas isn't as bad as the bottom feeders and not really well-rounded enough compete for a full six months.
2019 American League West Picks and Predictions: Predicted Order of Finish
1. Houston Astros
2. Oakland A's
3. Texas Rangers
4. Los Angeles Angels
5. Seattle Mariners
Robert Ferringo is a professional sports handicapper for Doc's Sports. He is considered one of the top MLB cappers in the country and has turned a profit in three consecutive baseball seasons (and six of his last eight). Robert exploded for an incredible +$13,100 profit run last year from mid-April to late July and he plans on doing it again this year. Robert has posted four of five winning years on the diamond and is looking for another big season. Click here for more information on his MLB picks .
Read more articles by Robert Ferringo
Get all of Today's MLB Picks
Get all of Today's Guaranteed Expert MLB Picks