2019 NL West Picks: Dodgers and Rockies Should Battle for Top Spot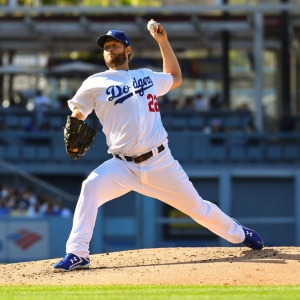 Much like the American League East, the National League West looks like a two-horse race. And while Dodgers-Rockies lacks the cache of Yankees-Red Sox, that doesn't mean that the West's race will be any less intense or any less competitive this season. Also, much like the East, the West race may be defined just as much by the other three teams playing spoiler as it is by the two powerhouses dueling for the top spot.
Here is Doc's Sports 2019 National League West preview:
Los Angeles Dodgers
2018 Record: 92-71 (-2280)
2019 Wins Over/Under: 93.5
Odds To Win 2019 NL West: -320
Odds To Win 2019 NL Pennant: +360
2019 Los Angeles Dodgers Odds To Win World Series: +900
Outlook: Just about everything that could've gone wrong for the Dodgers did go wrong last year - and they still won 92 games and went to the World Series. Los Angeles came up short in their quest for a title for the second straight season. But with their talent, farm system and financial resources, the Dodgers have built a franchise set up to compete for a World Series year-in and year-out. This season is no exception.
Clayton Kershaw and Walker Buehler look like they may both may start the season on the disabled list. Yet the Dodgers are so loaded that they have capable starters like Ross Stripling and Julio Urias just sitting around waiting to get called upon. That's to say nothing about the arms in their stacked farm system. The Dodgers still have one of the most reliable bullpens in the game, and their ability to shorten games helps to keep the pressure off a starting rotation that has logged a ton of innings the last three years.
The Dodgers got rid of Manny Machado, Yasmani Grandal, Yasiel Puig and Matt Kemp this offseason. And the offense could end up being even better. Full seasons from Justin Turner and Corey Seager, as well as new addition A.J. Pollock, could spark an offense that was No. 5 in runs last season. There is depth at every position and room to maneuver at the trade deadline.
Los Angeles is the best team in a very good National League. That being said, there's a reason no one has gone to three straight World Series in nearly 20 years and why it has only happened once in 40 years. The Dodgers have all the tools. They are missing superstars, though. The roster is stocked with really good players. But where are the real top-end difference-makers?
I see the Dodgers making the playoffs again. I don't have them going back to the Series, though, and this might be a team to sell the later we get into the season.
San Francisco Giants
2018 Record: 73-89 (-850)
2019 Wins Over/Under: 73.5
Odds To Win 2019 NL West: +4350
Odds To Win 2019 NL Pennant: +5000
2019 San Francisco Odds To Win World Series: +14500
Outlook: It looks like the Giants are trying to do a full franchise rebuild without actually doing a complete tear down. Stalwarts like Buster Posey, Brandon Belt and Brandon Crawford are still being counted on for major ABs this season, while free agent flop Evan Longoria will try to provide some actual pop in his second campaign on the team.
While those aging players continue their descent, San Francisco is trying to lay out a foundation that can get them back into competition in the West. The problem is that this is basically the same group of guys that have finished second-worst in the league in runs scored each of the past two seasons.
San Francisco also has a major decision to make involving Madison Bumgarner. He is a free agent after the season and showing signs of wear and tear. Think: Felix Hernandez like three years ago. The Giants may have to dump one of the faces of the franchise, which could also weaken a shaky rotation. Beyond him are noted losers like Jeff Samardzija, Derek Holland and Drew Pomeranz. Expect to see more young arms getting starts late in the year, though.
Things are actually worse than they look for the Giants. They have tons of money wrapped up into declining players for the next two years. They also don't have much of a minor league system. The hope is to flip some of those contracts for prospects. But that's better in theory than in practice, especially with the number of other Major League teams trying to follow a similar path.
Arizona Diamondbacks
2018 Record: 82-80 (-1010)
2019 Wins Over/Under: 75.5
Odds To Win 2019 NL West: +3750
Odds To Win 2019 NL Pennant: +6600
2019 Arizona Diamondbacks Odds To Win World Series: +20000
Outlook: After back-to-back years fielding a Top 10 lineup, Arizona flopped around last year with a group that finished No. 27 in team batting (.234). Needless to say, it is a problem that the Diamondbacks lost their two best hitters this offseason. They are shifting to more of a doubles-and-defense approach this year, perhaps in response to the humidor-induced offensive plummet in their home park last season.
The Diamondbacks lost Patrick Corbin this offseason. But he was coming off a career year and, frankly, wasn't any good in 2016 and 2017. The Arizona rotation should be fine without him - as long as Zack Greinke continues to pitch like a star. The Diamondbacks desperately need 2017 Robbie Ray (2.89 ERA) rather than 2018 Robbie Ray (3.93) if they want to compete. Health is also going to be a key; Arizona's depth is nil.
Most of the major statistical projections have Arizona somewhere around .500. I think that's a little optimistic. They've been bleeding talent the past two years, and now they look like another team that is standing on the cliff, waiting for a 74-win season to push them into another full blown rebuild.
Colorado Rockies
2018 Record: 91-72 (+1940)
2019 Wins Over/Under: 84.5
Odds To Win 2019 NL West: +450
Odds To Win 2019 NL Pennant: +1350
2019 Colorado Rockies Odds To Win World Series: +3000
Outlook: The Rockies have actually improved their win total four straight years. They have made the postseason twice in a row and could be reaching a franchise peak. Confidence is high in the Rocky Mountains, and Colorado definitely looks like it has a team that can compete in a balanced National League.
Colorado locked up star third baseman Nolan Arenado this offseason, dedicating over a quarter-billion dollars to the face of the franchise. Arenado leads an outstanding lineup that no longer struggles to score runs outside hitter-friendly Coors Field. Charlie Blackmon, Daniel Murphy and Trevor Story can all mash, and vets like Ian Desmond and Mark Reynolds provide pop and depth.
Pitching has always been an issue for the Rockies. But last year's 91-win campaign was due in large part to a rotation that matched up with any in the league. Lefty Kyle Freeland busted out for 17 wins and a sub-3.00 ERA. And if Jon Gray can find his 2017 form, then these guys are in business. Relief pitching is still a question mark.
The Rockies have a lineup that can hit all day, every day. That is becoming increasingly rare in today's Major League. In 2016 and 2017 the Rockies finished No. 2 in the league in team batting at .275. Last year they plunged to .256 but still finished No. 6 in hitting. If they get back to their 2016-17 levels, and if the pitching holds up, then these guys will be in the mix for a third straight postseason appearance.
San Diego Padres
2018 Record: 66-96 (-1140)
2019 Wins Over/Under: 78.5
Odds To Win 2019 NL West: +1300
Odds To Win 2019 NL Pennant: +4300
2019 San Diego Padres Odds To Win World Series: +11500
Outlook: The Padres came out of nowhere this winter with a major move, signing Manny Machado to a $300 million deal. Now what? They are better, sure. Are they 13 games better, which would push them 'over' their season win total? Are they 20 games better, which would put them in the mix for the postseason and have the Padres playing meaningful games in September?
San Diego made the move to grab Machado because they think they are on an upswing. And they are right. The Padres have one of the best farm systems in baseball and have a pipeline of young talent that will be heading to San Diego over the next three or four years. That includes Fernando Tatis Jr., the No. 3-rated prospect in the league. In the meantime, Eric Hosmer and Wil Myers will try to keep San Diego's offense respectable.
The obvious issue keeping the Padres from making a major move in the standings is their pitching staff. San Diego's starting rotation is the worst in baseball. And that's saying something. Their starters had a 5.09 ERA last season despite playing in one of the most pitcher-friendly parks in the Majors. And San Diego didn't get better. This team will be nearly impossible to wager on because the starting pitchers are impossible to trust.
This season will be judged by the progress of San Diego's young players. Their pitching prospects and their young everyday players should get every opportunity to make an impression. I think the result will be fits and starts with this group, and they should be streaky all year. San Diego is clearly an improved team on the verge of turning the corner in their rebuild. But I think that threatening .500 is asking too much of a pitching staff that simply can't get people out.
2019 National League West Picks and Predictions: Predicted Order of Finish
1. Los Angeles Dodgers
2. Colorado Rockies
3. Arizona Diamondbacks
4. San Diego Padres
5. San Francisco Giants
Robert Ferringo is a professional sports handicapper for Doc's Sports. He is considered one of the top MLB cappers in the country and has turned a profit in four of five baseball seasons (and six of his last eight). Robert exploded for an incredible +$6,100 profit run last year during the first three weeks of the season and he plans on doing it again this year. Robert has posted four of five winning years on the diamond and is looking for another big season. Click here for more information on his MLB picks .
Read more articles by Robert Ferringo
Get all of Today's MLB Picks
Get all of Today's Guaranteed Expert MLB Picks