World Cup Betting
by Doc's Sports - 5/17/2010


Get more World Cup betting information including betting bonuses, World Cup odds and our famous World Cup picks, which in 2006 earned $100 bettors over ten times their initial investment. ($100 bettors earned $1,820 click here for details)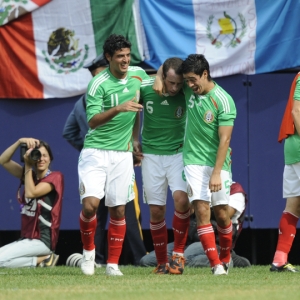 World Cup betting presents a bit different outlook than other popular wagering sports when approaching the games from a betting perspective. Most American sports such as NFL, NBA, college football and college basketball focus mainly on the point spread. Granted, you can also bet these sports on the money line and with totals, but for the majority of bettors the point spreads dictate the winners and losers. Even more simple is MLB betting, honing in on money lines for teams just needing to win (although run line wagers are available too).
Now for anyone that has wagered on soccer before, money lines are just as central as they are in MLB betting, with goal lines being available from the sportsbooks like run lines in baseball. But the biggest deterrent in this sport is the 'draw'. Not only does the average bettor have the opportunity to wager on either side of a specific match and/or total, but also the draw is available for consideration. Now this throws a huge wrench into the equation when trying to decide on value and possible outcomes. And the main reason for that is online sportsbooks grade a soccer play after 90 minutes and the added time (so even in the elimination round when a match is tied and going to extra time, you're side wager still counts as a loss regardless what happens from that point on).
Now the one beneficial side to this, if you can consistently produce winners, is the payout. Because of the potential 'draw' result, more times than not the two sides have more favorable odds. For instance, when looking at several group play matchups during the first week of the World Cup, here is what they look like:
Friday, June 11
South Africa (+175) v. Mexico (+140) with a draw option of +225
Now these odds can differ depending upon which sportsbook you use, but this example illustrates that quality profit can be made on either side if they come away with the win. But to that same point, the price for each is more appealing because linesmakers are suggesting that a draw isn't that much of a stretch compared with either scoring a victory. And with this comes the fact that you now have a 2/3 chance of losing, worrying about a straight up loss to the opponent or getting stuck in a draw.
Another group play opening round match-up that shows a similar payout:
Sunday, June 13
Serbia (+135) v. Ghana (+190) with a draw option of +220
This match-up is between two more skilled teams than the first one, but still near even and the same as above with the draw needing to be considered just as heavily as backing a side here.
Outside of considering purely the numbers, the World Cup is a unique beast to bet. The fact that this sporting event happens every four years brings weighted importance to the teams that cannot be found or replicated anywhere else, not even the Olympics.
Also consider that competing teams bring a very methodical approach to these group play games. There are definitely occasions where teams go into matches looking for a draw, and you will see that in the opening set of games. Lesser skilled teams when up against a giant like a Spain, Brazil or Germany know they cannot play at the same level, so they will drop back in a defensive shell and put all their focus on keeping the strong side from scoring chances, and that can be frustrating when backing a big team like that or the 'over' with total.
Some teams know they would be put to the sword after a first loss, so understanding the importance of getting at least a draw and a single point heading into their second games is key and staying alive with the chances to advance is crucial.
Such is the case with the aforementioned South Africa/Mexico match. France is the favorite in Group A, and Uruguay likely the next best team. So if either South Africa or Mexico lose this match and still has to play the two best teams in the group, they can probably know that their chances to advance to the elimination round are few and far between, especially with the other already three points up and in far better position.
These are just several things to consider when the 2010 World Cup begins in June. Enjoy the action and make sure to follow Doc's full handicapping coverage of this tournament during the month it takes place in South Africa.
---
Most Recent World Cup Betting