World Cup Odds and Picks: Netherlands Vs. Uruguay Predictions
by Trevor Whenham - 7/5/2010


Get more World Cup betting information including betting bonuses, World Cup odds and our famous World Cup picks, which in 2006 earned $100 bettors over ten times their initial investment. ($100 bettors earned $1,820 click here for details)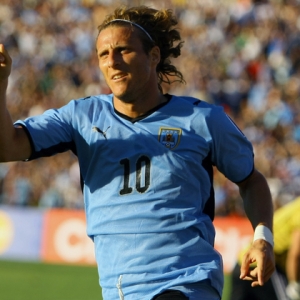 The first of two World Cup semifinals certainly qualifies as a surprise. Netherlands got there by beating probably the most feared team in the tournament in impressive fashion, and Uruguay made it by landing by far the easiest path to the Semis in the entire bracket. The important thing now, though, is that both made it. You can argue whether they deserve to be there all you want, but the only thing that matters is that they are.
This first semifinal takes place on Tuesday, July 6 at 2:30 pm ET in Cape Town. The venue gives Uruguay a slight edge - they have played there once, though they will likely need to play much better than they did in playing France to a scoreless draw in the first visit.
Uruguay is capturing the minds and hearts of underdog lovers because they certainly don't have the stature of the other three remaining teams. They also have all the hopes of South America riding on their backs after the embarrassing flame-outs of Brazil and Argentina in the quarterfinals. They are a tough team to assess. On one hand they haven't lost yet and they are still standing when a lot of supposedly better teams are at home licking their wounds. On the other hand, though, they came through the weakest of the eight groups: they had a draw against the laughably flawed French, they didn't really overpower South Korea, and they needed penalty kicks and a lucky break to get past Ghana - not exactly an elite squad in their own right.
While you can question their credentials you can't question their star. Diego Forlan has scored three goals in the tournament, and set up a fourth. That's more than half of the team's offense, and he has been a factor in the rest as well. I would argue that no team in this tournament is more reliant on a single player than Uruguay is on Forlan.
Netherlands has been an elite team for years, but they always seem to find a way to waste their potential when it matters. They are in real danger of breaking that trend here. They are the only team in the tournament with a flawless record, and their play has been increasingly flawless as the tournament has progressed. The most impressive portion of their tournament was unquestionably the second half of the game against Brazil. The Brazilians got an early lead, and they almost never give those up, but the Dutch fought back with two incredible second half goals to pull off the shocker.
Absences have been a much bigger issue for the Dutch than they would have liked during this tournament. Arjen Robben missed the first two games because of injury, and Joris Mathijsen was too banged up to play in the quarters. Midfield star Nigel de Jong and defender Gregory van der Wiel will miss the semifinals because they have accumulated too many yellow cards. Those last two have to be particularly frustrating - FIFA typically gives yellow card amnesty after the second round or the group stage so that key players can avoid trouble in late stages like this, but they chose not to this year and the Dutch are paying the price. Fortunately, Uruguay is also facing two suspensions to level the field somewhat.
Netherlands vs. Uruguay World Cup Odds
There aren't any real surprises with the odds - Netherlands is the solid favorite. They are at -1 (+110), with Uruguay far behind at +1 (-140). If you factor in the possibility of a tie after regulation time - certainly a possibility from Uruguay's perspective since they have already done so twice in five games - then the Dutch jump to -165 with the draw at +250. The South Americans are far behind at +550. The total is at the typical 2.5, with the 'under' heavily favored at -175.
Netherlands vs. Uruguay Picks and Predictions
Netherlands Wins If: They play their game. There is no question that they are the better team in this game. They are more defensively sound, they have far more depth, and they have much more experience in big situations like this. They are also riding an almost incomprehensible international streak - they haven't lost in 23 straight international matches. They cruised through qualifying, and despite some spotty effort early on in this tournament they haven't hit a speed bump here, either. Their win over Brazil, and the way it happened, showed that this is not only a talented team, but one that believes in each other and what they are doing. At this point in the tournament that's at least as important as the skill and form that you have. The Dutch need to set the tone and control the play. If they do that then they are heading to the finals.
Uruguay Wins If: They don't read the headlines. Pretty much everything says that this team shouldn't win this game. They have looked weaker against a weaker schedule, they have benefited from an easy draw, and needed a miracle to survive their game against Ghana. Now their captain is out due to injury, and the talented but volatile Luis Suarez is out thanks to a red card. If they dwell on all that is going against them then they don't stand a chance. If they can ignore that and just stick to fundamentally sound soccer - and get more than their share of lucky breaks - then there is no real reason why they can't succeed. The formula has to be the same as it is any time a solid underdog wins a big game - they need to do what they do best and find a way to disrupt their opponent from doing what they do well.
---
Most Recent World Cup Betting