World Cup Odds and Picks: Netherlands Vs. Spain Predictions
by Trevor Whenham - 7/10/2010


Get more World Cup betting information including betting bonuses, World Cup odds and our famous World Cup picks, which in 2006 earned $100 bettors over ten times their initial investment. ($100 bettors earned $1,820 click here for details)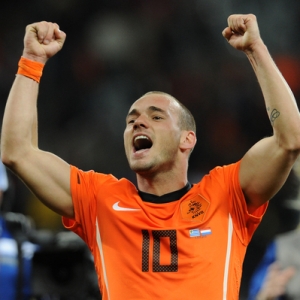 After 63 games and a month of almost endless soccer action we have reached what it is all about - the finals of the World Cup. Regardless of which team comes out on top we are going to have just our second first-time winner in eight World Cups (France won for the first time in 1998). The Dutch have made it to the finals twice before, while the Spanish have never previously made it past the quarterfinals.
While this isn't the final that most expected or perhaps were hoping for, it's not that much of a surprise - Spain was the pre-tournament favorite, and Netherlands was certainly among the elite contenders.
The battle for ultimate soccer bragging rights takes place on Sunday, July 11 at 2:30 p.m. ET in front of more than 84,00 screaming, vuvuzela-ing fans in Soccer City stadium in Johannesburg. This will be the first time Spain has played in the stadium, though they have had a game in Johannesburg already. Netherlands beat Denmark, 2-0, in this stadium to open their run to the finals.
The Dutch really are in the midst of a remarkable streak. They have won 25 consecutive international matches - a run dating back to 2008. They aren't the most talented or deepest team in the field, but as their comeback win over Brazil showed they just don't quit and they have a remarkable sense of team focus and cooperation. Head coach Bert van Marwijk has, more than any other coach in the tournament, truly been able to get the most out of his players. That's not to say, though, that the path to the finals has been easy or flawless. Injuries were an issue early on, discipline hasn't been great throughout, and the early efforts - and even the first half against Brazil - were surprisingly uninspired given the stakes at play.
Even at their worst, though, the level of Dutch play has been more inspired than a shocking portion of what we have seen from Spain. This team has managed to win five games despite only scoring seven goals - as many as the Dutch have scored in the knockout stages alone. Spain opened the tournament with what has definitely turned into the most shocking result of all - a 1-0 loss to Switzerland. They weren't particularly strong in a game they needed to win to advance against Chile, either. Each of their playoff games has ended 1-0, and has been far more tense than it needed to be because they haven't been in a rush to score the winning goal. David Villa has been brilliant with five goals, but much of the remaining offensive power has been ether disappointing or downright invisible.
More concerning, offensive players have had a tendency to try for the heroic play by themselves when a setup was the better play. At least twice in the semifinals their players gave up great scoring opportunities because they wanted all the glory for themselves. It's been an often perplexing run, but the fact that they have made it this far without yet playing near their capacity is a testament to just how talented this team is.
Despite their struggles, what has made this team so successful is their ability to control the tone of the game. Germany had been scoring almost at will against very good teams in the tournament, but they were completely frustrated by Spain. Paraguay was able to take care of their business defensively, but didn't have enough opportunities to take the lead. Cristiano Ronaldo and Portugal couldn't get much going, either. Spain's lack of offense is still a major concern, but not nearly as much as it would be if the defensive play wasn't so superb - Spain hasn't been scored on in nearly seven halves of play against increasingly good teams.
The Dutch fans can have no major complaints about their offensive output. Wesley Sneijder is tied with Villa for the tournament lead with five goals, Arjen Robben has two, and four others have netted one each. Despite nagging injures, the players who needed to be productive coming into the tournament have mostly done so. If they have a concern it has been the play of the midfield. It's a very capable unit, and it has mostly been good, but it has had a bad habit of taking plays off or not giving an opponent the respect it deserves. That almost cost them against Uruguay, and that wasn't the first time. If the midfield underestimates the Spaniards then they will pay - regardless of how much Spain has underwhelmed offensively.
Netherlands vs. Spain World Cup Odds
The oddsmakers are making their their opinion clear - they like Spain. Spain is favored at Pick (-200), with Netherlands at Pick (+150). When you factor in the possibility of a tie after regulation time Spain climbs to +110, Netherlands was at +240 , and the draw is at +230. The total is at 2.5 with the 'under' favored at -200.
Netherlands vs. Spain Picks and Predictions
Netherlands Wins If: They play the game of their lives. Beating Brazil was undoubtedly impressive, but beating Spain will require a different skill set. Spain frustrates their opponents and dictates the style of play. It's not often interesting, but it's effective. To win, Netherlands will have to find a way to avoid that. They'll have to take command out of the gate, force the pace of play, and take control offensively. It doesn't work often against Spain, but when it does - like when the Americans beat them at the Confederations Cup last year - it's very effective.
Spain Wins If: They can channel their emotions positively. Make no mistake about it - Spain is the far more talented team. We've learned several times in this tournament, though, that the most talented team doesn't always win. The Spainiards have gotten into their own heads in major tournaments so many times and essentially beat themselves. They can't afford to do that here, but it would be easy for them to do so. There's one big difference in this game - Netherlands wants this win, Spain needs it. The Dutch have already exceeded the expectations of all but the most passionate fans. Spain has been expected to come through at the last few World Cups and has been a horrible disappointment. The win at Euro 2008 helps, but winning a World Cup would really show that they belong among the very elite teams in the world. If they lose here then they'll still be labeled as a team that chokes when it matters most. If they don't let the burden of expectations overwhelm them, though, then they'll be able to enact their gameplan and come out on top.
LOOKING FOR WINNING WORLD CUP PICKS and PREDICTIONS? Doc's Sports has been professionally handicapping all major sports since 1971 and we have a great reputation for winning in our industry. In 2006 our World Cup picks clients hit 71% winners and $100 bettors made $1,820 in profit (1,482% ROI). $100 bettors are up more than $2,000 for the 2010 World Cup and we will have picks for the finals. Click here for World Cup picks from Doc's Sports, Robert Ferringo and Vegas Sports Informer and get live World Cup odds from top sports books.
---
Most Recent World Cup Betting