World Cup Odds and Betting Picks: Netherlands Vs. Denmark Preview and Predictions
by Robert Ferringo - 6/12/2010


Get more World Cup betting information including betting bonuses, World Cup odds and our famous World Cup picks, which in 2006 earned $100 bettors over ten times their initial investment. ($100 bettors earned $1,820 click here for details)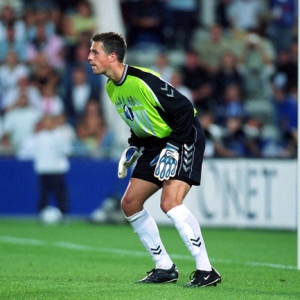 The Netherlands might have the best national soccer team that no one outside of the true soccer diehards know about. Yet after eight years of fielding a Top 10 team everyone in South Africa is wondering if this is finally the venue for the Dutch club to burst onto the national stage and shed the dreaded label of "Best Team Never To Win A World Cup".
Netherlands will open its 2010 World Cup journey with a match against Denmark at 7:30 a.m. EST on Monday, June 14 at Soccer City in Johannesburg. The Netherlands is No. 4 in the world heading into soccer's biggest stage while Denmark may be one of the more underrated squads heading to South Africa at No. 36.
YouWager.eu is the Top sportsbook of choice when it comes to customer service and fast payouts. Make your first deposit and receive an additional 100% welcome bonus worth up to $1000 courtesy of YouWager.eu online sportsbook! Use PROMO CODE DOCSPORTS
Holland comes storming into the World Cup off a perfect 8-0 qualifying in which it outscored its opponents by a hefty 17-2 margin. The Dutch have one of the most talented and explosive offenses in the field and one of their great strengths is the sheer volume of quality scorers that they throw at opponents. Rob Van Persie is the ringleader, but the Dutch are so stacked up front that they chose to leave one of their nation's all-time greats (Ruud Van Nistelrooy) off the final roster.
In a lot of ways the Danish side is the antithesis of its Netherlands counterpart. While Holland is all about individual skill, offensive firepower, and top-level European talent the Danes are a gritty, gutsy, defensive-oriented group. Denmark posted seven shutouts in 10 World Cup qualifiers and the strength of its team is up the middle, starting with keeper Thomas Sorensen.
Both teams adhere to a 4-3-3 system but there are stark differences in the way they utilize it. Holland wants to press, attack, and come at teams from the wings with a bombardment of chances. Denmark, on the other hand, wants to be conservative and relies on the counterattack to produce its best chances. Each team will know the runs and formation of the opponent but it will be interesting to see which team can settle into its tempo and gain the upper hand.
These clubs have played six times since 1989 and, interestingly, five of those matches have ended in draws. The most recent matchup was a 1-1 draw back in May of 2008 in Eindhoven.
Netherlands vs. Denmark World Cup Odds:
Netherlands is a heavy favorite in this matchup at -1.0 (-105). Denmark is currently listed at +1 (-125). Betting with the draw emphasizes the disparity, as Netherlands is listed at -165, Denmark at +450, and the Draw at +265. The total in this game is 2.5.
Netherlands vs. Denmark Picks and Predictions:
Netherlands Will Win If: It executes offensively as it expects too. This Netherlands team can overwhelm opponents with an avalanche of offense. If they get on the board they will continue to dominate the possession and the tempo of this game since Denmark wants to counter. This is a very confident and accomplished team and they have shown absolutely no weakness over the last four years. In some ways they remind me of the Spanish squad that took off in the 2006 World Cup by blitzing its group and hasn't let up since. The Netherlands has that type of talent. They play the same system as the Danes, only better. So they should be focused enough to get their three points.
Denmark Will Win If: Its defense can hold. This is a tough, tough team. And they are exactly the type of squad that Holland has had issues with in the past. Denmark advanced to the World Cup final by finishing above more highly regarded Portugal and Sweden out of its group. They swept the Swedes and went 1-0-1 against Portugal, so this club is one that can matchup with the top-tier teams. They rely on hustle and grit. And if they can crack the Holland defenses and get a lead they should come away with some points.
Robert Ferringo will be releasing rated selections on the 2010 World Cup this summer. Robert is a long-time soccer aficionado and one of the most exciting handicappers in the industry, and he guarantees a profit through the entirety of the tournament. Sign up today and get on board the Victory Train!
---
Most Recent World Cup Betting Articles