World Cup Betting Tips and Advice on Late Games in Group Stage
by Trevor Whenham - 6/5/2010


Get more World Cup betting information including betting bonuses, World Cup odds and our famous World Cup picks, which in 2006 earned $100 bettors over ten times their initial investment. ($100 bettors earned $1,820 click here for details)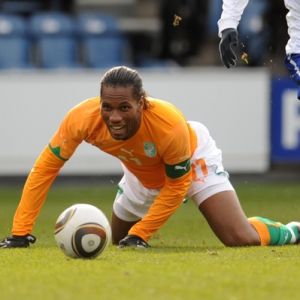 We're still a week away from the start of the World Cup, yet Bodog already has World Cup odds posted not only for the first game every team will play in the group stage, but also their second games. Sports Interaction goes one step further - they have lines set for every one of the 48 preliminary games that will be played. They go beyond just the outcome as well - you can bet totals, first half results, the exact score, the first team to score, and so on.
At first glance this is just crazy - why in the world would you want to bet now on a game a team is playing in three weeks when they have two games to play between now and then? There must be some demand for it if they are offering the lines and exposing themselves to that much uncertainty, though. Why might someone want to bet on the third set of games before the first ones have been played? Here are five possible reasons:

To take advantage of a team which you think is much better than the public seems to - If there is a team that you very strongly believe in, but which the public hasn't yet caught on to, then you may want to bet on the last games now. If your opinion is accurate then the prices that are available now when the team is under-the-radar is going to be way better than it will be by the time the game rolls around and the public has had a chance to see what you see. Teams like Turkey - a squad that made a shocking run to a third-place finish in 2002 - would have been an ideal team to get on before anyone else does. It would be especially attractive if the third game your team is playing isn't a particularly scary team - that way even if you aren't quite right about the strength of your team there's still a chance you can be saved by a winning bet.

To bet on a powerhouse before their odds get even worse as the public wakes up - In some cases the public can even be underestimating the teams they clearly think are good. The very popular teams like Spain and Brazil aren't likely to have been underbet, but there is a chance that the next level of teams - squads like Germany or Italy - are better than the general public has given them credit for. If you believe that those teams or others like them are going to be extremely strong in the tournament then taking the opportunity to bet on them now means that your taking a good shot at getting better prices.

To bet against a team that you think is worse than the public does - Sometimes you are considerably less optimistic about a team's chances than the public seems to be. By betting on them now before people have a chance to see what you believe - that they are outclassed - then you can get a better price on their opponents then you might by game time. An example of that this time might be France. They have been very strong in recent tournaments, and the odds say that they are a top-eight team or better this year. There are plenty of reasons to be pessimistic thought - retirements, injuries, conflicts and scandals swirl around the team. If you are really down on France then you could bet against them now at a nice price.

To bet against a key player - There are several teams in the tournament that are built around a star, and which will succeed or fail based on how that player performs. If there are reasons to doubt that player then you might want to bet against them later in the tournament now. The odds that are set now have to be made assuming that the player will be active and playing well, so if they aren't for some reason then you'll suddenly have a very nice price.
It's irrelevant now, but up until recently Ivory Coast was a perfect example. Didier Drogba is their best player, and one of the most feared strikers in the world. Ivory Coast is in the deadly Group G, and Drogba is key to their success in the group. Drogba was struggling with a hernia issue and general wear and tear before the tournament, so it might have been reasonable to think that we wouldn't be able to hold up and play his best for three tough games, so you might have bet against him in the last game of the round robin. Now he's out of the tournament with a broken arm, so everything has changed - though your bet against Ivory Coast in the last game would be looking even better right now if you had already made it.

Speculation - If you're a gambler then these bets could be a great way to try and secure a big payoff later on. If you have a sense of how you think the lines are going to move then you could buy appropriate games at current prices in the hopes of middling later on.

---
Most Recent World Cup Betting