Weaknesses of Major 2010 World Cup Contenders
by Trevor Whenham - 5/14/2010


Get more World Cup betting information including betting bonuses, World Cup odds and our famous World Cup picks, which in 2006 earned $100 bettors over ten times their initial investment. ($100 bettors earned $1,820 click here for details)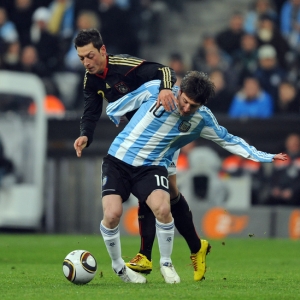 The closer we get to the World Cup, the more impressive each of the top contenders look. There are seven contenders that have a good chance of winning the tournament in my eyes, and most have had decent luck and have made more good moves than bad in recent weeks. Even the best teams have flaws, though. Here's a look at the biggest weaknesses of the top seven World Cup contenders:

Brazil - The Brazilians have ridiculous depth - so much so that two-time World player of the year Ronaldinho and a couple other guys who could start for most squads didn't make the roster. their problem isn't talent. It's focus. The team is so much better than most of the teams that they play that they can easily get off task. When that happens they can get frustrated - especially if the opponent plays an aggressive defensive style. Brazil had no excuse to really be challenged by any team other than Argentina in qualifying, but they played Bolivia, Colombia, and Venezuela to scoreless draws, and in each case the other team was able to knock them off their game by concentrating only on defense.

Spain - The weakness for the World Cup favorites is health. Xavi is one of the best playmakers there is, and he steps up in the biggest of games. He's struggling with thigh and calf injures, though, and it's hard to know how well he is going to be able to perform - or if he will play at all. His coach at Barcelona said that his health could keep him out of the World Cup, but then backtracked from that statement right away. Fernando Torres, a world-class striker, is injured as well. He has knee issues, and had two injuries within three months. He's expected to be back, but could miss at least one of the first round games. Spain has almost as much depth as Brazil, but injuries of this caliber are always an issue.

England - England fans are desperate for a good run here after multiple international disappointments. Unfortunately for them, this team doesn't seem to be getting stronger as the tournament gets closer. Their biggest weakness is in goal. Neither David James nor Rob Green is in particularly good form right now, and both could be vulnerable unless they are able to step up when it matters. England lost 3-1 to Egypt in a friendly in March that did nothing to build confidence in their keepers.

Argentina - Maradona may be the best player ever to take the field, but I'm not sure he's the best choice for coach for a tournament like this. He is short on managerial experience, and he's a volatile personality. Argentina will face a lot of pressure in this tournament, and I'm not sure that Maradona is the best guy to talk the team off the cliff if they face any adversity. He melted down in a press conference after qualifying for the tournament and got a two-month ban from FIFA for the performance. Who knows what he could do on this stage?

Italy - The defending champs play phenomenally stifling defense. That's what got them the unexpected title in 2006. Their problem here, though, is the same one they have had for years - their offense. They don't have an elite striker, and they struggle to mount an attack that would scare anyone. If they do make a mistake on defense and need a couple of goals as a result then they could be in some real trouble - especially if their opponent is defensively strong as well.

Germany - Like England, the issue here is in the nets. This is a team that always seems to rise to the occasion in big tournaments, and they have done it largely on the backs of outstanding goaltenders - guys like Oliver Kahn and Jens Lehman. The problem here, though, is that they don't have the goalie who can obviously be trusted to step up this time. Rene Adler was the obvious choice. He's only 25, but he has quickly proven to be the best goalie in Germany, and one of the most promising in the world. The problem, though, is that Adler is not going to South Africa - a rib injury has him sidelined. That leaves Germany with, at best, their second-best choice.

Netherlands - This team rolled through qualifying in impressive fashion. Their problem is pretty much the opposite of Italy, though - they are a strong offensive team stacked with playmaking midfielders, but they aren't nearly as effective as defenders. They don't have a clear defensive leader, and they don't play with nearly the discipline and intensity without the ball that they do when they are on the attack.
---
Most Recent World Cup Betting