2010 Greece World Cup Predictions
by Doc's Sports - 3/19/2010


Get more World Cup betting information including betting bonuses, World Cup odds and our famous World Cup picks, which in 2006 earned $100 bettors over ten times their initial investment. ($100 bettors earned $1,820 click here for details)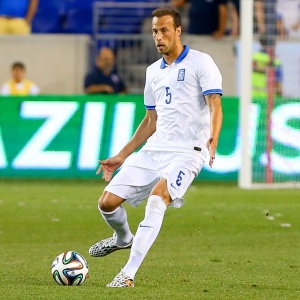 Nickname: The Pirate Ship
Number of World Cup appearances: 1
Best World Cup finish: Group stage (1994)
Team Breakdown
If you follow world football then you know the Greeks are most well known for their amazing underdog run to win Euro 2004. Prior to the European Championship six years ago, Greece was installed at 150/1 odds to win the tournament held in Portugal. The World Cup, however, has not been as kind to them and another unparalleled title run would be exponentially harder.
This team has only made one appearance since the inception of the tournament and 1994 was hardly something to look back on as a positive experience, going three and out in the group stage, conceding 10 goals and not finding the back of the net once. If things are to be different 16 years later for the Greeks, then pulling out the blueprint they used back in '04 might be a good start.
If their methods from Euro 2004 are implanted again, don't expect people glued to the flat screen to watch. It was considered, if nothing else, 'ugly' football. Greece employed a defensive-minded style where they built a shell around their own box to keep opposing attackers out at all costs. In the six games they played at Euro 2004, Greece scored five goals and allowed none, winning each of their three knockout round matches, 1-0. They make sure no one can get in, but that also rules out much of an option for their own offense, albeit counterattacking chances. Sure, at times it can be effective, but surely you won't hear praises unlike other more fluid styles of play across the globe.
2010 World Cup Odds
Greece is currently 125/1 to win the World Cup.
They are 6/1 to win Group B.
Key Player To Watch
Theofanis Gekas was Europe's top goalscorer during the qualifying process with 10 goals. He was the star that helped carry the bulk of the offensive load alongside fellow striker Georgios Samaras. But if there is a main critic of these efforts, it came against a group that included Switzerland, Latvia, Israel, Luxembourg and Moldova – hardly the model for competition they will see this summer. In fact, all three World Cup Group B teams, Argentina, Nigeria and South Korea, are well ahead of that qualifying group in terms of offensive firepower.
Best Team Asset
What the Greeks have going for themselves is their physically imposing size. Seven different regulars for them during qualifying were 6'2'' or taller. They not only will have a distinct advantage with set pieces and corners to go up and make a play on the ball, but also their back four and overall defense can really frustrate and wear down the opposition by implementing their brand of physical play.
Key Team Weakness
Experience, or lack there of, really will hurt Greece in this tournament. Not just their lack of World Cup games under their belt, but the Greeks haven't had the consistent level of competition that other nations are getting. As mentioned above, from the talent level of opponents they faced during the qualifying process, they are hardly in the same boat as an Argentina or Nigeria, and that will be a tough task for Greece to overcome.
Greece World Cup Predictions
I see too difficult a challenge for Greece to make it out of the group stage. Argentina and Nigeria are pegged as the two top expected to advance, and even South Korea is going to be a tough out. That being said, one win off the bat could spark further confidence and momentum. But Greece did it in 2004 and even if not the most skilled group of players, this is one team you better think twice about before counting out.
Key First Round Match (best betting opportunity)
Until Argentina, Greece will be known for its defense and very mundane play. But instead of eyeing 'unders' for the Greeks, their first round match-up June 12 v. South Korea is a good place to look for value. No one gave them a shot at Euro 2004 when they shocked the soccer world with similar odds as they are listed to win this year's event. And if they are going to have any success, it is going to be when no one is expecting anything from them. They will be a slight favorite over South Korea, but you can still find a +price on them in most spots.
Greece World Cup Group Play Schedule
v. South Korea, June 12, 2010 – 10 a.m. ETat Nelson Mandela Bay (Port Elizabeth)
v. Nigeria, June 17, 2010 – 10 a.m. ETat Free State (Mangaung/Bloemfontein)
v. Argentina, June 22, 2010 – 2:30 p.m. ET at Peter Mokaba (Polokwane)
Doc's Sports is your ultimate, one stop source for everything 2010 World Cup. Our results below from the last two major international soccer tournaments clearly state we are premier capper in the world when it comes to the world's game.
---
Most Recent World Cup Betting