2010 Mexico World Cup Predictions
by Doc's Sports - 3/19/2010


Get more World Cup betting information including betting bonuses, World Cup odds and our famous World Cup picks, which in 2006 earned $100 bettors over ten times their initial investment. ($100 bettors earned $1,820 click here for details)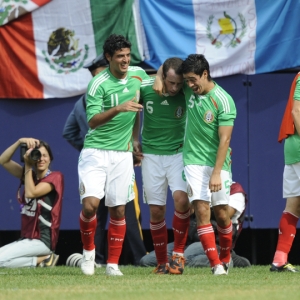 Nickname: El Tri
Number of World Cup appearances: 14
Best World Cup finish: Quarterfinals (1970, 1986)
Team Breakdown
Outside of Argentina, perhaps no team in any qualifying region was more up and down than Mexico. They still finished second in CONCACAF behind the United States, and it took them three different coaches throughout the process to make it. Hugo Sánchez was fired after failing to qualify for the 2008 Beijing Olympics, only to see former England head man Sven-Göran Erikson coach for just 13 games, losing six times. Taking over amidst much disarray, current boss Javier Aguirre jumped in to salvage the campaign and has them ready for this summer.
Mexico's best finish in this tournament was twice making it to the quarterfinals, however both times were on home soil. Outside of that this tradition-rich football nation has much to prove if they wish to find success across the ocean in South Africa.The pedigree is there for this World Cup regular, now they need to validate themselves away from the dominance they have become known for at Azteca Stadium in Mexico City.
2010 World Cup Odds
Mexico is currently 80/1 to win the World Cup.
They are 7/2 to win Group A.
Key Player To Watch
While 36-year-old Cuauhtemoc Blanco is still the straw that stirs the drink up front for El Tri, Mexico's young trio of Carlos Vela and Giovani dos Santos, both 21, and Andrés Guardado, 23, is sure to turn some heads in June. Unlike the majority of their team, this young core all play in Europe's best domestic leagues and are seeing firsthand the quality of the world's best players. The jury is still out on whether these young players will shine in the summertime, but these guys must grow up quick if Mexico has hopes of the final 16.
Best Team Asset
The biggest thing going for Mexico is its ability for a preemptive strike right off the bat in group play. Due to their major inconsistencies in qualifying and a revolving door of sorts for the head coaching position, Mexico is not a country that's name is going to be thrown around as a contender. They begin their World Cup campaign with the hosts, South Africa, and if they can fire quickly out of the gate and earn three points, a possible dark horse could emerge.
Key Team Weakness
Goalkeeper. Oswaldo Sánchez, who was the starting keeper for Mexico in the 2006 World Cup and part of three different World Cup teams, is now 36 years old. And despite being named to several friendly matches this year, he is not likely to feature for Mexico this time around, if even be named to the final 23-man squad. His 99 caps for country represent his experience and leadership. Without him another man between the posts will have to emerge.
Mexico World Cup Predictions
Mexico is probably pegged second behind France in terms of teams expected to advance past the group stage. But I think Uruguay has shown more in the last year or so and are actually the second favorite team betting wise to win Group A. Every game for Mexico is a possible three points or nothing. That's how much this team can either flourish or flop. I say they will see another foreign-based World Cup end after the group stage.
Key First Round Match (best betting opportunity)
As mentioned above, this Mexican side is tough to figure out. Just when they seem ripe for a good wager, they flop. When they are written off, they fire back strong. You can get a value bet on them in their opener against South Africa, but you are playing with fire it you bet against South Africa in their first match and World Cup opener. I would say their group play finale, June 22 v. Uruguay, is the best outlook for a victory. Because if they can't muster a win against the hosts and then fail against favorite France, this match-up against the South Americans could be a chance to save face and make sure they don't come away empty handed. Again, too tough to commit to anything for Mexico, but the wait and see approach might be best served for this team.
Mexico World Cup Group Play Schedule
v. South Africa, June 11, 2010 – 10 a.m. ET at Soccer City (Johannesburg)
v. France, June 17, 2010 – 7:30 a.m. ET at Peter Mokaba (Polokwane)
v. Uruguay, June 22, 2010 – 10 a.m. ET at Royal Bafokeng (Rustenburg)
Doc's Sports is your ultimate, one stop source for everything 2010 World Cup. Our results below from the last two major international soccer tournaments clearly state we are premier capper in the world when it comes to the world's game.
---
Most Recent World Cup Betting