2010 Nigeria World Cup Predictions
by Doc's Sports - 3/18/2010


Get more World Cup betting information including betting bonuses, World Cup odds and our famous World Cup picks, which in 2006 earned $100 bettors over ten times their initial investment. ($100 bettors earned $1,820 click here for details)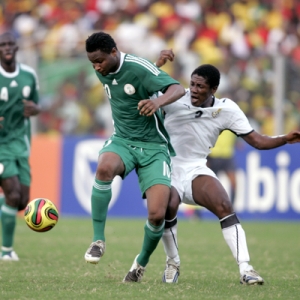 Nickname: Super Eagles
Number of World Cup appearances: 3
Best World Cup finish: Second round (1994, 1998)
Team Breakdown
Nigeria was briefly in a state of limbo after its disappointing third-place finish during January's African Cup of Nations earlier this year. After the continental tournament they fired head coach Shaibu Amodu and hired Swedish coach Lars Lagerback in late February to run the team this summer. Lagerback, during his stint with Sweden, led them to five major tournaments, including both 2002 and 2006 World Cup appearances.
The Super Eagles are definitely capable of making some noise in South Africa this June and July. They were Africa's best World Cup hope during the 1990s and still remain a viable threat, as seen by their second round accomplishments in both 1994 and 1998.
Similar to runs of a decade ago, Nigeria has names worth mentioning. Guiding them this summer will be Obafemi Martins, John Mikel Obi, Ayegbeni Yakubu, Nwankwo Kanu and Joseph Yobo. All play in England and know each other's games especially well. With these key players leading the way, will Nigeria be the African nation to make a run on home soil?
2010 Nigeria World Cup Odds
Nigeria is currently 100/1 odds to win the World Cup.
They are 9/2 to win Group B.
Key Player To Watch
Chelsea's John Obi is the player to lead all others. While Martins and others have just as much skill and experience, the 22-year-old midfielder can really be the bridge from the defense to the offense and help guide his team forward. You can't place enough emphasis on the experience he has been gaining with one of the world's best club teams. During the 2005 U-20 World youth Championships he received the silver ball for the second best player in the tournament behind one Lionel Messi. He earned caps with his country in both the 2006, 2008 and 2010 Africa Cup of Nations and he, as will every African footballer, will be every bit ready to showcase his talents in the first ever World Cup in Africa.
Best Team Asset
Motivation will be at all an all-time high for Nigeria this summer. Not only will they be looking to rebound from a true disappointment from January's third-place finish in the Africa Cup of Nations, but you can't rule out any African country solely based on the fact that they are playing on home soil and behind their millions of fans across the continent. Let's face it, every African team is going to be rooted on that much more, and there are those out there that believe this could be the year where one of these teams raise the World Cup trophy.
Key Team Weakness
Despite some talented individuals who make a living playing in England's Premiership, the world's best domestic league, it has to worry newly appointed head coach Lars Lagerback that Nigeria was only able to score 11 goals in six matches during the final round of CAF (Africa region) qualifying. In their group they faced Sierra Leone, Equatorial Guinea and South Africa, who was already tournament bound as hosts. Granted they won all six of these matches but three results finished just 1-0, and if they couldn't muster more than one goal against weaker African nations, how can they expect to beat group favorite Argentina or other world powers in possible later rounds?
Nigeria World Cup Predictions
The Round of 16 is obtainable. Nigeria is the second best team in Group B, and while on paper Argentina should run away with this quartet, you can't overlook the South American power's struggles and consistently playing down to lesser teams like they did in their qualifying region. The game against Greece and South Korea are hardly locks, but give the edge to the Super Eagles on home soil to earn a spot in the knockout round.
Key First Round Match (best betting opportunity)
I don't think Nigeria will beat Argentina in their first match, but they will look good and show promise. That is why their second match-up v. Greece on June 17 is the spot to look. I think African nations are going to fare well and all be very competitive this summer, and this is the one game where I give Nigeria a distinct advantage. Consider them here.
Nigeria World Cup Group Play Schedule
v. Argentina, June 11, 2010 – 7:30 a.m. ET at Ellis Park (Johannesburg)
v. Greece, June 17, 2010 – 10 a.m. ET at Free State (Mangaung/Bloemfontein)
v. South Korea, June 22, 2010 – 2:30 p.m. ET at Durban (Durban)
Doc's Sports is your ultimate, one stop source for everything 2010 World Cup. Our results below from the last two major international soccer tournaments clearly state we are premier capper in the world when it comes to the world's game.
---
Most Recent World Cup Betting