World Cup Odds and Picks: Argentina Vs. Greece Predictions
by Jordan Adams - 6/22/2010


Get more World Cup betting information including betting bonuses, World Cup odds and our famous World Cup picks, which in 2006 earned $100 bettors over ten times their initial investment. ($100 bettors earned $1,820 click here for details)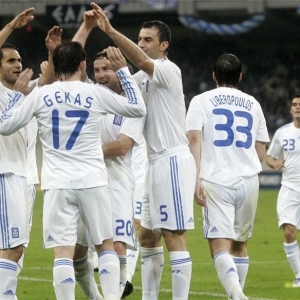 Group B's most talented side wasted little time establishing themselves in their opener. Argentina, via Gabriel Heinze's header in the sixth minute, was enough to secure three points from Nigeria and start walking in the right direction towards the Round of 16.
The team's second outing was even more impressive against the Korea Republic. Argentina dominated play against the Nigerians but chances weren't finished and they settled for a 1-0 victory in the first match. The second time around it was more routine and complete, notably defeating a more accomplished and well-rounded Asian side 4-1.
The South Americans now will face off against Greece in Polokwane on June 22 in Peter Mokaba Stadium at 2:30 p.m. EST.
The Greeks are fairly monotonous in their style and they make no attempt to hide their defensive nature. A big, physical backline and a very systematic approach that tends to dumb the game down to their liking. But you can't sit back for 90 minutes against a side as brilliant as Argentina – not unless you prefer to be taken out back to the shed.
But to counter that point, you can't take away their determination to stay alive with a win against Nigeria – even if they were gifted the result via a stupid red card from Nigeria. The Greeks are still alive for a possible spot in the elimination round, but their dull style doesn't suit them well up against Argentina. If nothing else we saw Greece actually were capable of winning at the finals of the World Cup (their first ever win came vs. Nigeria). At least today's game means something now.
The big question is will Argentina rest its star players. Diego Maradona has does have quality players on his bench, but you have to at least question the likes of Messi and Tevez playing in this one since Argentina has already locked up the group.
One starter, Jonas Gutierrez, will miss the match due to yellow card accumulation. Another, Juan Sebastian Veron, who missed the South Korea match due to a small injury, will most likely not be risked so he can be fully fit for the Round of 16 match.
Greece, if nothing else, will body you up and their defenders aren't against fouls. Not that they play dirty, but that might hint for Maradona to maybe give some subs a run in the second 45 of this match.
All in all it is still a monster of a challenge to control this Argentina side. And it wasn't that long ago when the inconsistencies of qualifying drew all sorts of criticism, thus leaving his starting XI the same just might be necessary not to thwart their ideal start to this campaign.
Greece vs. Argentina World Cup Odds:
Bodog currently has Greece listed as the price of +550. They list Argentina at -175 and the 'Draw' is currently available at +250.
Sports Interaction has Greece at a heavy +550 and Argentina at -222. The 'Draw' here is posted at +275.
Greece vs. Argentina Picks and Predictions:
Greece wins if: Argentina's bus gets a flat tire on the way to the game. Maybe you could give the Greeks at a chance of a draw had this been each team's first group play match. Despite their win, Greece showed nothing before Nigeria was forced to play the final hour down a man. Even if several key Argentine players don't go the full 90 minutes, the result still should be the same.
Argentina wins if: they don't opt to throw the match for a payday. I mean, let's be honest, because if Diego Maradona wanted to toss out a full secondary squad, Argentina would skill produce world-class attacking options. It's a great white shark vs. a minnow here.
LOOKING FOR WINNING WORLD CUP PREDICTIONS? Doc's Sports has been professionally handicapping all major sports since 1971 and we have a great reputation for winning in our industry. In 2006 our World Cup picks clients hit 71% winners and $100 bettors made $1,820 (HUGE 1,482% ROI). For Euro 2008 we had 67% winners and $100 bettors made $2,225 (Huge 1,834% ROI). Click Here for Winning World Cup picks for 2010 World Cup Soccer.
---
Most Recent World Cup Betting